Shatta Wale's baby mummy, Michy has reacted to a tweet of his ex-boyfriend following his support of the release of her song 'Hustle'.
The dancehall artist in an incentive promised a cash reward to anyone who can sing the song accurately and flawlessly.
He shared the link to the song with his plea saying:
"Guys kindly support Michy on her new song for me. Anyone that can sing from A-Z is getting 2k from me for Free!!! Thank you".

Shatta Wale
Michy expressed a joyous response to the tweet in pidgin English:
"I don blow. Thank you, baby daddy".

Michy
In response to Michy, Shatta Wale said he loves the vibe between the two of them.
Shatta Wale and Michy used to be in a relationship for eight years and they went their separate ways in 2019 after a series of accusations.
The breakup was messy to the extent of Michy depriving Shatta Wale of access to his child, Majesty. However, this is an allegation she has strongly denied.
Michy disclosed to fans some months ago that they should not be hopeful that she and Shatta Wale will chance on rekindling their love as it is never going to happen.
The singer who is now a show host, said although she and her ex-boyfriend share a child, their paths hardly cross.
She said:
"We are both living separate lives, I will not like to talk about him but yes, I sometimes see him. We bump into each other at the roadside. We go our separate ways, he doesn't call me when he sees me in town".

Michy
The show host publicly confessed to turning back the hands of time if only she could. She added that this is to make right some of her greatest mistakes.
She said:
"If I had a magic eraser, I would erase some occurrences. You are in certain situations and don't realize the consequences. Today, we are doing a rebranding, we are evolving and growing. I am still dealing with pain, and the consequences of certain occurrences. I don't want to go too deep but you know what I mean".

Michy
Michy Playfully Rebukes Majesty For Doing SM Sign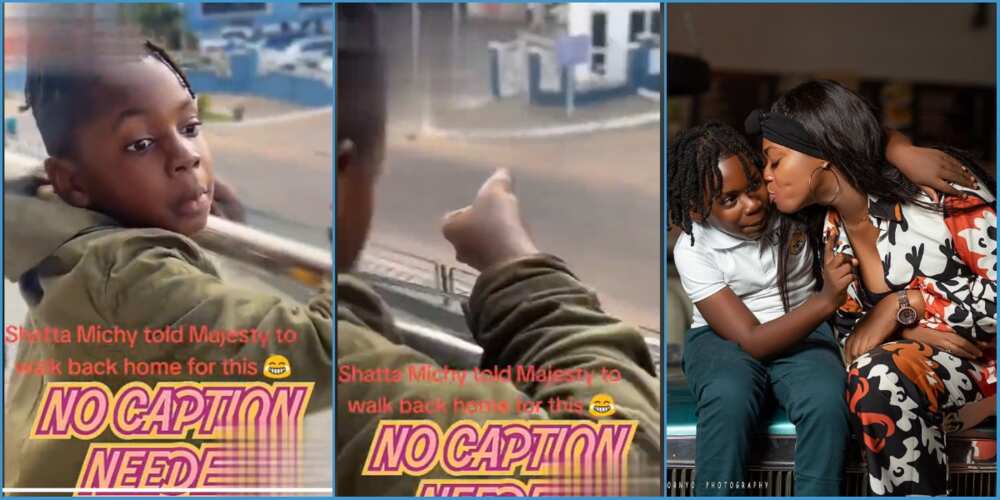 Shatta Wale's baby mama, Michy, in a video, was seen playfully rebuking her son, Majesty, for imitating his father's SM symbol while standing on a balcony and waving at a crowd of people.
The incident garnered mixed reactions from netizens, with some expressing concern about Michy's response.
In the video, little Majesty was standing on a balcony as a cheerful crowd waved at him. Excited by the attention, the young boy spontaneously made the famous SM sign, which is synonymous with his father's label Shatta Movement.
Michy humorously scolded her son, teasingly telling him that he had sold her out and was siding with his father. She even playfully suggested that Majesty should find his own way home.
However, the video did not sit well with some viewers, who speculated that Michy's reaction might be an attempt to separate Majesty from his famous father.
Some comments included:
"This woman they bore me rough? If not because of Shatta Wale, who knows you in Ghana here".

CYBEL DJANE
"This boy will break his mother's heart one-day oo, when he goes to look for his dad. Mummy just relax ooo".

nanaachiakwofie
"So what at all Shatta wale take do Michy ?? Don't involve the child in this".

Nana Kwame Morgan
Also, the Ghanaian dancehall musician Shatta Wale bonded with his two kids inside his plush mansion.
Many people talked about how involved Shatta Wale is after they watched the video.
READ ALSO: I don't have an SHS certificate – Lasmid