Ghanaian dancehall artist Shatta Wale has launched a new commercial ride system, Shaxi to reduce the unemployment rate among the youth.
According to Shatta Wale, Shaxi was his inspiration to create employment avenues and create a sustainable business focus for the Ghanaian youth.
Narrating how the initiative came about, Shatta Wale wrote in a series of Twitter posts wrote:
"Well, let me share this story with you today. Everybody that knows me knows I love the youth of Ghana, and I always want to see them doing well. I want to see the boys and girls in the ghettos move from being unemployed into having gainful employment".

Shatta Wale
According to Shatta Wale, that's how the Shaxi dream was born. He further noted that his team and him set out to create a sustainable business with a focus on providing employment for the "teeming unemployed Ghanaians". He also emphasized that is their main drive and not to make profit like some people are speculating.
Shatta Wale said: "At the end of the day, we want to make an impact and leave our mark".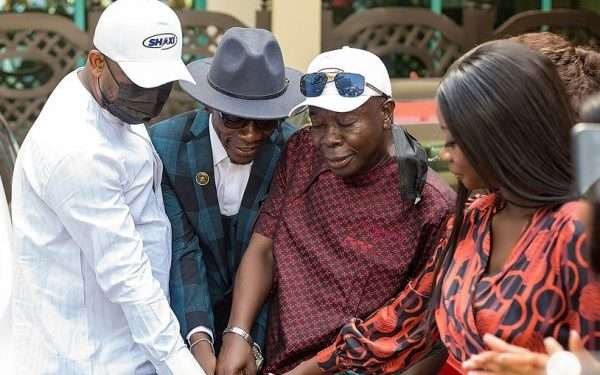 The 'Taking Over' hitmaker further stated that even though he is the brain behind the business, it is also a business for all Ghanaians. According to Shatta Wale, the initiative is a dream come true. He expressed gratitude to his team and all who supported the initiative and fueled its success.
"Shaxi is for not just Shatta Wale and friends, It's a Ghanaian project for Ghanaians. So, let's all embrace it and make it happen. Thank you for your support, and thank you to the entire team behind the Shaxi project, couldn't have done this without you. #Shaxi Recreational vehicle. It's time to ride".

Shatta Wale
The launch which was held at Alisa Hotel in Accra saw a number of industry persons in attendance. Entertainment and media friends including Rapper Medikal, Nana Aba Anamoah, Serwaa Amihere, Bola Ray, Shatta Wale's father, Shatta Capo, Flowking Stone, A-Plus, and many others were some of the guests who made it to the lunch of Shaxi. The guest of honor was Pius Hadzide, CEO of the National Youth Authority.
Court Clears Shatta Wale to Travel Outside
Amidst this business initiative is Shatta Wale's court case for false publication which incited panic and fear. This time Shatta Wale received good news as a Circuit Court in Accra cleared him and Medikal to travel outside Ghana during Christmas.
Lawyer, Jerry Avenorgbo, representing Shatta Wale, and Lawyer Pobbi Banson, appearing on behalf of Medikal, took turns before Judge Emmanuel Essandoh's court, praying the court to grant their clients the opportunity to attend some programmes outside the country during the festive season.
They further requested the court for a long adjournment in light of their request.
Judge Emmanuel Essandoh's Court in granting the requests of the accused persons adjourned sittings to 25 January 2022.
It can be recalled that Shatta Wale and Medikal were granted self-recognizance bail after spending a week in police custody over false publication and brandishing of a gun respectively.

Read also: Eduwatch Asserts Withholding WASSCE Results Proves Cheating Allegations