The Executive Director for CDD-Ghana, Professor Kwesi Prempeh, has intimated that government should have listened to dissenting views earlier to have prevented the economic hardship the country is currently facing.
Professor Kwesi Prempeh disclosed that all the funds have been assigned to various initiatives which were stated in the budget leaving few funds to be used for other things."So, when we get the money, immediately this must go here: Getfund, free SHS. We have already pre allocated everything. So, the envelope that is left to take care of everything else, is very small."
The Executive Director averred that government has locked itself into some initiatives which gives it very little fiscal space to operate. He therefore suggested to government to rethink some of the policies and initiatives that has been implemented.
"I think that things like Free SHS, nobody disputes the fact that its funding secondary education to reach everybody without using financial capacity ability to pay, but then as with most things that we've done in a blanket fashion, when you do free SHS and you build it on a boarding school model, that is bound to collapse. No country I know in the world does that."

Professor Kwesi Prempeh
Free SHS unsustainable at secondary level
According Professor Kwesi Prempeh, it is a brilliant idea by government to make basic schooling free but it cannot sustain it at the secondary level. He stated that government doesn't have to "lock parcels" into these political constraints with reasons that the only way Free SHS can be done is in the boarding school module.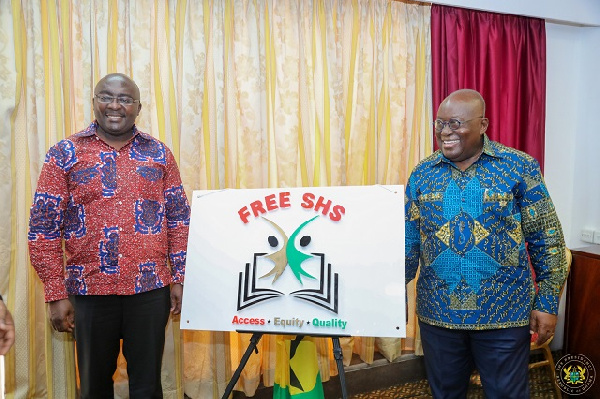 Mr. Prempeh, advised that looking at the current situation with regards to the Free SHS initiative, government must begin to learn to do policies by consensus. He suggested that opening up deliberations to bring in more voices when introducing a policy is a better way to guarantee the future of a policy than just deciding that "it's an idea in our manifesto so we will do it."
"It must be done in a way that says that no matter what the numbers are in Parliament to do this, we want to bring you in because you may succeed government one day and as such we want you to understand the policy logic behind this thing."

Professor Kwesi Prempeh
The CDD-Ghana Executive Director averred that the political management of some of the decisions by government is a bit wanting. He explained that if government doesn't try to build political consensus around policy choices, until it's too late to bring in people, it becomes difficult.
Transition Free SHS to day school
Meanwhile, Ghanaian medical doctor and politician, Dr. Arthur Kobina Kennedy stated that government made a mistake of covering boarding school expenses under the Free Senior High School (SHS) policy. According to Dr. Arthur, if Ghana is able to transition the free SHS policy to the day school, it will be affordable for government and will help reduce debts.
Dr. Arthur noted that, government after focusing on the day school can use some of the excesses to bus students to school and will not have to focus on housing and feeding of students. "If anyone is interested in taking their children to the boarding houses then they pay for it whilst government focuses its resources on education."
Read Also: World TB Day: WHO Calls For Increased Investments Into TB Services And Research