Security Analyst, Colonel Festus Boahen Aboagye (Rtd), has intimated that there is some missing link in the narratives presented by the Police on the issue of officers being involved in the bullion van robbery.
The Security Analyst averred that the Police Service is not coming out with the whole truth and is rather attempting to do "PR work" instead of giving out public information.
"Some of us get worried because we are not interested in PR. The PR for instance, is what we see on social media. When we see a case like this, we want to know what really happened. Because it's a bit of something when the Police tells us that they took suspects to a crime scene that had the possibility of return fire and that in the process, the two key suspects were killed."

Colonel Festus Boahen Aboagye
Colonel Festus indicated that the standards of the Police Service is not sufficient. He suggested that an independent body be set up to investigate such misbehavior on the part of the Police Service. He thus urged the Police Service to get to the bottom of the current situation.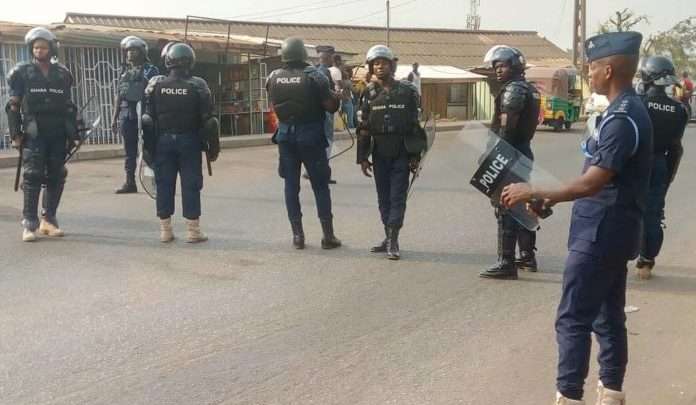 The Retired Security personnel called on the Police Service to add a bit of forensic investigation to its operations. He intimated that by scrutinizing the items of the suspects forensically, the Police may find more evidence leading to a network of the people involved.
"By this time, the Police should have had access through bench warrants, collected all the cell phones of these individuals and applied for their bank statements amongst others."

Colonel Festus Boahen Aboagye
Colonel Festus described the development as one that is very grave aside it being unfortunate. He indicated that the only reason why the Police Service was established is to assist in protecting human rights, lives, properties and livelihood. "They are also to prevent crimes that will impact human security and when crimes have occurred, they investigate and go through the procedures for prosecution."
Misbehavior striking the nation's democratic aspirations
According to Mr. Aboagye, what Ghana has on its hands is that, the misbehavior of a few Police officers is striking at the core of the nation's democratic aspirations and that is one of the factors which must be considered in taking the issue very serious.
"To use an analogy, the Police are like gamekeepers and countries with game parks treasure their resources so much. So, when you have gamekeepers themselves becoming coachers, that means straight away that you have lost the battle. The people that we have entrusted with the responsibility to safeguard our public safety and security are themselves now perpetrators in crimes that go against the mandate of their responsibility."

Colonel Festus Boahen Aboagye
Colonel Festus urged the Inspector General of Police, George Akufo Dampare, to do more with regards to Police misbehavior, granted that he is trying to reassert the presence of Police within the democratic space of Ghana.
"The question that we need to answer is that who now guards the guards? I want to add my voice to those who continue to commend the new IGP. I want to admit that if consistently over the past 2 to 4 IGP's, we had seen the same approach to democratic policing as we are seeing it now, probably some of these issues could not have arisen."

Colonel Festus Boahen Aboagye
Read Also: Supreme Court Ruling Must Be Interrogated Dispassionately- Professor Gyampo