The former Attorney General and a member of the legal counsel of the John Mahama's Presidential election petition, Marietta Brew Appiah-Oppong, has described as unfair the rulings by the Supreme Court panel during the hearing of the Election petition today, January 28, 2020.
Addressing the press after the hearing, Justice Appiah-Oppong said the arbitrary dismissals of their application despite their superior arguments were unfair to the petitioner.
"That application was refused. You heard the argument by our counsel. Our counsel presented authority with several of them of which the court in the past had granted application for leave of a case to applicants before the court to file supplementary. Our application was refused.
"We have to say that the petitioner is not being treated fairly. It is unfortunate but we have to say it as it is, the petitioner is not being treated fairly so we disagree with the ruling of the Supreme Court."
Her comments come after the nine-member review panel of the Supreme Court dismissed a motion moved by lawyers of former President John Mahama seeking leave to file "an additional ground of review" to review the application on the interrogatories and also turning down the NDC's motion filed to request for the court to stay proceedings.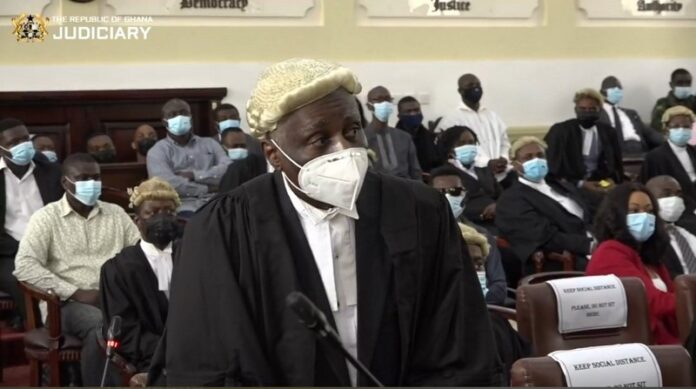 She further lamented it is unfortunate that the rulings that are coming out of the court are so short. In the past i.e 2013, they had "detailed reasons rulings" on especially why applications are either granted or refused but this has not happened this time.
"When you listen to the ruling of the court, the only reason they gave was that, the ruling does not allow for it. If the rules do not allow for it, why has it been permitted in the past. I think the petitioner is not being treated fairly in this circumstance. It is unfortunate but we have to say it as it is, but the petitioner is not being treated fairly. "
Justice Appiah-Oppong posited that the counsel for the petitioner referred to a specific case that related to an application for leave to file a supplementary in 2013 which saw the petitioner being allowed to file for leave but the counsel this time around is saying it does not apply in this case.
Additionally, she stated that, her team's aim of filing this supplementary is to aid the implementation of justice which has been refused.
"And so, we are saying that the refusal of our application to the petitioner is not fair in light of the past and in light of what is happening now. We disagree with the ruling of the supreme court but unfortunately, that is their decision and there is not much we can do."
The Supreme Court today, January 28 denied the petitioner (NDC's) request to file an additional ground to review application on interrogatories ruling on grounds that the new constitutional instrument did not give time for that. unfair