The Project Consultant and site engineer of the Pokuase interchange, Mr. Kwabena Bempong has disclosed that the project will see its completion this May.
Speaking in an interview, he intimated that the project as at now is 95 percent complete and averred that work is steadily progressing.
Touching on other provisions made to make commuting on the road an easy one after its completion; he indicated that, bus stops have been factored into the project. This is to enable people commuting on the stretch for short journeys to alight at their locations.
"We have done it for the Trotro's and the buses. We have created a little bit of a bus lane. In a similar vein if you are from Kumasi and you want to make a stop, we have another lane for only buses where you can stop. So, that is what we have so far as the interchange is concerned."

Kwabena Bempong
Interchange To Ease Traffic Flow
He also noted that, the main purpose of the road is to ease transportation and ease the flow of traffic. However, he stated that if unnecessary bus stops are created by the bus and Trotro drivers aside the ones created by the contractors; the goal to ease traffic will not be achieved.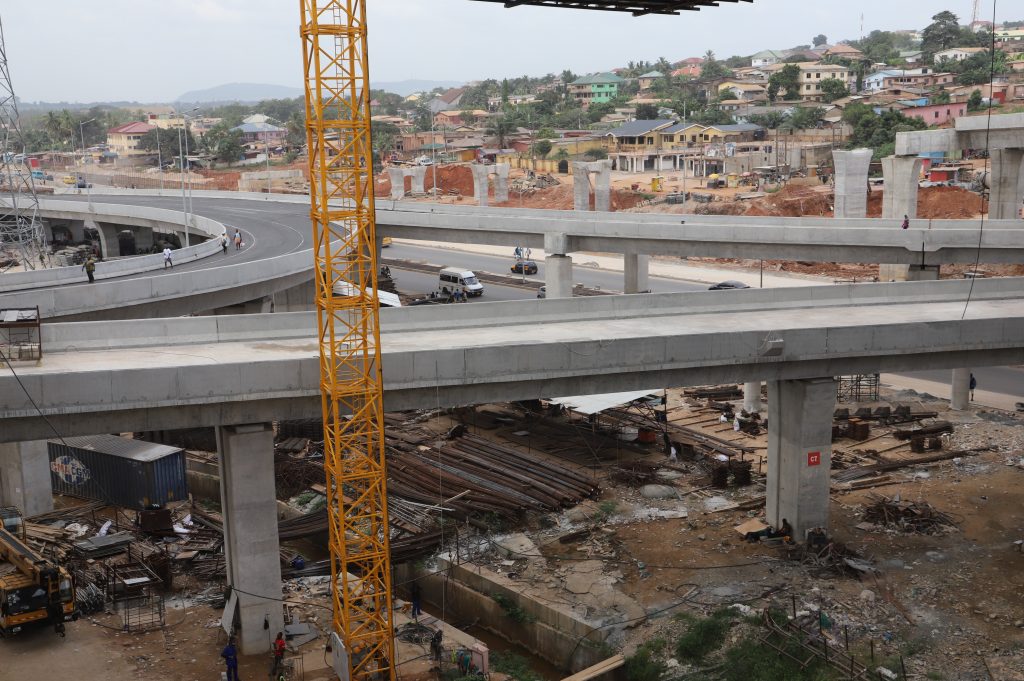 According to Mr. Bempong, all the current drivers are currently using the main lane which is supposed to be uninterrupted. This, he explained is as a result of the project not being completed.
Additionally, he stated that, these drivers will be faced with challenges of not dropping off passengers properly if such an initiative was not taken.
Hawkers Posing As Challenge
Also touching on challenges on the site, he averred the hawkers are posing as a current challenge and might as well pose as a future one if care is not taken.
"We have provided walk ways by the side of the road; but yet still they have come all the way where they are not supposed to be. And in some areas, they are selling right in the middle of the road. It is a safety issue."
He averred that, after the completion, there will be the need for education and the need for enforcement of rules on the hawkers.
"If you just educate people and you don't enforce you are not going to get that far."

Kwabena Bempong
Mr. Bempong also revealed that, AfDB has provided funds to aid in the provision of two bus terminal as part of the project.  
Prior to this announcement, the first phase of the interchange was opened for use in December for the Christmas activities. The interchange was projected to be completed in April 2021.
Second Year Of Roads
President Akufo-Addo during the 2021 State of the Nation Address (SONA), intimated that 2021 will be a second year of roads. He revealed that, although the country's roads are being constructed at a faster pace than before, there are still many more kilometres to construct.