The country's total debt has increased from GHS 267.7 billion in August 2020 to GHS273.8 billion at end of September this year.
This represents 71 percent of GDP, compared to 69.5 percent in August.
This is according to recent macroeconomic and financial data released by the Central Bank of Ghana (BOG) on Friday, November 20, 2020.
The Bank of Ghana attributed the rise in the debt stock to increasing expenditures over and above the target in the first three quarters of the year.
Debt continue to increase steadily as depicted in figure 1 with an average quarterly growth rate of 5.7 % in 2020.
Figure 1 Trends in public debt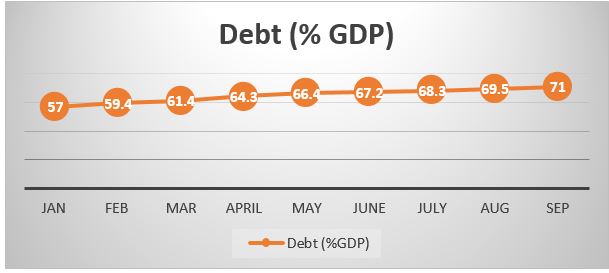 The debt stock was GHS 263.1 billion in July 2020 which represents 68.3% of GDP. The figures show that in Q3 alone, that is between July and September 2020, Ghana's stock of public debt increase by GHS10.7 billion. This shows that Ghana's debt stock grew by 4% in Q3 2020 alone.
In April, the stock of debt stood at GHS247.9 billion accounting for 64.3% of GDP. Debt, however, rose sharply to GHS 258.8 billion at End-June 2020 which when expressed as a percentage of GDP stood at 67.2%. Analyses for Q2 2020 also shows that the stock of public debt increased by GHS10.9 billion between April and June. In percentage terms, public debt grew by 4.4% in Q2 2020.
At the beginning of the year, public debt stood at GHS 219.6 billion at End-January, which was 57 % of GDP. It then rose to GHS 236.7 billion at end of Q1 2020 in March. Public debt increased by GHS 17.1 billion in Q1 2020. This represents a 7.8 percentage point increase in gross public debt in the first three months of the year.
Figure 2 Quarterly analysis of Public debt (% growth)
A year-on-year analysis shows that public debt went up by GHS 64.7 billion between September 2019 and September 2020, representing a growth rate of 30.9%. In September 2019, the total stock of public debt stood at GHS209.1 billion, which accounted for 59.8% of GDP.
According to the current data released by the BOG, thedomestic debt component of the total debt stock has increased from GH¢ 129.0 billion (33.5% of GDP) in August to GHS 135.3 billion (35.1% of GDP) at the end of September. The domestic debt at the end of September 2019 stood at GHS 101.4 billion representing 29.0 percent of GDP.
On a quarter on quarter basis, domestic debt increased by GHS3.8 billion in Q1 and GHS 8.0 billion in Q2 2020. It then rose sharply to GHS 10.2 billion in Q3. The increments indicate a percentage growth of 3.5%, 7.0%, and 8.2% in Q1, Q2, and Q3 respectively. An average growth rate of 6.2 % over the first 3 quarters of the year.
Conversely, external debt was GH¢138.5 billion (35.9% of GDP), representing 50.6 percent of the total public debt in September. In July 2019, external debt was GHS107.8 billion representing 30.9 percent of GDP.
On a quarter-on-quarter basis, external debt increased by GHS13.4 billion in Q1 2020 representing a growth rate of 12% between January and March 2020. In Q2, external debt rose by GH2.9 billion, a growth rate of 2.2% and in Q3, it increased by GH0.5 billion, representing a growth rate of 0.4%. This shows that the external component of public debt grows on average 4.9%.
Although revenues were above their targets for the period, expenditure exceeded the target by far more than the increase in revenues, which resulted in the government missing its fiscal deficit targets for the period.
"The fiscal operations of the economy for the January to September 2020 period show that on the provisional basis both revenues and expenditures exceeded their respective targets resulting in the fiscal deficit of 9.0 percent of GDP, against a programmed deficit of 8.9 percent of GDP", said Finance Minister-Ken Ofori-Atta.