Sorting and counting of votes have commenced in different parts of Nigeria for the West African country's governorship and state assembly elections.
Voting ended at exactly 2.30pm at most polling units across the over 170,000 polling units in the country.
Analysts have called on the Independent National Electoral Commission (INEC) to ensure that its Results Viewing portal known as IReV does not fail as vote sorting and counting ensues in various parts of the state for the governorship and state house of Assembly elections.
"Your IReV must not fail, and if you [INEC] have any problem with it, please communicate. INEC should be up and doing," the Executive Secretary of HEDA Resource Centre, Sulaimon Arigbabu, averred.
Also, the Executive Director, Centre for Journalism Innovation and Development, Tobi Oluwatola, recalled that "three weeks ago during the presidential election, the biggest failure INEC recorded was in proving the credibility of its IReV portal.
Oluwatola added, "A lot of people felt like anything could have happened between polling units and when election results were announced."
The INEC received tons of backlashes following the failure of the IReV portal after the February 25 presidential election in allowing results to be uploaded real-time as the results were being announced in polling units.
INEC had blamed the failure on "technical" glitches that its officials encountered in using the Bimodal Voter Accreditation System (BVAS) to upload results to the portal from polling units.
Buhari Urges Voters To Vote Their Conscience
President Muhammadu Buhari urged voters to pocket the money offered by politicians but vote their conscience. 
"I am aware that the money is not there like before for people to sway voters like they used to do. And if they bring out money now, the people should pocket it, and still vote their conscience.''

President Muhammadu Buhari
The President divulged that he was not surprised at the results of the Presidential elections on February 25, 2023, which saw Bola Tinubu emerging as President-elect, since the All Progressives Congress' campaigns were thorough and detailed.
"I am sure we are going to win, again'' President Buhari informed reporters, after casting his ballot at Ward A, Sarkin Yara Polling Unit, 003.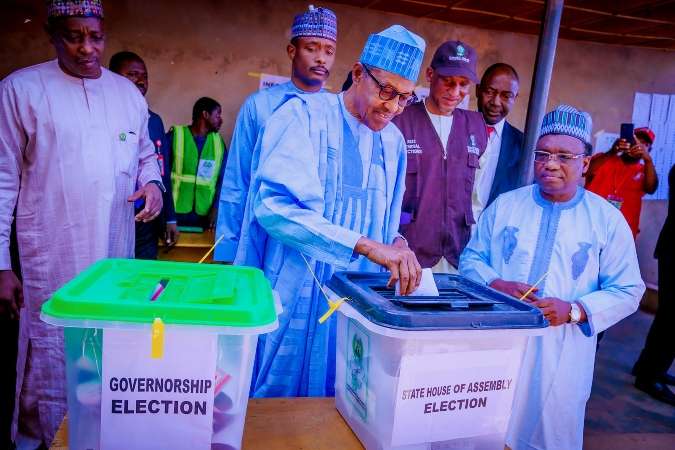 According to a statement by Presidential Spokesman, Garba Shehu, the President urged the electorate to follow their conscience in choosing right leaders, both state executives and legislatures, admonishing that the era of vote buying had been diminished.
The President noted that the APC followed the constitutional procedure for the entire electoral process, choosing a party Chairman, Abdullahi Adamu, who had served as a two-term governor in Nasarawa State, and legislator in the Senate, with experience that will secure the electoral value and relevance of the party.
"Nigerians trust us because we mean what we say and say what we mean. We have maintained that trust. We told Nigerians that we will work for them, and we have done our best in education and health facilities, and Nigerians appreciate our efforts.''

President Muhammadu Buhari
On deepening of democratic culture and rising awareness among Nigerians, the President said the media had played a major role in empowering people with information on their rights, and providing a platform for voters to challenge leaders on promises and records.
"The media is doing very well in creating awareness and enabling the right conversation. You can hear the tough questions for leaders during interviews on TV, radio and other platforms, and the journalists always press for answers.''

President Muhammadu Buhari
Also, Vice President Yemi Osinbajo rated Saturday's governorship and state assembly elections in Ogun State as peaceful and well-conducted.
Osinbajo was accompanied by his wife, Mrs. Dolapo Osinbajo, who also cast her vote at the same polling unit.
"I think from my own polling booth here, it's excellent, I think everything is peaceful and the whole process has been conducted very well. I just hope and pray that this is how it's being carried on across the nation. It is a very pleasant experience.
"I have been able to cast my vote and also hope that so many of us who want to cast their votes are able to do so."

Vice President Yemi Osinbajo
READ ALSO: Nigeria: Police Rescue 19 INEC Ad-Hoc Staff Kidnapped In Imo State