The 78th session of the United Nations General Assembly has started in New York City.
The theme for this year's general debate is "Rebuilding trust and reigniting global solidarity."
In its subheading, the theme prompts world leaders to consider the UN's agenda for 2030, which includes the deadline for its 17 Sustainable Development Goals.
It calls for "accelerating action" towards those goals, with the aim of promoting "peace, prosperity, progress and sustainability for all".
The general debate is not actually a debate, it is an avenue for leaders to address issues of international concern through 15-minute speeches.
The first person to deliver a speech was UN Secretary-General, Antonio Guterres, who delivered his state-of-world address.
Guterres began his remarks with the flood in Libya which left thousands of people dead.
They were "victims many times over", he said.
"Victims of years of conflict, victims of climate chaos, victims of leaders near and far, who failed to find a way to peace," Guterres iterated.
Linking the victims of the deadly flood to the superyachts of billionaires, Gutteres described Libya's predicament as a "sad snapshot of the state of the world."
He alluded that bodies are washing ashore in Libya's Derna, where dams broke after years of war and neglect, on the same Mediterranean Sea where billionaires are socialising on their superyachts.
He added that the catastrophe in Libya represents "the flood of inequity, of injustice, of inability to confront the challenges in our midst."
Citing geopolitical tensions and global problems, Guterres avered, "Our world is becoming unhinged."
"Geopolitical tensions are rising. Global challenges are mounting. And we seem incapable of coming together to respond. We confront a host of existential threats from the climate crisis to disruptive technologies, and they do so at the time of chaotic transition."

Antonio Guterres
Guterres warned that divides are widening within countries and "Democracy is under threat."
Authoritarianism is on the march, inequalities are growing, and hate speech is on the rise, Guterres averred.
In addition, Guterres stated that countries such as Russia are creating a "world of insecurity" for everyone following its invasion of Ukraine, which he says has "unleashed the next phase of our lives: historic human rights abuse, families torn apart, children traumatised, hopes and dreams shattered."
The war in Ukraine has "serious implications" for the world beyond Kyiv, he says, pointing to the collapse of the Black Sea grain initiative.
Around the world, new risks emerge as countries develop new weapons and nuclear disarmament is "at a standstill", Guterres says.
Furthermore, Guterres disclosed that world leaders have a "social responsibility" to achieve compromise in building a common future, and says it is "time for a global compromise.'"
Our world "needs statesmanship, not gamesmanship and gridlock," he noted.
Nonetheless, Guterres noted that there are many positive ways that the world is moving, bringing new opportunities for justice and balance in international relations.
However, he added, "multipolarity alone cannot guarantee peace."
Guterres Calls For International Reforms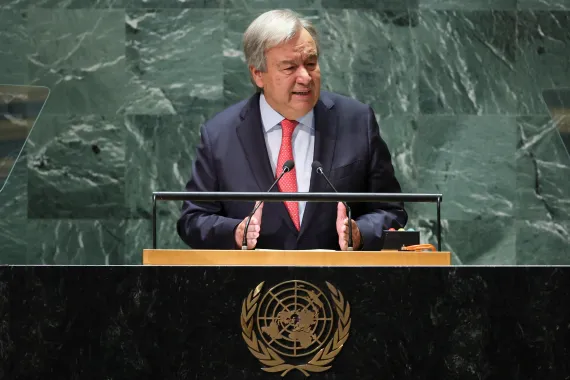 Moreover, the UN Secretary-General asserted that the world is "inching ever closer to a great fracture in economic and financial systems and trade relations."
Guterres urged that it is time for the renewal of multilateral institutions based on 21st century economic and political realities rooted in equity, solidarity and universality.
Also, Guterres called for redesigning international financial architecture so that it serves a "global safety net for developing countries".
He called for deep reforms to the "dysfunctional, outdated and unjust" international financial architecture, including a $500bn a year rescue package for those countries most heavily in debt.
"I have no illusions. Reforms are a question of power," he said.
"The alternative to reform is further fragmentation. It is reform or rupture," he added.
READ ALSO: Zelenskyy To Address UN General Assembly