The Gaza Strip's sole power plant has gone out of service due to lack of fuel.
Officials in Gaza cautioned earlier that the enclave was facing an imminent humanitarian catastrophe with the power plant shutting down completely within hours due to the depletion of fuel.
The Palestinian health ministry in Gaza began rationing and directing its limited power in order to continue with emergency and sensitive services and save as many injured people as it can.
However, nothing could be done to avert the power shutdown.
The Palestinian Ministry of Foreign Affairs said Israeli strikes had since Saturday destroyed more than 22,600 residential units and 10 health facilities and damaged 48 schools.
At least 1,055 Palestinians have been killed in Israel's air attacks and more than 5,000 wounded.
Humanitarian organizations are currently facing the brunt of the ongoing war.
Israeli jets bombed the headquarters of the Palestinian Red Crescent in the northern Gaza Strip. There were no immediate reports of casualties.
Meanwhile, Four paramedics of the Palestinian Red Crescent have been killed in Israeli air bombing on Wednesday, October 11, 2023.
The humanitarian organisation disclosed that three of them died when a strike "directly targeted an ambulance" of the Red Crescent north of Gaza, and the fourth in a separate bombing in the east of the enclave.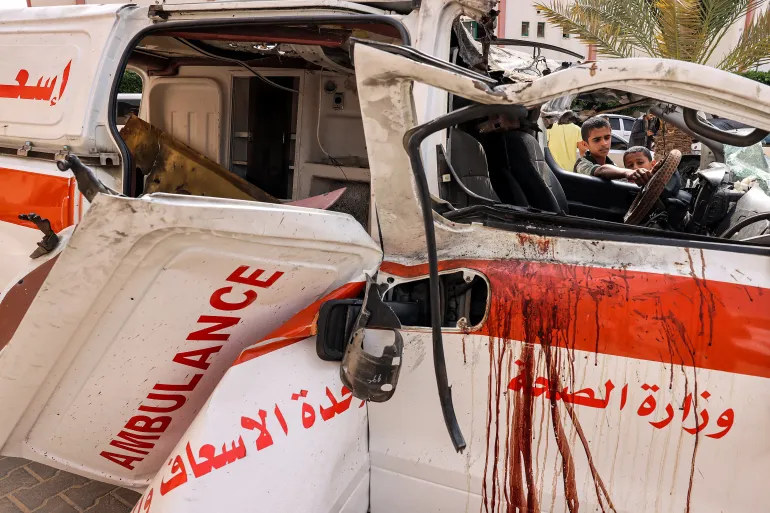 Also, the United Nations Relief and Works Agency for Palestine Refugees in the Near East (UNRWA) stated that nine UN staffers have been killed in the Israeli bombing of Gaza since Saturday.
The Director of Communications, Juliette Touma said,"The protection of civilians is paramount, including in times of conflict. They should be protected in accordance with the laws of war."
Moreover, Scotland's First Minister, Humza Yousaf noted in an interview that the situation in Gaza is absolutely dire.
Yousaf said, "What we need leaders to do is to treat an Israeli life and a Palestinian life as equal."
"Just as I am anxious about my in-laws, there will be people in Scotland's Jewish community who are worried about their family in Israel," he added.
Yousaf revealed on Monday, October 9, 2023, that his wife Nadia's parents, who live in Dundee, are trapped in Gaza and struggling to find safe passage.
Yousaf's in-laws, Maged and Elizabeth El-Nakla, had been visiting his father-in-law's 92-year-old mother when the first Hamas attack took place on Saturday, October 7, 2023.
"The collective punishment of men, women and children simply cannot be justified. The overwhelming majority have nothing to do with Hamas."

Humza Yousaf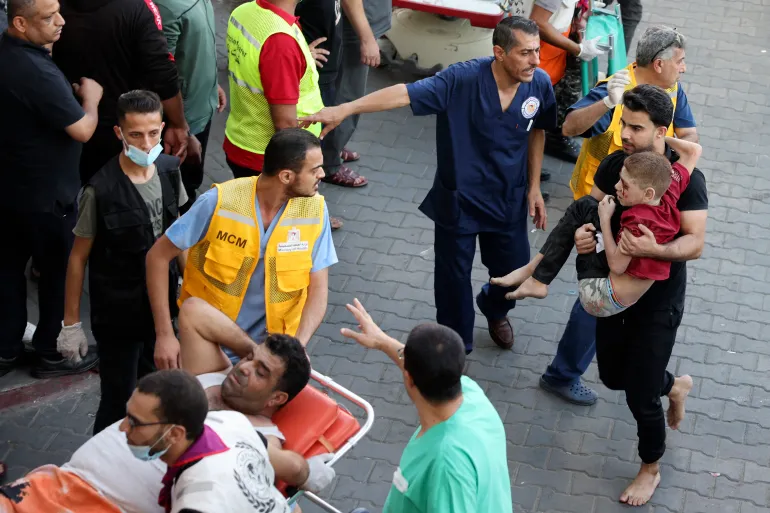 Additionally, Turkish President, Recep Tayyip Erdogan criticized Israel's blockade and bombing of Gaza in retaliation for Hamas's atttacks.
Referring to Israel cutting off electricity and water to Gaza and destroying infrastructure, Erdogan said that they amounted to a "massacre."
"Preventing people meeting their most fundamental needs and bombing housing where civilians live – in short, conducting a conflict using every sort of shameful method – is not a war, it's a massacre."

Recep Tayyip Erdogan
Erdogan criticised Israel's "disproportionate" attacks on Gaza as "devoid of any ethical foundation", and called on the world not to "blindly" take one side.
No Security Until Palestine Gains Independence
Meanwhile, Jordan's King Abdullah says there will be no security and stability in the Middle East until Palestinians "obtain their independent, sovereign state on the borders of June 4, 1967, with East Jerusalem" as their capital.
"We remain steadfast, and we will not abandon our role, no matter how great the challenges are, in order to defend Islamic and Christian sanctities in Jerusalem," he told deputies in a speech at the opening of a new parliamentary session.
There are fears that the Israel-Hamas war could escalate into a regional conflict.
Jordan's Hashemite royal family is the custodian of Muslim and Christian holy sites in the city.
Lebanese armed group, Hezbollah fired missiles against an Israeli military position earlier on Wednesday morning in response to the killing of three of its fighters during an Israeli bombardment of southern Lebanon on Monday.
The Israeli army also attacked Lebanese territory in response to anti-tank fire that targeted an Israeli military post from Lebanon.
READ ALSO: Zelenskyy Says Russia Could Use Winter As A Weapon