In a press briefing alongside NATO Secretary-General, Jens Stoltenberg, Ukraine's President, Volodymyr Zelenskyy, cautioned that he expects Russia to use winter as a weapon and again target Ukraine's energy infrastructure.
This came as Zelenskyy attended the meeting of NATO Defence Ministers in Brussels on Wednesday, October 11, 2023.
"How to survive during this next winter for us is big. We are preparing, we are ready. Now we need some support from the leaders," Zelenskyy said.
He asked for increased air defence. He also appealed for the release of confiscated Russian assets in the west to be used to fund projects in Ukraine.
"We also have to think of how to live during the war. It means the reconstruction. And there are some voices in the world [saying] that we don't have money to help Ukraine in reconstruction.

"The answer is very quick. You have assets. Russian. They destroyed us, we can use this money. Let's find the key to have these Russian money and spend them on reconstruction of Ukraine."

Volodymyr Zelenskyy
On his part, Stoltenberg stated that NATO is inspired by Ukraine's defence, and that the alliance will continue its support.
He added that the meeting will help Ukraine towards its goal of NATO membership.
Stoltenberg said that NATO would continue to support Ukraine, because "your fight is our fight."
He disclosed that support for Ukraine from NATO would be "about air defence. It's about artillery, it's about ammunition."
Stoltenberg added that NATO had increased production of armaments.
"Air defence is critical to protect the cities, the economy, the critical infrastructure of Ukraine, and that helps them to help themselves, because then the economy can function. Then things can work in Ukraine.
"And that will help the Ukrainians to also produce, to trade, to function as a normal country. And that will increase their ability to finance and to provide also ammunition themselves for the war."

Jens Stoltenberg
Prior to Zelenskyy and Stoltenberg's media appearance, the Defence Secretary of the Netherlands affirmed NATO support for Ukraine.
Speaking to reporters outside the NATO headquarters in Brussels, Kajsa Ollongren asserted that there is "no doubt" that the alliance "will continue to support Ukraine for as long as it takes."
When asked if the war between Israel and Hamas might deflect western attention and resources from Ukraine, Ollongren replied, "We will say today in presence of President Zelenskyy that the war in Ukraine,…is not just Ukraine's problem."
"We feel it is also our responsibility to support Ukraine to withstand this aggression, to fight back against this aggression, and we are very much aware of the fact that they need us to do so. They need us for training, for capabilities, for ammunition. And we are steadfast in our support."

Kajsa Ollongren
Zelenskyy Meets U.S Defence Secretary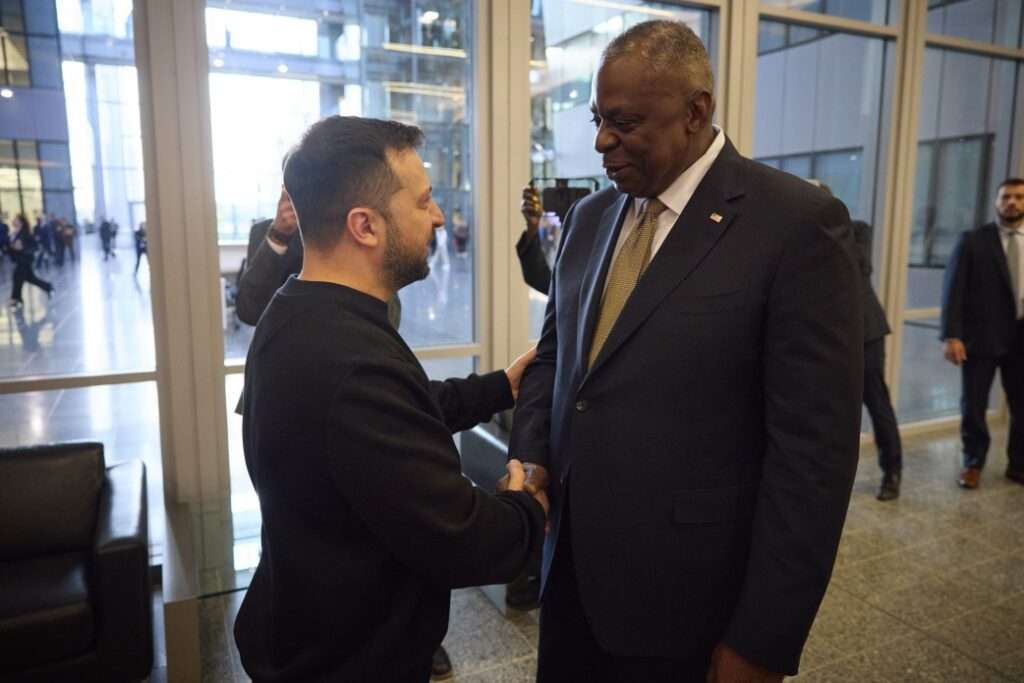 Later, Zelenskyy posted on social media that he met U.S Defence Secretary, Lloyd Austin, and U.S Chairman of the joint chiefs of staff, Charles Brown.
"I thanked the U.S for its unwavering support and the latest military aid package," Zelenskyy noted.
He added, "As winter approaches, it's critical to strengthen Ukraine's air defense to protect our military, people, and economy."
Austin said on Wednesday that Washington would continue to support Ukraine for as long as it takes, even amid the unfolding political chaos in Congress and despite the escalating violence in the Middle East.
"We're here to dig deep to meet Ukraine's most urgent needs – especially for air defence and ammunition," he added.
The U.S Defence Chief was reported as saying that the U.S would provide a new $200m military assistance package for Ukraine.
"I'm proud that the United States will announce its latest security assistance package for Ukraine, valued at $200 million," Austin said.
He revealed that the package includes air defence munitions, artillery and rocket ammunition and anti-tank weapons, among other items.
READ ALSO: GSE Benchmark Rebounds By Over 4 Points