Imran Khan brandished a piece of note to his camera, during a recent video speech to thousands of people, revealing the results of a voter poll. "You see, 70% of the population is now standing with our party," the embattled politician said.
The accuracy of the data has been questioned. Though Khan has been known for exaggerating, but it has been widely accepted that Khan and his Pakistan Tehreek-e-Insaf (PTI) party are experiencing unprecedented popularity.
Their popularity has been developing since April last year, when he was deposed in a vote of no confidence, after serving less than four years as prime minister. His approval rating has jumped to 61%, in the most recent reputable poll, conducted in March.
Voters' devotion to Khan has been on full show during the past weeks. The country erupted in violence after his unlawful arrest last week in an Islamabad courtroom, by over 100 armed soldiers.
However, the circumstances of the protests have always been denied. Khan claimed, there has been a conspiracy to defame and punish his party officials, while the government asserts that, the chaos was coordinated by PTI officials.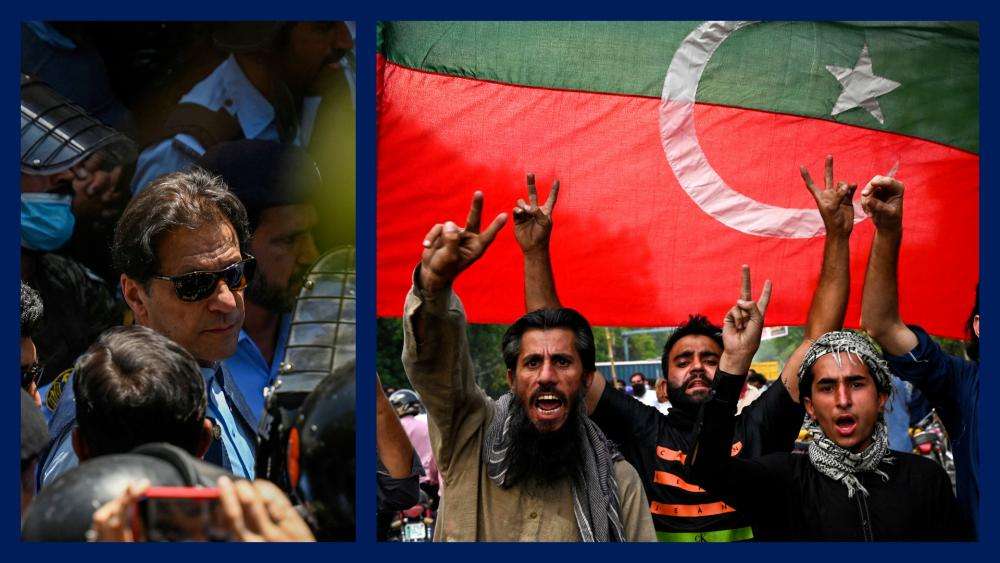 Khan's capacity to draw large amount of his supporters on the streets was obvious. Khan was escorted back to his residence in Lahore by numerous fans after the court ordered his release.
"Leaders like Khan are born once in a century," Aftab Ahmed, 18, who dropped out of school to be a volunteer in Khan's security force last year, said. "He is one of the few leaders in the world who wants to build a country based on equality and justice. I am sure Khan will win this fight," Ahmed added.
Khan's support among youths, who numbered over 125 million and make up 44.36% of the voting population, has been one of his strongest points. He has used social media to establish a large fan base among youths, who regard him as the emblem of new Pakistan, and a break from the old lineages that have dominated Pakistan for ages.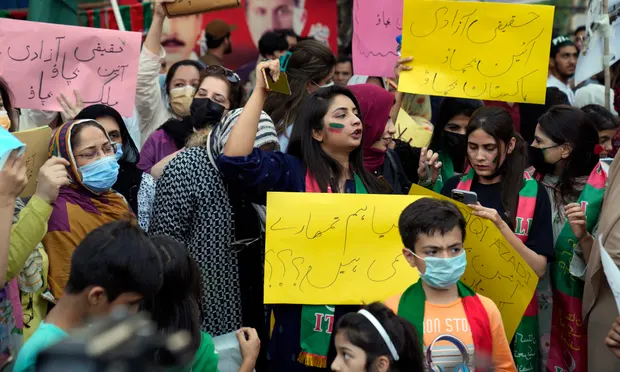 "The youth are following Khan, he is fighting for us and our future," said Azra, a 20-year-old student at the University of Karachi. "Khan might have done some corruption but not like the politicians who have done it for decades," Azra added.
Azra claimed, the recent attempts to frustrate and imprison Imran Khan have done nothing but strengthened his support among young voters. "Khan has put his life in danger because of us and our prosperity," Azra explained.
Moreover, since his return from police detention, Khan has been rendering online daily lectures from his house, via his social media pages, and thousands of people watch every appearance. He has been pushing for early elections, and parading himself as Pakistan's anti-establishment savior, with more toxic relation with the armed forces hierarchy and government.
Additionally, Khan asserts that, his huge following has to be blamed for his legal battles, including more than 100 charges against him. He claimed that, the efforts to imprison him and a bring down his party, have been part of a plot by Pakistan's strong political apparatchiks, and the incumbent coalition government led by Prime Minister Shehbaz Sharif, "to stop the PTI forming the next government." The armed forces and the Sharif regime have retaliated, accusing Khan of promoting violence and terrorism.
Khan, on the other hand, has been faced with an obstacle. While his anti-military rhetoric energized his public support, it has also disconnected many party's critical officials, who have endured persecution or had good relationships with the Military Hierarchy.
READ MORE:Eritreans Ordeal In Sudan