King Charles III has arrived in Germany for his first foreign trip as Britain's Monarch, hoping to improve the U.K.'s relations with the European Union and to show that he can win hearts and minds abroad, just as his mother, Queen Elizabeth II, did for seven decades.
King Charles and Camilla, the Queen Consort, landed at the Brandenburg airport in the early afternoon and paused at the top of their plane's stairs to receive a 21-gun salute as two military jets performed a flyover.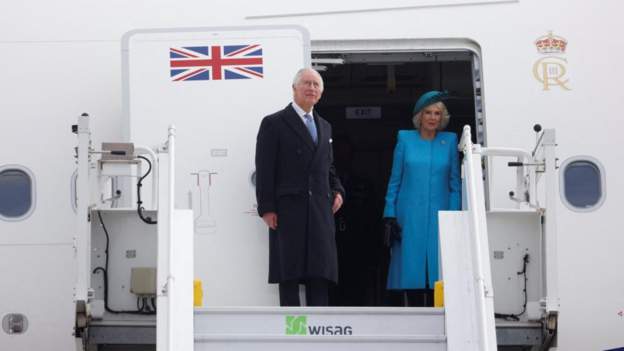 The royal couple was greeted by officials and Camilla was given a bunch of flowers. They stepped into the waiting royal limousine and made their way, accompanied by a police escort, towards the Brandenburg Gate for the ceremonial welcome.
Charles, 74, who ascended the throne after the death of Queen Elizabeth II in September, is set to be crowned on May 6, 2023.
He had initially planned to first visit France, but the first leg of his trip was canceled due to massive protests over planned pension changes there.
At Berlin's iconic Brandenburg Gate, royal fans started lining up early in the morning for security checks hoping to get a close view of Charles and Camilla as workers rolled out red carpets.
By noon, hundreds of fans awaited their arrival as police and sniffer dogs carried out security checks in the area. About 1,500 spectators were admitted to the cordoned-off area, German news agency reported.
Christoph Muehlbach, 59, had traveled by train from Hamburg to see the British royals. He described himself as a supporter of the royal family for the last 20 years and said he had traveled to London in the past for weddings, anniversaries and the queen's state funeral.
"I take great pleasure in the British royal family," Muehlbach told reporters.
German President Frank-Walter Steinmeier and his wife, Elke Büdenbender, welcomed the royal couple at the historic Brandenburg Gate.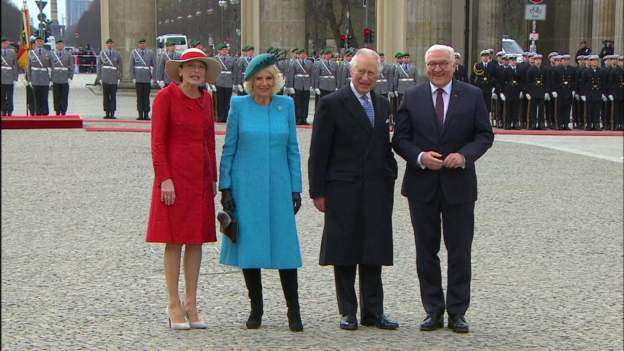 Royals Look Forward To Meeting Those Who Make Germany Special
In a message on their Twitter account, King Charles and Camilla, the Queen Consort, said that they were looking forward to meeting those who made Germany "so special" and deepening the friendship between the nations.
It is a great joy to be able to continue the deepening of the longstanding friendship between our two nations, the post read.
On Thursday, March 30, 2023, the King is scheduled to give a speech to the Bundestag, Germany's parliament. He will also meet Chancellor Olaf Scholz, talk to Ukrainian refugees, and meet with British and Germany military personnel who are working together on joint projects. In the afternoon he will visit an organic farm outside of Berlin.
The royal couple will go to Hamburg on Friday, March 31, 2023, where they will visit the Kindertransport memorial for Jewish children who fled from Germany to Britain during the Third Reich, and attend a green energy event before returning to the U.K.
The King was urged to make the trip by British Prime Minister, Rishi Sunak, who during his first six months in office negotiated a settlement to the long-running dispute over post-Brexit trading rules for Northern Ireland and reached a deal with France to combat the people smugglers that ferry migrants across the English Channel in small boats.
Sunak hopes goodwill created by a royal visit can help pave the way for progress on other issues, including Britain's return to an EU program that funds scientific research across Europe.
READ ALSO: Zambia Warns Against Anti-Gay Protest During U.S Vice President Visit