Hungary's Foreign Minister, Peter Szijjarto has cautioned that Sweden's government should "act differently" if it wants to gain Turkish support for its bid to join the North Atlantic Treaty Organization(NATO), adding that a recent Quran-burning protest outside the Turkish embassy in Stockholm was "unacceptable."
Peter Szijjarto made the remark at a news conference following discussions with his Turkish counterpart, Mevlut Cavusoglu in Hungary's capital, Budapest.
Both diplomats addressed the January 21 anti-Turkish protest that increased tensions between Ankara and Stockholm as Sweden seeks Turkey's approval to join the military alliance.
As part of the protest, several hundred pro-Kurdish protestors walked over a photo of Turkish President Recep Tayyip Erdogan on Saturday and an Erdogan effigy was hung from a lamppost in a previous protest in Sweden.
Turkish officials cancelled bilateral meetings in response.
"As a Christian and as a Catholic, I must say that burning of a holy book of another religion is an unacceptable act."

Hungary's Foreign Minister, Peter Szijjarto  
Szijjarto criticized a statement made by Sweden's Prime Minister that while the burning of the Quran was inappropriate and "deeply disrespectful," it fell under Swedish freedom of speech protections.
"Stating that the burning of a sacred book is part of freedom of speech is just plain stupidity," Szijjarto stated, adding that "perhaps they (Sweden) should act differently than that" if they want to secure Ankara's backing.
The meeting in Budapest came as Turkey and Hungary remain the only two NATO members that have not approved bids by Sweden and Finland to join the military alliance.
The northern European neighbors, one of which, Finland, shares a border with Russia, dropped their long-standing military neutrality and sought NATO membership in response to Moscow's war in Ukraine.
A unanimous vote of all thirty NATO members is necessary for admitting new countries.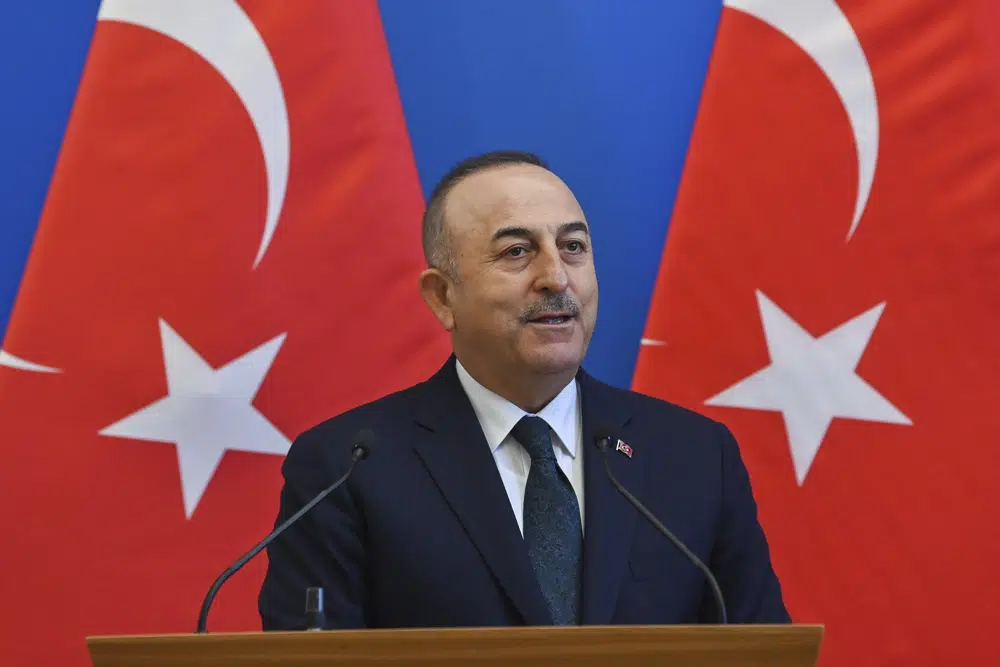 Turkey Shares Hungary's Wish For NATO Enlargement
Mevlut Cavusoglu noted that Turkey shares Hungary's wish for NATO enlargement, but that it was now "impossible for us to confirm (Sweden's) accession" into the alliance.
Cavusoglu called the Quran-burning protest a "provocation which will take us nowhere, it can only lead to chaos."
Ankara has also said that it is displeased with Sweden's efforts to crack down on groups that Turkey considers to be terrorist or pose a threat to the country, including Kurdish groups.
Turkish President, Recep Tayyip Erdogan, has said that Sweden should not expect Turkey's support in its membership bid.
Erdogan was particularly incensed at Swedish authorities for allowing the demonstration to take place outside the Turkish Embassy in Stockholm under "the protection" of security forces.
"It is clear that those who allowed such vileness to take place in front of our embassy can no longer expect any charity from us regarding their NATO membership application. If they love terror organization members and enemies of Islam so much, we recommend that they refer their countries' security to them."

Turkish President, Recep Tayyip Erdogan
Hungary's government was expected to vote on accepting Sweden and Finland into NATO by the end of last year. The issue will be on the Hungarian parliament's agenda during its first session of the year in February, Szijjarto disclosed.
Szijjarto noted that Hungary has a "clear standpoint" on admitting Sweden and Finland into NATO, but would not attempt to influence Turkey either way.
"I never urge any other foreign governments to do things which are not of our concern," Szijjarto said.
READ ALSO: U.S Defense Secretary In Philippines To Discuss Deployment Of More American Troops