Top European Union(EU) officials have arrived in Kyiv for talks with Ukrainian officials to boost relations with the war-torn country and pave the way for it to one day join the bloc.
Their visit comes as rescue crews dug through the rubble of an apartment building in eastern Ukraine struck by a Russian missile, killing at least three people and wounding about 20 others.
The scene of devastation in the eastern Donetsk provincial city of Kramatorsk, where emergency workers spent the night searching for survivors after the missile hit late Wednesday, served as a grim reminder of the war's toll almost a year after Russia launched a full-scale invasion of Ukraine.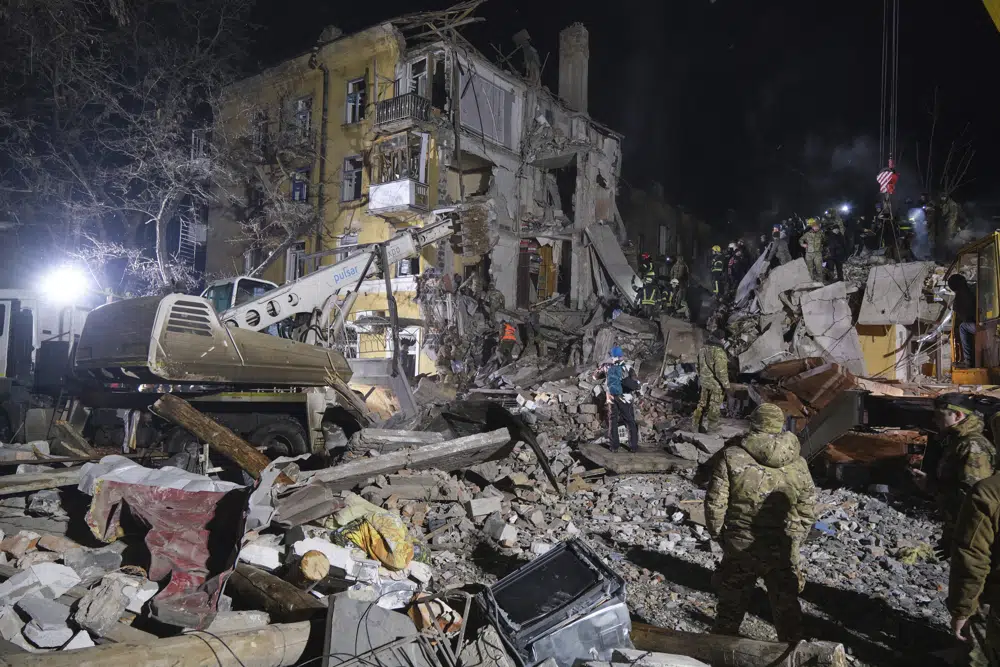 Russia has frequently struck apartment buildings during the war, causing civilian casualties, although the Kremlin has denied targeting residential structures.
European Commission President, Ursula von der Leyen, led a team of 15 policy commissioners who were to spend the day discussing Ukraine's financial, business and energy needs, and how to bring the former Soviet state's legislation into line with EU standards.
The highly symbolic visit is the first European Union political mission of its kind to a country at war. Von der Leyen and European Council President, Charles Michel, who chairs meetings of the bloc's Heads of state and government, will hold a summit in Kyiv on Friday, February 3, 2023 with President Volodymyr Zelenskyy.
Ukrainian President Volodymyr Zelenskyy is scheduled to meet with European Commission President Ursula von der Leyen and EU foreign policy Chief, Josep Borrell, before the Friday summit.
Borrell tweeted that the visit aimed "to convey EU's strongest message of support to all Ukrainians defending their country."
Borrell disclosed that EU assistance for Ukraine has reached 50 billion euros ($55 billion) since the start of Russia's war on February 24, 2022.
"Europe stood united with Ukraine from day one and will still stand with you to win and rebuild." EU foreign policy Chief, Josep Borrell
This is Von der Leyen's fourth visit to Ukraine since the invasion. The last of such summit was held in Kyiv in October 2021; a few months before the war started.
Von der Leyen took to Twitter and opined, "We are here together to show that the EU stands by Ukraine as firmly as ever and to deepen further our support and cooperation."
Anti-Corruption Drive Expected To Be On The Agenda Of Discussions
Ukraine's anti-corruption drive was expected to be on the agenda of the talks. Kyiv's long path toward potential membership in the 27-nation bloc will be a key issue under discussion, with stamping out corruption a key condition for joining.
Zelenskyy on Wednesday, February 1, 2023, took aim at corrupt officials for the second time in the space of a week. Several high-ranking officials were dismissed.
The country's application to join the European Union was submitted last June. EU's 27 member countries must agree unanimously for Ukraine to join one day.
EU member countries are divided over whether Ukraine should be allowed in.
France and Germany, notably, believe that the bloc should be reformed and its decision-making processes streamlined before it allows in any new members.
They have championed a new grouping, the European Political Community, whose inaugural meeting in Prague last year was attended by representatives from more than 40 countries. Another summit is scheduled in Moldova in June.
Ukraine's government is keen to get more Western military aid, on top of the tanks pledged last week
Officials have disclosed that during the visit, the EU will announce that it is ramping up its military training mission for Ukraine, from an initial target of pushing 15,000 troops through the schooling to up to 30,000 troops.
READ ALSO: Australia To Remove British Monarchy From Its Bank Notes