The agriculture sector is interconnected. This interconnectedness is seen in how the global crisis tends to affect the least economies of the world. Like a big river, a stirring upstream affects the lower stream.
For instance, Ghana's food security is being threatened because of the Russia-Ukraine war. Everybody may want to purchase locally produced food, but the reality is that agriculture is a worldwide enterprise. Disruptions in agriculture across the globe generate ripples in agriculture elsewhere.
This can be seen with the significant disruptions in other countries due to the ongoing Russia-Ukraine crisis. If other major food-producing regions like Ukraine get affected again, the impact on the world's food security status will be enormous.
Russia is a significant player in the international fertilizer market, according to the Minister of Agriculture, Dr. Akoto Afriyie. Three of the largest fertilizer manufacturers globally are Russian-based, Uralkali, Eurochem, and PhosAgro. Each of these is headed by an oligarch that western governments have sanctioned. Even if the Russians can continue to ship fertilizers out of the country, paying is extremely difficult due to banking sanctions.
According to the Chamber of Agribusiness, Ghana, Ukraine, and Russia are enormous grain exporters. This is well known today, but it is interesting to see just how much Ukraine's exports have increased in the last few years.
Ukraine's production impacts in 2022 will be felt around the world. For some countries, already the prices of food have been significantly impacted. For others, there may be food shortages if the war persists.
According to experts, if the Russian invasion moves further than it has already, many parts of Ukraine will not be able to plant this year's crop or harvest existing winter wheat, reducing production by about one-third. Since much of Ukraine's fertilizer comes from Belarus, it seems highly unlikely there will be enough fertilizer for crop needs.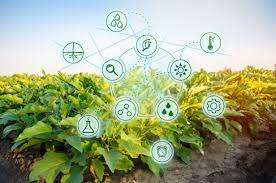 If the Black Sea ports remain closed to exporting, much of the exports could still leave the country by truck or rail, but shipping costs will go up significantly. These effects will leave an enormous pain to importers of commodities from Russia and Ukraine.
Agriculture has changed and will continue to change as the world faces disruptions. Since World War II, food productivity has soared due to new technologies, mechanization, increased chemical use, specialization, and government policies that maximize production and reduce food prices. All of these changes started in the developed economies and now gradually finding feet in developing economies depicting the interconnectedness of agriculture with other sectors of the economy.
Food prices have doubled since the beginning of 2022, following the Covid-19 and now the Russia-Ukraine war. One may ask how these disruptions affect economies far away from the war zones, and the answer is "the agriculture sector is interconnected", Julius Aseye, an Agribusiness expert, said.
READ ALSO: Ministry Has Not Been Notified of Any Tragic Loss of Life- Foreign Affairs Ministry on Ghanaians in Ukraine