Madam Paulina Addy, Deputy Director at the Ministry of Agriculture, has disclosed that agriculture should not be perceived only as tilling the soil by women farmers.
Madam Addy, speaking at the just ended Ghana Commodity Exchange (GCX) webinar on "Paying attention to women in Agriculture for a sustainable tomorrow," said agriculture to many women has been narrowed to just clearing a piece of land and planting without any proper vision. Women in agriculture need to understand that agriculture is broad and comprises numerous actors, she noted.
"Most women in agriculture have limited agriculture to only land preparation and growing crops. Women need to understand that a lot more goes into agriculture than they see. They should understand there are natural systems. The sector is mixed with able-bodied men who are financially endowed. Women farmers lack a vision and no proper direction. For instance, most women cannot decide on their short-term and long-term goals.

"If a woman is into gari processing, she has no plans most of the time on how many tonnes of gari she would produce in the short term or the long term. These are some of the parameters most women farmers lack in Ghana. Sometimes in our haste, we may want women farmers to adapt to unfavorable policies that do not fit into their local production terms. We have to carefully plan with these farmers and design tailored policies for these women to thrive in their agriculture business. Women must look at the market dynamics and then fit in very well because most women are at the far end of agriculture; food processing."

Paulina Addy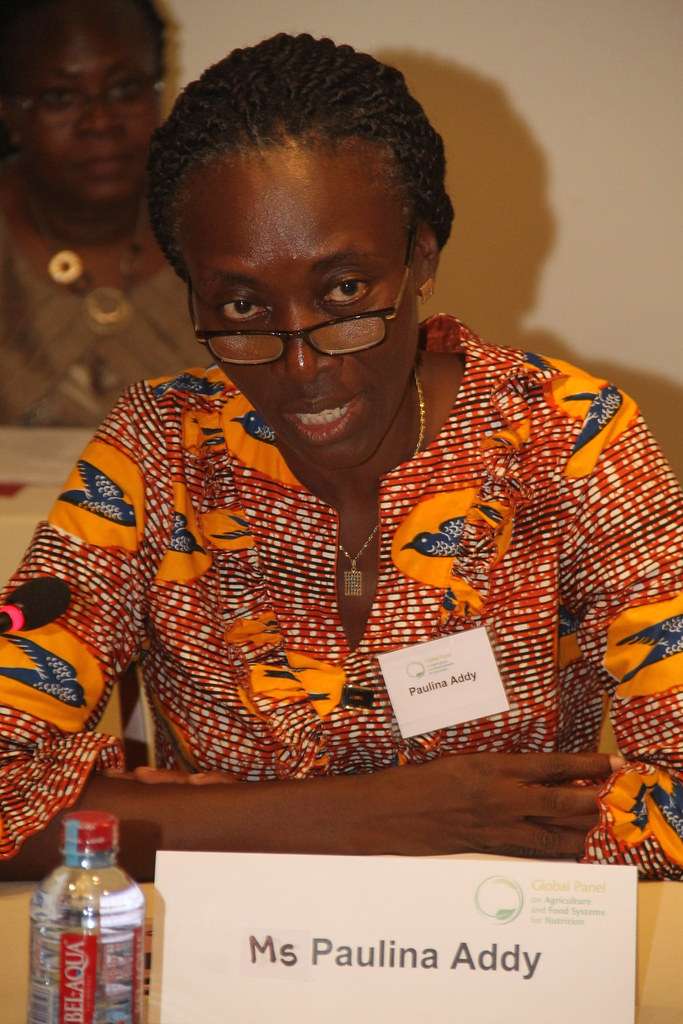 In expatiating further, Madam Addy stressed other challenges that need to be addressed for women to thrive in agriculture.  She noted that most women farmers lack coordination in accessing or harnessing some benefits to push them into the "successful farming state." she emphasized that a lot of projects designed for women in the agriculture seem not to also have proper coordination.
"After changing the mindset of women farmers to look at agriculture in a much broader perspective, we don't leave them there. We have to focus on empowering them by addressing their challenges. We have a lot of projects in agriculture dotted all around the country for women with no proper coordination. An example is the gari processing center in a village near Koforidua. These centers stopped working some years back and haven't fully gained traction after our intervention. There was an initiative to promote cassava production without any planned marketing outlet. This made the farmers complain a lot because their end product, gari, could stay in their house for months without any buyer. The center took shape after we reviewed it and added the marketing bit."

Paulina Addy
Madam Addy stressed that the issue of not producing statistics at the micro-level or small-scale level for rural farmers is discouraging because many women are in this category. She noted that produce from women at this level is not accounted for, making it difficult to track the successes of women in small scale, medium scale, and large scale agriculture.
"The data on women in agriculture producing the various commodities would help stakeholders know what amount of food quantities were produced by women in a particular season. This will even reflect what percentage the women in agriculture contribute to Ghana's agriculture GDP at the national level. I believe when women see their contribution to GDP in the agriculture sector, they will be encouraged to do more, hence the need for data segregation."

Paulina Addy
Access to information has to be considered if women's empowerment in the agriculture space is a priority, said Madam Addy. She lamented many times that women are bullied out of information by the dominant men actors in the space.
Some participants at the meeting agreed to the myriad of issues Madam Addy raised and affirmed through their comments that they needed to be addressed. Agriculture is broad, and if women would thrive in this terrain, they should be guided by the relevant stakeholders.
READ ALSO: Intensify Market Penetration of Cashew to These Countries- GEPA to Gov't