A recent research has found that the closed season introduced to protect the depletion of fish stocks in the waters of Ghana continue to harm only the Small-Scale Fishers, who are mostly poor, whilst advancing the industrial fishing sector.
The "closed season" was introduced in 2015 to prohibit fishing in the period that the restriction is in place with the sole aim of protecting the fish stocks that is fast depleting.
According to the plan, the industrial sector must observe a two-month closed season, first implemented in 2016, while the artisanal sector observes a one-month closure implemented in 2019. However, the authors argued that this has increased poverty and vulnerability within fishing communities because they are expected to stay at home without an alternative source of livelihood and with little to no support from the state.
Meanwhile, the government gave licenses to three new trawlers, despite protests from the artisanal sector and NGOs, which "ignored a moratorium on the licensing of new trawlers". It also happened despite a 2015 fisheries management plan flagging that the industrial sector was operating at an unsustainable level, the authors stated.
"This makes it clear that the government's interest isn't to contain the activities of the industrial sector. Ghana's measures instead target the most vulnerable, who are also the least able to resist and easiest to police".

Okafor-Yarwood & Co.
The fisheries resources of Ghana have long been a pillar of the national economy, contributing significantly to her socio-economic development. The fisheries sector generates over US$1 billion in revenue each year and accounts for at least 4.5% of Ghana's Gross Domestic Product (GDP), according to the Ministry of Fisheries and Aquaculture Development.
The sector also provides livelihood for an estimated 10% of the population, representing about 2.5 million people who are employed directly or indirectly including their dependents. Significantly, fish constitutes 60% of the animal protein consumed in Ghana.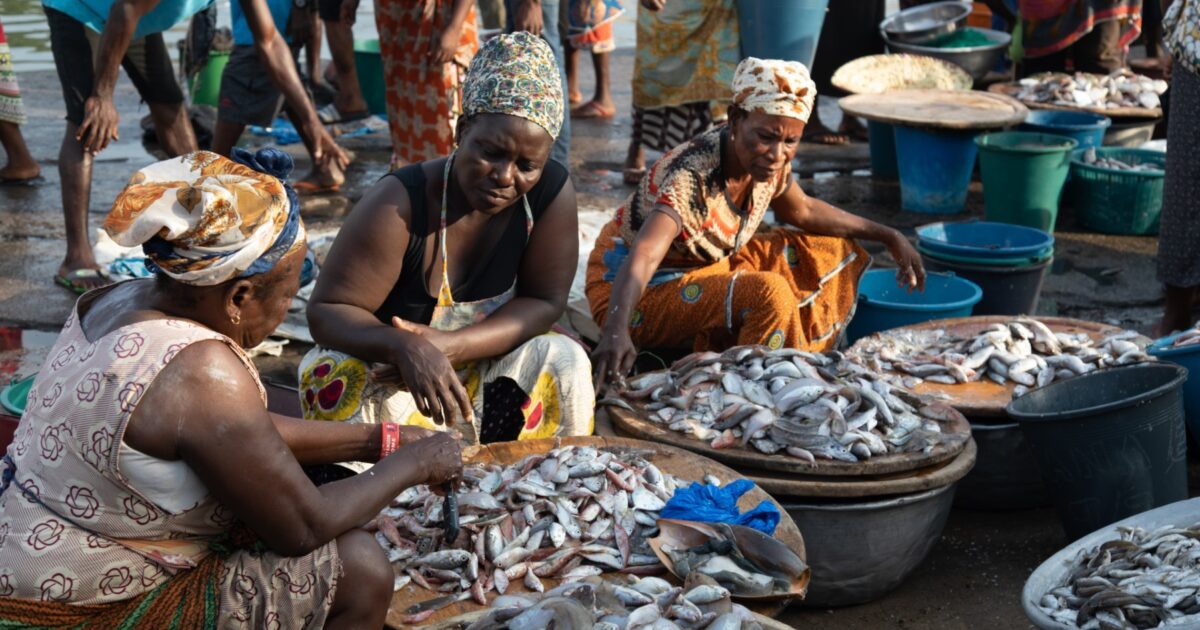 The marine fisheries sector is however, under threat due to unsustainable rates of fishing, and also because of weak fisheries governance. As such, Ghana, as well as some other African countries, are trying to address the problems of unsustainable fishing through the introduction of new policies and management practices.
Fisheries governance in Africa
The group of researchers reviewed four case studies of such measures, from Ghana, Liberia, Madagascar and Somalia and found that generally, these measures target small-scale fishers while maintaining a "business-as-usual" relationship with the industrial sector.
The study found that fisheries governance measures in Ghana and other African countries are largely constraining small-scale fishers, while failing to contain the industrial fisheries sector.
"Second, despite a higher incidence of illegal, unreported and unregulated fishing in industrial fisheries than in small-scale fisheries, efforts to develop and regulate fisheries continue to advance the industrial sector. African states have continued to enter new agreements and issue new licenses to distant water fleets. They also fail to institute stringent measures to curb their illegal activities".

Okafor-Yarwood & Co.
The authors argued that the small-scale fishing sector is better adapted to meet the continent's nutritional and socio-economic needs. As such, the research urges Ghana and other African countries to redirect efforts to govern fisheries towards regulating the industrial sector. The study also recommended that countries like Ghana should ensure that small-scale fishers have priority access to nearshore fishing grounds and fish stocks.
A way forward for Ghana
Small-scale fishers and their communities are already under tremendous pressure. They bear the burden of conservation policies, while being squeezed out by other sectors within the blue economy.
Catches and catch opportunities for local fishers have declined, conflicts increased and fish processors and mongers, many of whom are women, are left with less fish to process and sell.
Consequently, the authors (Okafor-Yarwood, Kadag, Belhabib, and Allison) lamented that fisheries' policies and management practices in Ghana and other African countries, as they stand, will only worsen the situation. It is therefore, important that Ghana supports small-scale fishers by adopting a unified social development approach to fisheries governance.
Such an approach is detailed in the Food and Agriculture Organization's Voluntary Guidelines in Support of Small-scale Fisheries. The guidelines, created in 2015 with extensive input from fish folk all over the world, recognize that multifaceted factors undermine livelihoods in fishing communities.
By championing and empowering fishing communities in fisheries governance, the guidelines are a critical next step Ghana and its development partners should invest in implementing.
The government of Ghana, through the Ministry of Fisheries and Aquaculture Development, must also step up efforts to address the impacts of the industrial fisheries. This can happen through, among other things, greater monitoring and the introduction of no fishing zones for trawlers, to allow full recovery and protection of species.
READ ALSO: Expert Expresses Disappointment In Nestle's Response Over Coagulated Milk