State Owned Entreprises (SOEs) together with Joint Venture Companies (JVCs) made net losses of GHS3.72 billion in 2019, according to the State Interest and Governance Authority (SIGA).
A breakdown of the losses incurred show total amounts of GHS1.4 billion and GHS2.34 billion for SOEs and JVCs respectively.
This is despite the increased revenues that SOEs, in particular, have consistently maintained. As such, the significantly high and increasing costs have accounted for these losses. Based on the findings of the report, however, Other State Owned Entreprises (OSEs) made a surplus amount of GHS3.60 billion.
In a foreword to the report, the Minister of Finance, Ken Ofori-Atta indicated:
"The findings of the Report relating to the financial performance of these entities reveal that more work needs to be done in order to attain optimal performance. It is a continuous source of worry that SOEs and JVCs are still recording losses.
"While majority of SOEs and JVCs have consistently increased revenue, their failure to contain significantly high and ever increasing costs has largely accounted for the losses they continue to report."

Ken Ofori-Atta, Minister of Finance
According to the report, the financial performance of 106 entities made up of 47 SOEs, 27 JVCs and 32 Other State Owned Entreprises (OSEs) were examined. Thus, revealing the need for extra work on these entities to ensure optimal performance.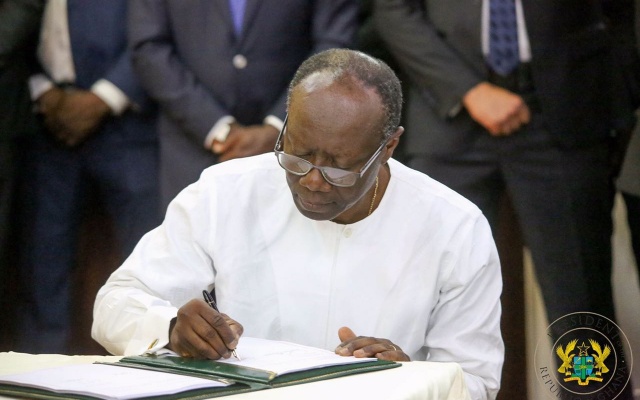 Assets, Liabilities of the SOEs, JVCs and OSEs
Accordingly, SOEs accrued GHS28.57 billion (31%) in turnovers, whereas JVCs accrued GHS45.53 billion (49%) and OSEs an amount of GHS19.05 billion (20%). In total, the 106 entities made an aggregate turnover of GHS93.14 billion.
Also, the total liabilities of these entities amounted to GHS226.88 billion: SOEs liabilities accounted for 37 per cent (GHS82.75 billion); JVCs liabilities accounted for 27 per cent of total liabilities (GHS61.94 billion); OSE liabilities accounted for GHS82.20 billion (36%).
Similarly, total assets for all the entities amounted to GHS308.52 billion. SOEs' total assets amounted to GHS82.75 billion (37%), GHS61.94 billion for JVCs and GHS90.48 billion for OSEs.
Meanwhile, one key element that is of importance to SIGA is to turn around the fortunes of these entities, Mr. Stephen Asamoah-Boateng, the Director-General of SIGA assured.
"SIGA has hit the ground running by initiating strategies aimed at turning round the Entities from the current trend of low profitability, low liquidity and indebtedness to efficiency, sustainable growth and profitability.
"As part of its strategic management process, SIGA has commenced the review and classification of the Entities with the aim to invite private capital through listing on the Stock Market."

Mr. Stephen Asamoah-Boateng, Director-General, SIGA
He further stressed that efforts are on track towards the review and classification of the entities. And the aim is to invite private capital through listing on the Stock Market.
This is a strategy which is intended to help arrive at a more focused and innovative approach to help solve the challenges of the entities, he explained.
According to him, SIGA is yet to present the recommendations and strategies herein highlighted to Cabinet for approval.
READ ALSO: Ghana: Import of Petroleum products increase by 84% in Q2 2021