Months after speculation of bad blood in the camp of Mzbel and Nana Tonardo, the former has come out to debunk news of their breakup.
There have been attempts to create enmity in the camp of singer Mzbel and actor Nana Tonardo with an aim of collapsing their beautiful friendship which has witnessed both parties standing up for each other, the musician has observed.
Mzbel in a Facebook session showed appreciation to her confidant for ignoring attempts by some blogs and individuals who pitched her against him.
On the account of Mzbel, she was taken out of context in an interview where she confessed to not having genuine friends.
These were Mzbels in a viral interview back in January 2023:
"Every love I have ever experienced in my life with people, I have paid for it. Physical cash. No one has become friends with me, taken me as a mother or sister, and hasn't taken money from me for being my friend".

Mzbel
The '16 Years' singer has once again clarified that she was not referring to Tonardo, the man who has stood beside her through thick and thin.
Her words have been used against her by those who wish to break her bond with the outspoken actor who has defended her on various platforms.
She disclosed:
"The interview I granted and stated that I pay for friends to be part of my life was never about Tonardo. I beg you, it has nothing to do with Tonardo. To all those who picked my statement and specified Tonardo as my target, it was never true. Do not take me out of context and treat it as facts.
"I am so proud of Nana Tonardo for not reacting or coming out to attack me… When two people come together as friends, enemies sit to plan their breakup. They pray for your downfall… I will urge friends not to flaunt their beautiful relationship on social media because of negative eyes… These people are quick to create confusion among friends… Tonardo remains my friend".

Mzbel
Afia Schwarzenegger threatens to take the life of Mzbel's son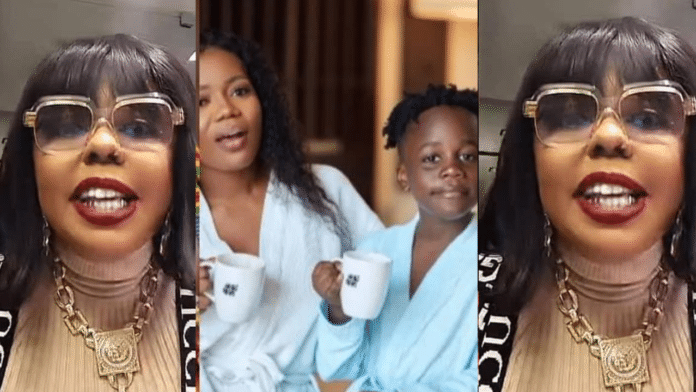 Afia Schwarzenegger who resurrected her long-time-standing beef with Mzbel three days ago and confessed to having a hand in the singer's father's death has threatened to hit her old-time friend with a bulldozer once again.
According to Afia Schwarzenegger, she was the one who prayed for Mzbel's father to die because she mocked and humiliated her on the internet after news of her own father's death went viral on social media.
In a Tiktok video, Afia Schwarzenegger said:
"I prayed for God to kill your father I say it with a full chest. I prayed by pouring libation, you can ask from Funeral Homes. I went to Funeral Homes at night and poured libation that death should come for your father if it is indeed capable of claiming anyone". 

Afia Schwarzenegger
Mzbel's clap back has apparently triggered Afia Schwarzenegger to come back with another attack on her.
In a new Tiktok video, Afia Schwarzenegger threatened to take the life of the singer's son just like she allegedly did to her father.
She said:
"If you like, attempt something new. Try something else and see if your child won't die. Try it, just try, just try it. I will curse you".

Afia Schwarzenegger
The video has since attracted reactions from social media users who are asking Mzbel to report Afia Schwarzenegger to the police over the threat on her son's life.
A Social media user said:
"Don't play with your child, report her to the police… If anything happens to your son she will face the law".

User 1
Another added that:
"She says she killed your dad, she's given you evidence. Won't you take her on?? I really don't understand why both of you just can't go your separate ways amicably after your failed friendship. If you miss each other then settle because how many years now?".

User 2
READ ALSO: Moses O.K Decries 'Career-Destroying' Paltry Payment For Gospel Artistes