Ghanaian international gospel music star and preacher, Sonnie Badu, has petitioned President Nana Akufo-Addo to change the name of the Kotoka International Airport (K.I.A) to 'JJ Rawlings Airport' to honor the late former President of Ghana.
Sonnie Badu made this known in an Instagram post while eulogizing him as the 'man of the people'. Sonnie further asserted that this would be a way to keep the name of Rawlings alive across the world. He made this request whiles sharing a photo of himself with Rawlings, with a caption:
 "JJ do something before you die" that was the chants!!! You indeed did all you needed to you… You will always be a role model to some of us. Thank you for all you did for Ghana. Your burial is so beautiful. It makes some of us want to work even harder and make the nation proud… Now dear president, @nakufoaddo How about Kotoka international airport being changed to JJ Rawlings International Airport? In all honesty, it would be nice to hear his name more often all over the world at different airports "flight 737 flying to Jerry John Rawlings International Airport Accra, Ghana " … I know God will touch your heart to do this … just saying."
This is not the first time that Sonnie Badu has asked that the name of the airport is changed. Last year, he publicly claimed that Ghana will only enjoy peace if the airport's name be changed and further noted that Kotoka is 'sitting at the gateway to Ghana'.
Meanwhile, the CEO of the Burniton Music Group, Livingstone Etse Satekla, popularly known as Stonebwoy, has revealed he will get a tattoo in honor of the late former President Jerry John Rawlings.
He made this disclosure on his Twitter page as he professed his undying love for the late former President. Posting a very old black and white picture of the late former President, Stonebwoy also lauded J.J Rawlings as a freedom and justice fighter and also as a world hero.
"…as for JJ Rawlings dier straight tattoo. #FreedomAndJusticeFightern I love him die. #RIP #WORLDHERO".
His fans and other social media users couldn't agree with him any less as they also praised J.J Rawlings. Others were also of the view that Stonebwoy's body has already been covered with several tattoos, therefore, they doubt there will be any space left to tattoo Rawlings on his body. Some further questioned if he had his wife's image tattooed on his body. Some reactions to his post read:
That notwithstanding, Sonnie Badu and Stonebwoy are not the only Ghanaian celebrities who have applauded Rawlings, as Ghanaian award-winning actress and film producer Yvonne Nelson has massed praises on late former President JJ Rawlings.
In an emotional Instagram post, the actress shared memories of JJ Rawlings supporting her campaign against 'Dumsor' in 2015. The post captured the founder of the National Democratic Congress (NDC) condemning 'Dumsor' and condemning critics of Yvonne Nelson's move.
Yvonne Nelson captioned the video with an emotional message, saying: "You died on my birthday… you stood for truth always! Ghana is grateful. #RIP one of our greatest".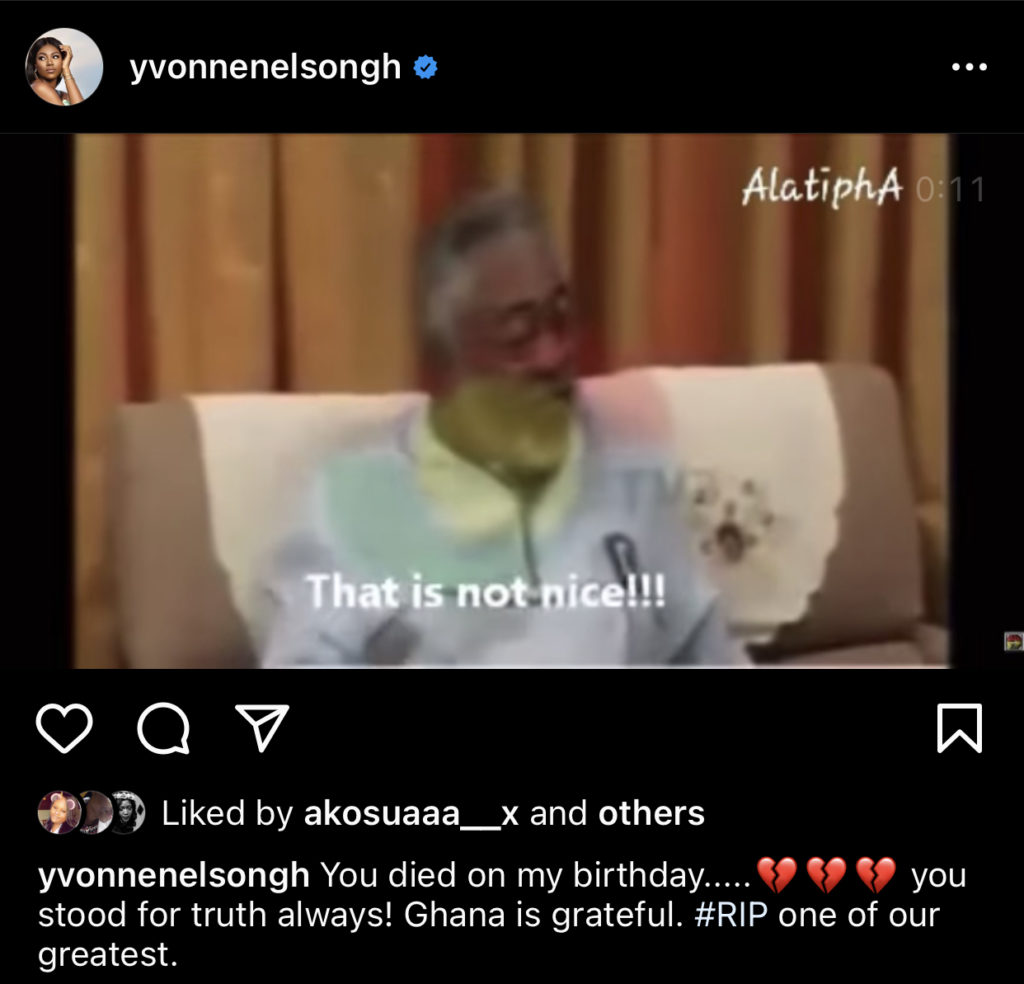 Read also: STONEBWOY LOOKING 'WAVY' IN NEW GRILLS