Also in his address at the UN General Assembly, Antonio Guterres, the UN Secretary General highlighted the issue of climate change.
He emphasized that climate change is "killing people and devastating communities."
Guterres averred, Climate change is not just a change in the weather. Climate change is changing life on our planet. It is affecting every aspect of our world.
This is only the beginning, he iterated.
He asserted that there is still time to keep rising temperatures within the 1.5 degree limits and the Paris agreement.
However, according to Guterres, that will require "drastic" steps to cut greenhouse gas emissions.
"We have just survived the hottest days, the hottest months and the hottest days on the books. Every continent, every region and every country is feeling the heat. But I'm not sure at all leaders are feeling that heat.
"We have the receipts. G20 countries are responsible for 80% of greenhouse emissions. They must break their addiction to fossil fuels and stop new coal."

Antonio Guterres
As such, Guterres urged for urgent action to combat climate change, including providing resources to developing countries to establish green energy sources.
"We must be determined to tackle the most immediate threat to our future: our overheating planet," the UN Chief said.
"Climate chaos is breaking new records, but we cannot afford the same old broken record of scapegoating and waiting for others to move first," he stressed.
The UN Chief demanded a Climate Solidarity Pact, in which all big emitters make extra efforts to cut emissions; and wealthier countries support emerging economies with finance and technology to do so.
He called for "an end to coal – by 2030 for OECD countries and 2040 for the rest of the world. An end to fossil fuel subsidies and price on carbon."
"Developed countries must finally deliver the $100bn for developing country climate action, as well as double adaptation finance by 2025," Guterres pronounced.
He stated, "Africa has 60%of the world's solar capacity – but just 2% of renewable investments."
Moreover, Guterres made mention of the use of Artificial Intelligence(AI).
He confirmed that he was appointing a high level panel to report to him on the implications of AI by the end of the year.
He also suggested a new global entity on AI that could provide a source of information and expertise for Member States.
He noted that there are models that can inspire such an institution, including the UN nuclear watchdog, the IAEA.
"The UN stands ready to host the global and inclusive discussions that are needed," he said.
President of UN General Assembly Calls For Solidarity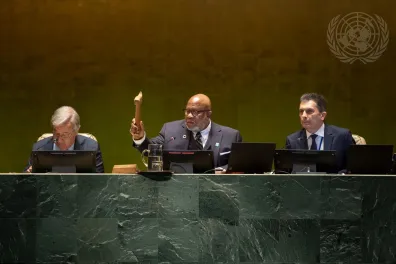 In opening remarks at the general debate, President of the UN General Assembly, Dennis Francis, a diplomat from Trinidad and Tobago, called on world leaders to use the "unique and truly global platform" of the summit to tackle global challenges.
He called for solidarity and "joint action" to improve the state of the world.
"Such a common, coordinated approach is needed now as much as at any point in our history," Francis said.
"War, climate change, debt, energy and food crises, poverty and famine – these crises are directly impacting the lives and well-being of billions of people around the world."

Dennis Francis
Francis has said that the world lacks the will, not capacity, to achieve "consequential change" and improve the lives of billions of people.
"What we lack is the will to act by putting aside our differences and bridging divides. We can deliver; we must deliver peace, progress, prosperity and sustainability to everyone everywhere."

Dennis Francis
His remarks were followed by the first country address by Lula da Silva, the Brazilian President.
READ ALSO: General Debate of the UN General Assembly's 78th Session Commences