According to Philippe Lazzarini, the Commissioner General of the UN agency for Palestinian refugees (UNRWA), there was a deliberate attempt to suppress his agency's humanitarian work in Gaza.
Speaking to journalists in Geneva, he noted, "I do believe there is a deliberate attempt to strangle our operation and paralyze the operation."
He added that UNRWA, which supports more than 800,000 displaced Palestinians in Gaza, was at risk of suspending its operations entirely.
The UN agency has pleaded for weeks for access to fuel, he said, adding that it was "outrageous" to force humanitarian aid agencies to beg for fuel.
A truck carrying 24,000 litres (6,340 gallons) of diesel fuel for UN aid distribution trucks was allowed into Gaza on Wednesday – marking the first time Israel has approved a truck carrying fuel into Gaza since the start of the war.
The delivery is nowhere near what people in Gaza need to survive, Lazzarini said.
He added, "Because of the lack of fuel, we will not be able to send our trucks across the south of the Gaza Strip where we have people waiting for humanitarian deliveries."
Meanwhile, Gaza's main telecommunications companies, Paltel and Jawwal said in a statement that all telecommunication services; fixed, cellular and internet services, in the Gaza Strip have gone down as all energy sources sustaining the network have been depleted.
Lazzarini said he feared civil order could break down after Gaza as a result of the communications blackout.
"Gaza is again in a total communication blackout, and … it is because there is no fuel," he was reported as saying.
He said that he was worried that the blackout could heighten panic in the Gaza Strip and erode the last traces of public order, adding that communications blackout "triggers and fuels even more the anxiety and the panic."
"This can provoke or accelerate the last remaining civil order that we have in the Gaza Strip. And if this completely breaks down, we will have difficulties to operate in an environment where you do not have a minimum of order."

Philippe Lazzarini
Egypt Calls For Medical Relief To Be Focused In Gaza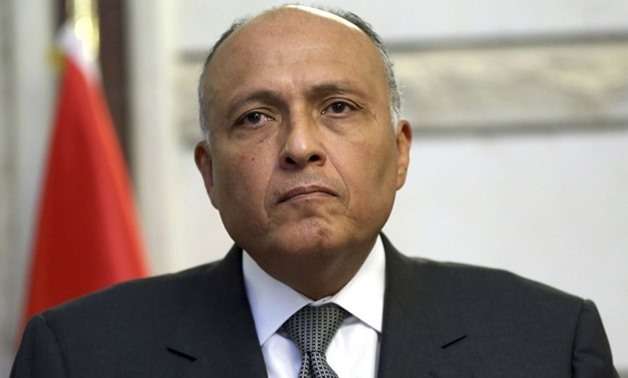 In other developments, Egypt's foreign minister, Sameh Shoukry, stressed that efforts to provide medical relief for Palestinians from the Gaza Strip should be concentrated within the besieged coastal enclave.
Egypt has received limited numbers of medical evacuees from Gaza this month, most of whom have been taken to Egyptian hospitals for treatment. One group of cancer patients that crossed into Egypt from Gaza was flown to Turkey on Wednesday.
Sameh Shoukry, said, "We have to concentrate on getting medical facilities established inside of Gaza so it can be more accessible to Palestinians who are in need for medical assistance."
Shoukry also said there was no truth to reports that Israel and the U.S had put pressure on Cairo to take in refugees from Gaza in return for debt cancellation.
He said, "There's absolutely no truth and no possibility of any form of displacement of Palestinians outside their homeland, their current location."
Egypt has repeatedly said it rejects any mass displacement of Palestinians from Gaza, as Israel's military campaign there has displaced hundreds of thousands of people towards the south of the territory and a humanitarian crisis has deepened.
Moreso, Shoukry said Egypt remained in continuous contact with Hamas and other international parties to try to secure the release of Israeli hostages.
READ ALSO: Israeli Opposition Leader Calls For Netanyahu's Resignation