SNV Ghana has partnered with the Kwadaso Agricultural College, where it trained and certified 83 entrepreneurs in the agricultural value chain through the European Union-funded and Boosting Green Employment and Enterprise Opportunities in Ghana (GrEEn) Project.
Mr. Laouali Sadda, the Project Manager of SNV Ghana on GrEEn Project, at the graduation ceremony, said more than 200 agricultural entrepreneurs have been trained so far to be climate-resilient, sustainable, and engage in farming practices that do not harm the environment or adversely affect people's health.
Mr. Laouali Sadda explained that in 2022, SNV Ghana signed a memorandum of understanding with the Kwadaso Agricultural College to provide certified training on Climate Smart Agricultural practices to youths who had completed SNV's Opportunities for Youth Employment (OYE) Programme and were interested in agriculture or entrepreneurs in the agriculture value chain.
"We believe the youth hold the keys to sustainable development. However, we understand that they lack opportunities. To bridge this gap, SNV uses its flagship, OYE Programme which partners with public and private institutions to increase entrepreneurship and employability skills for youth job makers and job seekers."

Mr. Laouali Sadda
Mr Sadda added that under the GrEEn Project, SNV Ghana has been implementing OYE by carrying out skills training, facilitating on-the-job skills development through internships and practical learning as well as providing funding to green microbusinesses and start-ups.
Mr Sadda Applauds the EU
Mr Sadda used the opportunity to applaud the European Union (EU) for funding programmes to support the job creation and skills development goals of the government of Ghana. He pledged that the GrEEn Project would continue to be dedicated to promoting the growth of green jobs and green businesses at the local and national levels.
Mr. Albert Appiah Asamoah, Principal, Kwadaso Agricultural College, said it is important that experts are brought on board in Ghana's quest to address the world's most pressing challenges in climate change and food insecurity. He therefore, urged the graduates to put their expertise to good use and that their dedication would be crucial in finding solutions to these complex issues.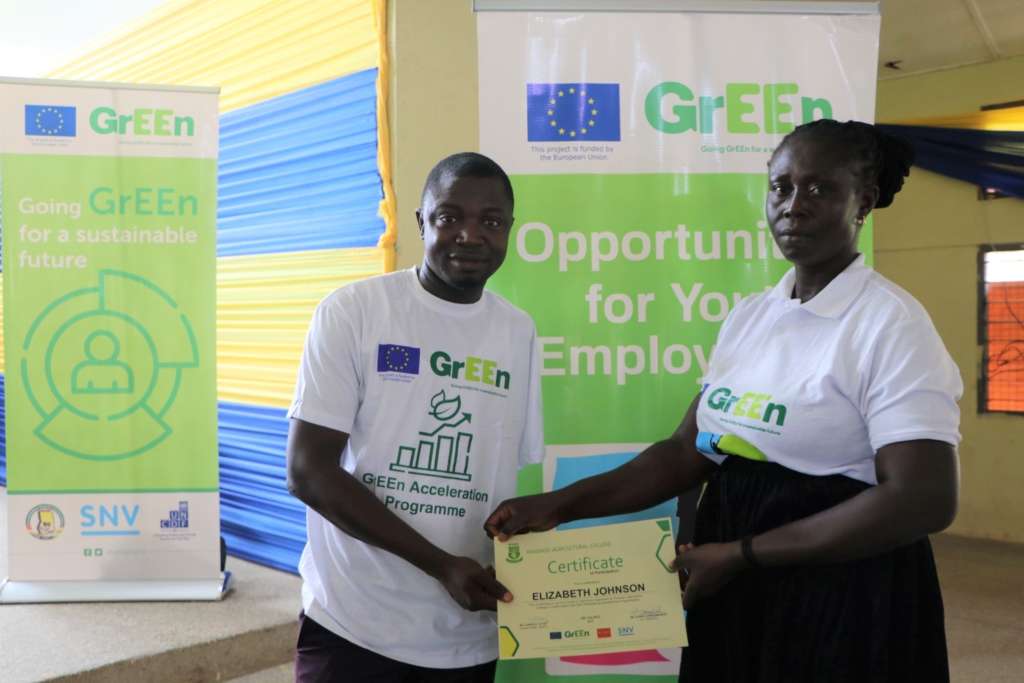 The beneficiaries, drawn from the Ashanti and Western Regions, received training in agro processing, basic concepts in value chain, climate smart agriculture, crop production and management, financial literacy and sensitisation, livestock production, poultry production, among others.
Boosting Green Employment and Enterprise Opportunities in Ghana, also known as GrEEn, is a four-year joint project from the European Union, the Embassy of the Kingdom of the Netherlands in Ghana, the United Nations Capital Development Fund (UNCDF) and SNV. The project is being implemented in the Ashanti and Western regions of Ghana.
GrEEn is funded under the European Union Emergency Trust Fund for Africa (EUTF), which European and African partners set up in 2015 to deliver an integrated and coordinated response to irregular migration, forced displacement and diverse causes of instability, including climate change.
GrEEn contributes to addressing the root causes of irregular migration by supporting sustainable and climate resilient local economies, green jobs, and development in departure, transit, and return regions.
READ ALSO: IMF to Disburse the Rest of US$3 billion Bailout Fund to Ghana After First Formal Review in Fall