The Director-General of Ghana Health Service (GHS), Dr Patrick Kuma-Aboagye, has called for aggressive deployment of COVID-19 vaccines across the 16 regions of the country. He noted that these deployments should be mainly centered around market places, lorry parks, churches and mosques.
Speaking on the vaccination exercise and vaccine acquisition, he indicated that the aggressive deployment will aid in reducing the infection rate of the COVID-19 because evidence locally and internationally shows that "vaccination against the COVID-19 accounts for the steady decline in positive cases". Additionally, he noted improving adherence to COVID-19 safety and enforcement protocols has contributed significantly to the decline.
The Director-General indicated that,;although the country's vaccination drive experienced a setback due to a global shortage of vaccines, his outfit remains hopeful of achieving herd immunity within three months. According to him, now that vaccines are available,;the government has instituted measures to easily access them for procurement and administration.
"Ghana can do between 300 and 400 thousand vaccines in a week. And if we expand,;we can even do a million. In 2020 within four days,;we vaccinated 6 million people against Yellow Fever. So, it is possible, once the vaccines are available, we can accomplish this".

Dr. Kumah Aboagye
Ghana expecting 18,742,610 doses by end of year
Dr Patrick Kuma-Aboagye disclosed that the country is expecting to receive a total of 18,742,610 doses of COVID-19 vaccines within the last three months of the year.
Breaking it down, he noted that it consists of
"AstraZeneca; 834,720, Pfizer; 1,330,290, and Johnson and Johnson; 16,577,600. Aside the AstraZeneca and Pfizer,;which are donations from developed countries and COVAX,;the total consignment of Johnson and Johnson was procured by government through the Africa United platform. Should all the consignment arrive, a total of 16,777,100 people will be vaccinated by the end of the year."

Dr. Kumah Aboagye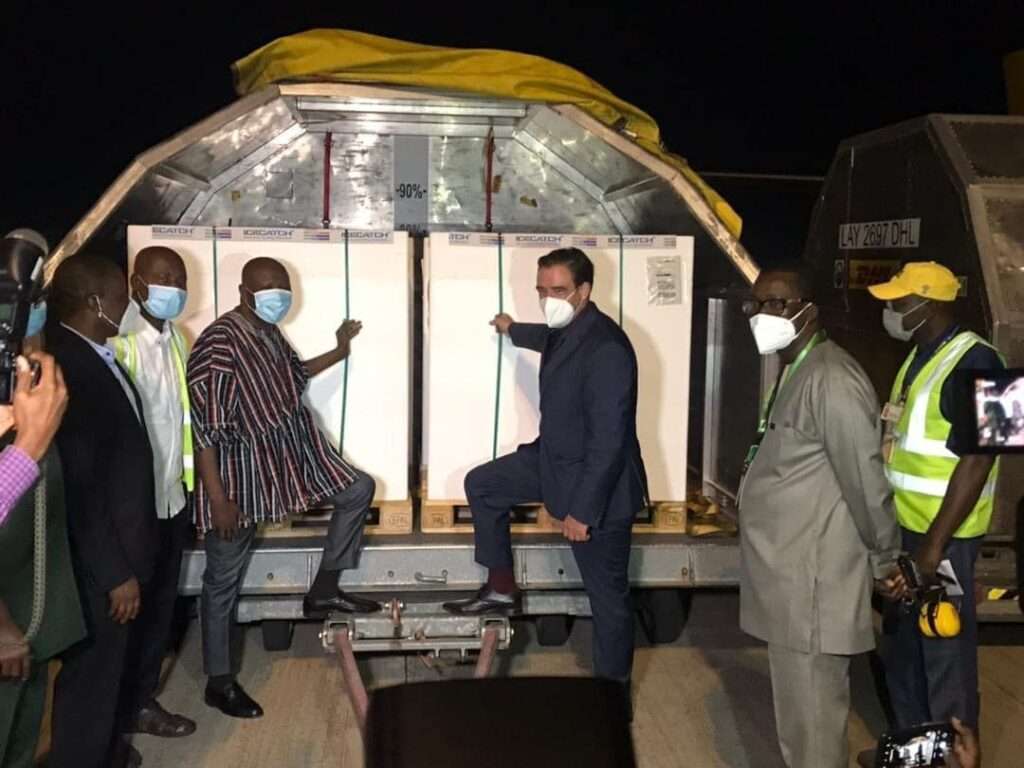 The GHS Director-General said the Service had so far inoculated 1.6 million Ghanaians, with 89 percent of the vaccines coming from AstraZeneca, 10 percent from Johnson & Johnson, and one per cent from Sputnik V. Dr Kuma-Aboagye said the country had received nearly five million doses of the AstraZeneca Covashield from India, 21,000 doses of Sputnik V, 450,000 doses of Johnson & Johnson, and 1.2 million of Moderna vaccines.
According to the Ghana Health Service, Ghana has recorded 128 positive cases of COVID-19 this September, 273 in August and 500 in July, this year. The GHS said as at September 23, 2021, there were 3,578 active cases, 1,147 deaths, 122,000 recoveries and 126,803 cumulative positive cases after 1.7 million tests.
As part of vaccination efforts and also to reduce the infection rate, the Deputy Minister for Health, Mahama Asei Seini has received 1.5 million doses of AstraZeneca vaccines on behalf of the government of Ghana. The donation, which came from the German government, is in support of Ghana's fight against COVID-19 which has so far claimed over 1,000 lives in the country.