Queen Elizabeth II has unveiled the British Government's plans for the next year in a formal;event at the House of Lords in London. During the ceremonial start of the new parliamentary session, she outlined;the government's sweeping legislative agenda to bolster the economy after the COVID-19 pandemic.
The annual proceedings take place for the monarch to outline the policies of the government in what is called;the 'Queens Speech'. The speech is delivered by her but written by the government.
In the speech, the Queen intimated that her government's "priority is to deliver a national recovery from the pandemic that;makes the United Kingdom stronger, healthier and more prosperous than before.
"To achieve this, my government will level up opportunities across all parts of the United Kingdom,;supporting jobs, businesses and economic growth and addressing the impact of the pandemic on public services."
Queen Elizabeth also stated that the UK will host the G7 Summit and lead;the global effort to secure a robust economic recovery from the pandemic.
This effort, she posited, will involve her ministers deepening trade ties in the Gulf, Africa and the Indo-Pacific.
Touching on aid cuts, she vowed that "my government will continue to provide aid where it has;the greatest impact on reducing poverty and alleviating human suffering.
"My government will uphold human rights and democracy across the world. It will take forward a global effort to get 40 million girls across the world into school."
UK committed to achieving net zero greenhouse gas emissions by 2050
Queen Elizabeth II also underlined the UK's commitment to achieving net zero greenhouse gas emissions by 2050.
In the speech, the Queen said the government will "invest in new green industries to create jobs, while protecting the environment".
"The United Kingdom is;committed;to achieving net zero greenhouse gas emissions by 2050 and will continue to lead the way internationally by hosting the COP26 Summit in Glasgow."
She added that the Environmental Bill will set binding environmental targets and legislation will also be;brought forward to ensure the United Kingdom has, and promotes, the highest standards of animal welfare.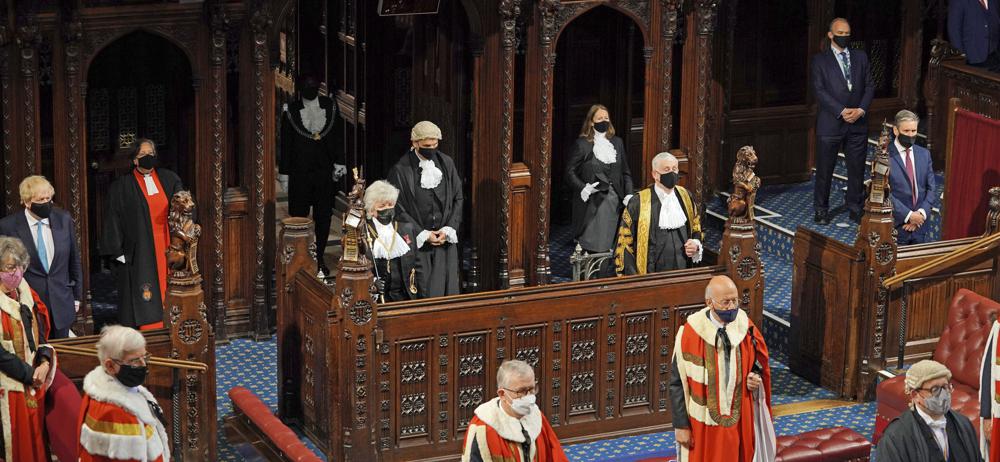 The Queen also introduced the Health and Care Bill in her address in the House of Lords. She said her government will "protect the health of the nation, continue the vaccine programme and provide additional funding to support the NHS ".
She also revealed that ministers will bring forward legislation to empower the NHA to innovate and embrace technology so that patients will receive more tailored and preventative care.
"Measures will be brought forward to support the health and wellbeing of the nation, including to tackle obesity and improve mental health. Proposals on social care reform will be brought forward."
The Queen added that the government will build on the success of the vaccination programme to "lead the world in life sciences, pioneering new treatments against diseases like cancer and securing jobs and investment across the country".
Read Also: Vaccine roll out will be according to schedule- Dr Nsiah-Asare