After Ghana Revenue Authority's (GRA) claim to have followed a due process to justify the back-tax bill it imposed on the telecommunication company, MTN Ghana, it is now clear that GRA employed the services of a dodgy entity called Safaritech Ghana Limited, whose work led to MTN Ghana being slapped with a controversial tax liability of over GH¢8.2billion.
Safaritech Ghana Limited had its headquarters in London dissolved since March 16, 2021. Nevertheless, the company had maintained virtual addresses in London since 2016 with a dormant account of only £100 balance since its inception till its final dissolution on March 16, 2021.
By 2019, when the Ghana Revenue Authority (GRA) disclosed its engagement with Safaritech to audit MTN, the company was actually a dormant company in the UK where it claimed to have had its headquarters in London.
Safaritech was said to have supposedly used a different methodology that revealed that MTN Ghana hid 30% of its revenue from GRA between 2014 and 2018. The tax bill included the alleged expected taxes from the hidden revenue, plus penalties.
MTN Ghana has challenged the claim and is currently taking advantage of the 21-day hold off to engage GRA on the issue.
According to the MTN Group CEO, Ralph Mupita, the company's intention is to fight the claim if the 21-day engagement fails to yield the desired result.
Beyond the 21-day engagement, the Commissioner-General of GRA has indicated the discretion to compel MTN to pay at least 30% of the stated tax bill.
However, MTN Ghana seeks to redress the false issue in other forums, including the law courts after the disclosure of GRA's engagement with Safaritech.
Safaritech Disappears After Expose
Techgh24 earlier wrote to the International Monetary Fund (IMF), UNDP and GIZ seeking to understand the relationship, if any, between them and Safaritech.
On its website, www.safaritech.biz – which is now not accessible, the company claimed to be 'a base of the IMF, GIZ, UNDP and ARTN' with its headquarters office in London, where it was registered as Safaritech Limited with Company Number 10287352.
Just after hours of Techgh24 public information disclosure about Safaritech alleged relationship with the IMF and the claim to be headquartered in London, the company has taken down its website with the excuse of carrying out updates on the site.
Checks on Wayback Machine (web.archive.com) brought back some of the deleted details on its Ghana website. The street address was E68/9B Ablade Close, Kanda; email address was info@safaritech.biz with phone number as 0205802053.
As stated above, since the dodgy characteristics of Safaritech were exposed by Techgh24, they have completely gone into hibernation and as well pulled down all information on their website. www.safaritech.biz is now offline and have remained offline for almost a week now.
But before they could put off the website to hide their questionable claims of having its headquarters in London, being a base of IMF, GTZ, UNDP and ATRN, and having done telecoms audit in several countries, Tecgh24 took screenshots of some of those claims on their defunct website as evidence.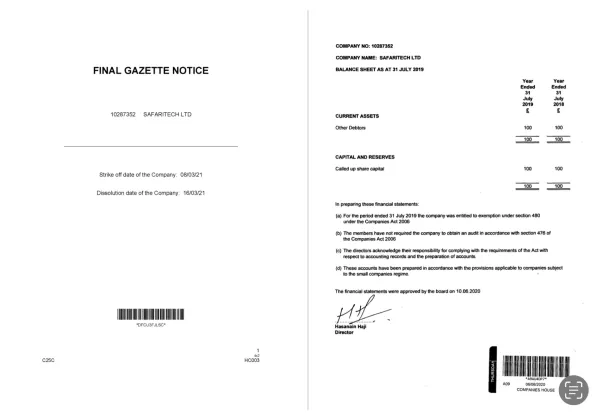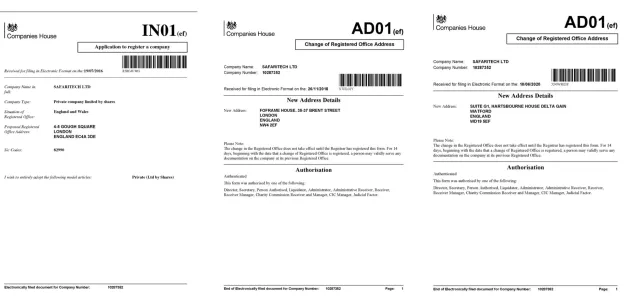 Read Also : We Followed Due Process In Notice Of Tax Assessment Served On MTN Ghana- GRA