Myanmar's military has seized power in the country after detaining a number of leading politicians including State Chancellor, Aung San Suu Kyi and President Win Myint.
A video address broadcast on military-owned television said power has been handed to the commander-in-chief of the armed forces, Senior General Min Aung Hlaing. The emergency will remain in force for a year, it said.
The coup follows a landslide win by Ms Suu Kyi's party in an election which the army claims was marred by fraud.
The military says it found millions of irregularities in parliamentary elections lost by the army-back opposition in November. The election commission has rejected the fraud claims.
But the army had threatened to "take action" and now says it will use its emergency powers to organize a new vote.
Soldiers have blocked roads in the capital, Nay Pyi Taw, and the main city, Yangon. Myanmar's state broadcaster has also stopped transmission, blaming technical problems.
Data and communications services have been disrupted and banks said they had been forced to close, resulting in long queues at cash machines.
Myo Nyunt, the spokesman for the governing National League for Democracy (NLD) said, that Chancellor Aung San Suu Kyi, President Win Myint and other leaders had been "taken" in the early hours of the morning. Vice President Myint Swe has been made acting president.
The NLD said its leader, Ms Suu Kyi is calling on the public not to accept the apparent coup and to protest.
"The actions of the military are actions to put the country back under a dictatorship," the NLD said in a statement that carried Ms Suu Kyi's name, and which was apparently prepared in anticipation of the coup.
"I urge people not to accept this, to respond and wholeheartedly to protest against the coup by the military."
Myanmar, also known as Burma, was ruled by the armed forces until 2011, when democratic reforms spearheaded by Chancellor Aung San Suu Kyi ended military rule.
She is the daughter of Myanmar's independence hero, General Aung San who was assassinated just before Myanmar gained independence from British colonial rule in 1948.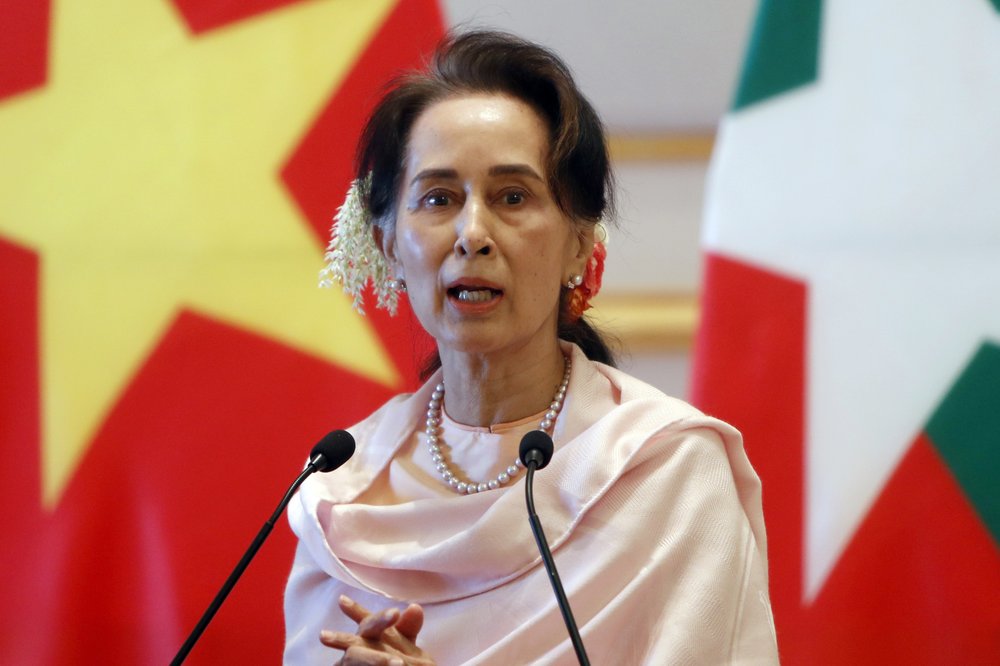 She spent nearly 15 years in detention between 1989 and 2010. She was internationally hailed as a beacon of democracy and received the Nobel Peace Prize in 1991.
The constitution forbids her from becoming president because she has children who are foreign nationals but the 75-year old is widely seen as de facto leader.
The military's actions have received widespread condemnation from the international community.
UN Secretary-General Antonio Guterres said the developments were a "serious blow to democratic reforms" and urged all leaders to refrain from violence and respect human rights.
U.S. Secretary of State Anthony Blinken also issued a statement expressing "grave concern and alarm" over the reported detentions.
"We call on Burmese military leaders to release all government officials and civil society leaders and respect the will of the people of Burma as expressed in democratic elections," he wrote, using Myanmar's former name.
In the UK, Prime Minister Boris Johnson condemned the coup and Chancellor Aung San Suu Kyi's "unlawful imprisonment".
Mark Farmaner, director of Burma Campaign UK, has revealed to reporters that while Myanmar had been governed by Ms Suu Kyi's civilian administration in recent years, the military had retained control of the most important ministries and security forces.
"It doesn't really make sense for the military to be doing this, because they benefited greatly from the reforms made in the past 10 years," he said.
"We're going to have to see whether there's some sort of split within the military or what their motivation is.
"They must know as a result of the coup there will be sanctions re-imposed and they face the threat of uprisings within the country. It is impossible to see how this ends well for anybody in the country, including the military."