Ghana will be assisting Guyana with technical support in the areas of local content, the sovereign wealth fund (SWF) or oil money legislation, as well as the highly-anticipated gas-to-energy development.
President Irfaan Ali assured that a technical team from Ghana would be arriving early in November 2021, comprising of Chief Executive Officers (CEOs) and experts in the oil and gas field.
According to Dr. Ali, the upcoming visit is the outcome of Guyana's Vice President, Jagdeo's earlier visit to Ghana. The upcoming visit is aimed at reviewing work on the gas to shore energy project and for the Ghanaian experts to give their "opinion and technical views."
"It is also expected that the Vice President of Ghana will be visiting Guyana this year, and it is anticipated that the President of Ghana will participate in the oil and gas conference set for 2022."

President Irfaan Ali
In addition, Guyana's President indicated that a team of investors from Ghana's private sector will be visiting Guyana to establish partnerships with local counterparts in various investment opportunities. These investors have varied interests in agriculture, mining, tourism, and food production, he said.
"We're hoping that the local private sector can actively participate and create the environment for this partnership to prosper."

President Irfaan Ali
By ensuring the government's commitment towards transparency and accountability in the use of the country's oil revenues is met, the President assured that an amended Natural Resources Fund and Local Content legislation will be taken to the National assembly before the end of 2021.
He reiterated that Guyana will have extensive assistance from experts in Ghana to make this happen.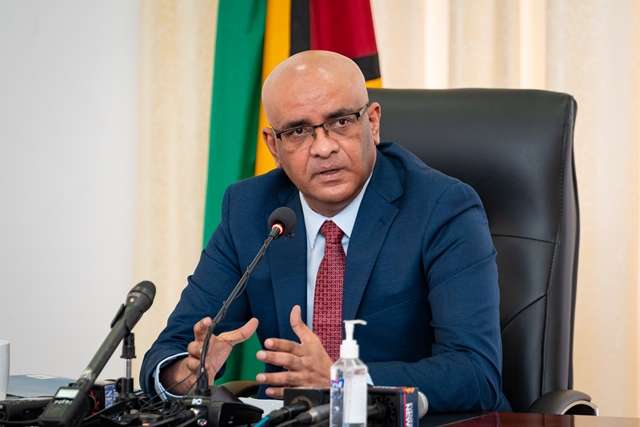 "The team will come to establish partnerships with various counterparts… There will be exchanges between the private sector from Ghana and Guyana."

President Irfaan Ali
The visit extends to providing assistance to the Guyanese government on finalizing its local content policy and amendments to the Sovereign Wealth Fund legislation.
Guyana established a Sovereign Wealth Fund, called the Natural Resource Fund (NRF), in 2019, which is governed by the 2019 Natural Resources Act in accordance with the Santiago Principles.
Earlier this year, a delegation from the Guyana Oil and Gas Energy Chamber paid a courtesy call on the Ghana Upstream Petroleum Chamber to deliberate on the prospects of a collaboration between both chambers.
Such a collaboration was aimed at helping Guyana understand the Ghanaian experience of an emerging oil and gas industry.
These many efforts that the Guyanese government is strategically putting forth is very crucial, since Guyana appeared in the oil and gas production scene only recently.
In September 2021, during the opening of the general debate of the 76th United Nations General Assembly, Presidents Ali and Akufo-Addo met and discussed several matters of mutual interests, including oil and gas, climate change and the environment, capacity building and training.
Both engagements were aimed at fostering enhanced cooperation between the two oil-producing states.
READ ALSO: G20 Leaders Endorse Historic Tax Deal