The CEO of Cruise People Limited Mr Daniel Vanderpuye has shed light on some terms in the contract they signed with Black Sherif and his management.
Ghanaian musician Black Sherif was arrested at the Kotoka International Airport on Wednesday shortly after he arrived in Ghana after traveling out of the country for some days.
The reason for his arrest was revealed by the organization that caused his arrest as failing to uphold his part of the contract they signed in other words breach of contract.
Mr Daniel Vanderpuye in an exclusive interview revealed the reason for their action against the musician citing that he believes the reigning artiste of the Year at the just-ended Vodafone Ghana Music Awards has no knowledge about the terms of the contract he signed.
According to him, when efforts to get Black Sherif and his management to do what was necessary for them didn't materialize, they tried their best to get in touch with the musician himself.
He explained that the reason they tried to get in touch with the musician himself was to show him a portion of the contract which states that the booking officers cannot be held liable for anything that happens.
The CEO of Cruise People Limited disclosed that what the point of the contract meant was the musician in this case Black Sherif was to be blamed if things went wrong between them and the people seeking his service.
Mr. Daniel Vanderpuye went on to state that this made them try to reach out to Black Sherif, show him the contract, and explain to him that he was going to be held liable if the issues were not resolved amicably.
But all their efforts failed as they couldn't get in touch with him adding that what they didn't want to happen was what happened at the airport and the sanctions that would follow in the future.
Daniel Vanderpuye tells his side of the story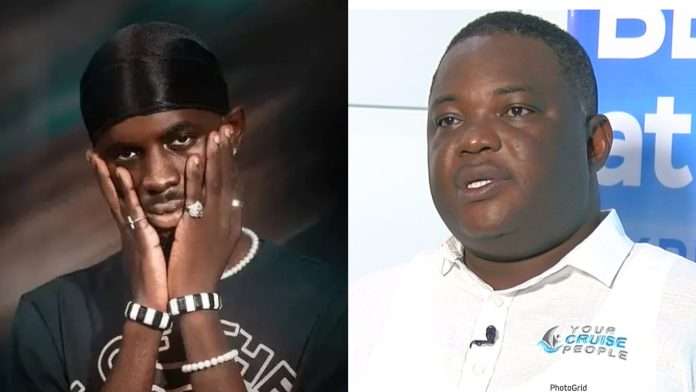 The CEO of Cruise People Limited, Daniel Vanderpuye opened up to tell his side of the story and why the musician was arrested.
Talking about the genesis of the event, Mr. Vanderpuye revealed that he had reached out to Black Sherif's team on the possibility of him performing on a cruise ship – an event he was planning for Ghanaians in the diaspora.
He stated that after initial discussions with Blacko's team headed by one Mini Aidoo, an agreed date of August 19 and a payment of $40,000 was reached.
He said the singer's team wanted a down payment of $20,000 and subsequently asked them to communicate with Eko Talent Agency, a company responsible for all overseas bookings for Black Sherif.
Mr Vanderpuye said they were sent a contract to sign by the booking agency to confirm their intentions and thereafter the initial deposit was wired as requested.
He stated that the booking agency assured them the video will be made available prior to a media launch on May 19.
He said:
"The contract was signed on April 28, and we were expecting to have the video between the week of the 10th of May. We were in communication with Eko Talent and they kept telling us we will get the video until the exact day of our media launch and they forced Black Sherif to make a video call to me".

Mr. Daniel Vanderpuye
Mr Vanderpuye said Black Sherif in the presence of his manager informed him they had other interview obligations in the US [where he was at the time] and thus could only make the video available after.
He asserted:
"The next day, I realized that something was going on, so I called our lawyers and said let's write to them. So, on May 22 we sent this breach of agreement letter to them.
"From 22nd of May to today, no response to this letter. It was sent to the booking agency, Black Sherif's manager that we know, to Mimi Aidoo, and a copy to Black Sherif's father. No response, and it's been two months".

Mr. Daniel Vanderpuye
He stated that Black Sherif's team only reached out to him about five days ago asking that they write another letter to them so their management could refund the $20,000 down payment they made.
He quizzed:
"A clear intent of fraud has been established here because you presented yourself to us as being ready to be at the event for which we sent the money to you. Thereafter if for any reason you were not able to do the 10 or 15 seconds video, you reach out to us and talk about it.
"When the letter got to them to date, there hasn't been any official response from his team, himself, or Eko Talent Agency. Would you let someone collect your $20,000 and go two months and not say a word to you?".

Mr. Daniel Vanderpuye
He added:
"The police will not just wake up and arrest Black Sherif. We submitted everything based on what happened and they secured an arrest warrant and informed immigration. So immigration stopped him, handed him over to the police".

Mr. Daniel Vanderpuye
READ ALSO: I Spend More Than Gh¢100,000 In Producing One Hit Single – Kaywa