Afrobeats singer Kuami Eugene has stated that it's not realistic to compare the Ghanaian music market and the Nigerian music market.
He revealed that this comparison is unrealistic due to the huge difference in the population of the two countries – which automatically makes Nigeria have more musicians than Ghanaians.
"In Nigeria, if half of the population stream your music, it wouldn't be the same as Ghanaians. No matter how gifted we think we are," he said.
The "Rock Star" further added that becoming known internationally as a singer is not an easy task. It takes hard work, perseverance, and seizing opportunities well.
Therefore, he feels a sense of pride seeing any Ghanaian overcome this stage.
"I hold my other colleagues in high esteem when we blow because it's not easy. We need to appreciate artists that blow up from here," he noted.
Comparison of the Ghanaian music industry with that of the Nigerian music industry has been the most discussed topic in the entertainment industry due to the commitment level of Nigerians.
It was speculated that Nigerians invest more into their music industry which gets their songs more streamed on social media and most enjoyed.
Other Ghanaian celebrities have poured out their concerns in relation to how Ghanaians are compared with Nigerians.
Reggae/Dancehall musician Samini voiced his concerns about the frequent comparisons between Ghanaian and Nigerian artists. According to him, these comparisons are unfair and discriminating due to the vast difference in population sizes between the two countries.
Also, KiDi expressed his frustration with the constant comparison between Nigerian and Ghanaian music industries.
He believes that it is disheartening and unproductive for Ghanaians to continuously lament on social media about how well Nigeria's music industry is thriving.
An Album I Poured Out My Heart On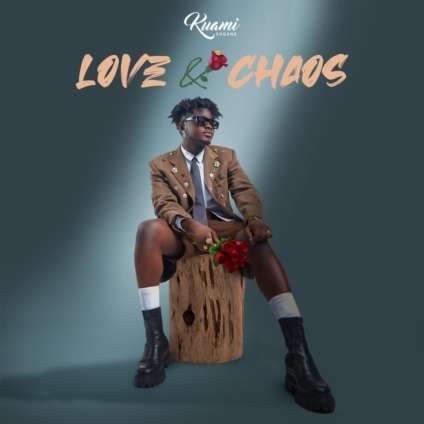 Kwami Eugene opened up about his latest musical endeavor.
In his heartfelt revelation, the artist shared his deep connection to his new album, "Love and Chaos".
"This is an album I poured my heart out on. I'm normally not allowed to pour my heart out into a project. But with the influence of Empire, I've been given that opportunity to give myself in it," Kwame Eugene said.
This introspective journey into his music was unleashed after a hiatus from the Ghanaian music scene.
Kwami Eugene's willingness to pour his heart into this project is evident in the raw, emotional depths of his songs. With "Love and Chaos", he takes his fans on a rollercoaster ride of feelings, solidifying his place as one of Ghana's most talented and versatile artists.
The release is not only a milestone for Kwami Eugene but also a momentous occasion for his fans who have eagerly awaited his return.
Singer and songwriter Kuami Eugene is making waves with his third studio album titled 'Love and Chaos'. The project released on October 12, 2023, became the most-streamed album on the digital music store, Audiomack, in the first week of release.
'Love and Chaos' clinched the top spot with over 11 million streams, followed by Fancy Gadam's album, 'Competition' while Medikal's 'Planning and Plotting' took third place.
Nigerian artist, Runda's 'Beautiful Lies' and Darkovibes' 'BUTiFLY' albums chalked fourth, and fifth positions respectively.
Kuami Eugene's album comprises 13 tracks with notable features including Mavin Records' Magixx, American singer Rotimi, Nigerian diva Guchi, and UK's Backroad Gee & Weezy.
The songs on the album include 'Monica', 'YOLO', 'Best Part', 'No Promo', 'Energy', 'Abena', 'Single', 'Fate', 'Cryptocurrency', and four other tracks.
'Love and Chaos' is rising steadily on all other music platforms with impressive reviews from music critics worldwide.
READ ALSO: I'm Now A Butterfly – Grace Ashly