Musical genres have been an integral part of all societies, both ancient and contemporary. As time has progressed, so have the styles and methods of making and consuming music. Modern music presents us with an enormous amount of variety, allowing us to choose which genres we prefer based on our preferences.
If you have kept up with recent trends in urban music, you might have noticed one genre coming up again and again. I am talking about 'Grime', a British Genre that is fast making its waves to the rest of the world.
Grime or Drill is a genre of electronic music that emerged in London in the early 2000s. But for the breakthroughs of rapper-producers Wiley and Skepta, the story of Grime music might have taken a different toll, as the history of Grime can be likened to a three-act narrative of a Hollywood movie: the plucky underdog who gets to the top, blows it, and is later redeemed.
Be that as it may, now, the household name that is mostly attached to Grime music is the Brit-award winning UK based rapper, Stormzy.
With his birth name as Michael Ebenezer Kwadjo Omari Owuo Jr, Stormzy is one of the thriving artists when it comes to this genre of music. He won Best Grime Act at the 2014 and 2015 MOBO Awards and was named as an artist to look out for in the BBC's Sound of 2015 list. His debut album in 2017, 'Gang Signs and Prayer', was the first grime album to reach number one on the UK Albums Chart and won British Album of the Year at the 2018 Brit Awards.
With this at the back of our minds, it does not come as a surprise that Ghana has been one of the countries to quickly adopt this genre of music mainly because of the influence of Stormzy, who traces his roots down here. The Grime music has especially hit Kumasi where our 'blood niggas' in 'Kumerica' and 'Santamerica' have leveraged on this genre of music to make wave. Emerging artists like Yaw Tog, Kofi Jamar, Jay Bhad, and Kwanabanga are just but a few to mention who are steadily hitting the airwaves through Grime music.
It is worth noting that, recently, Stormzy came down to Ghana to spend the Christmas holidays, and shoot a music video with one of Ghana's Grime artist, Yaw Tog, who hosted Stormzy in a series of events.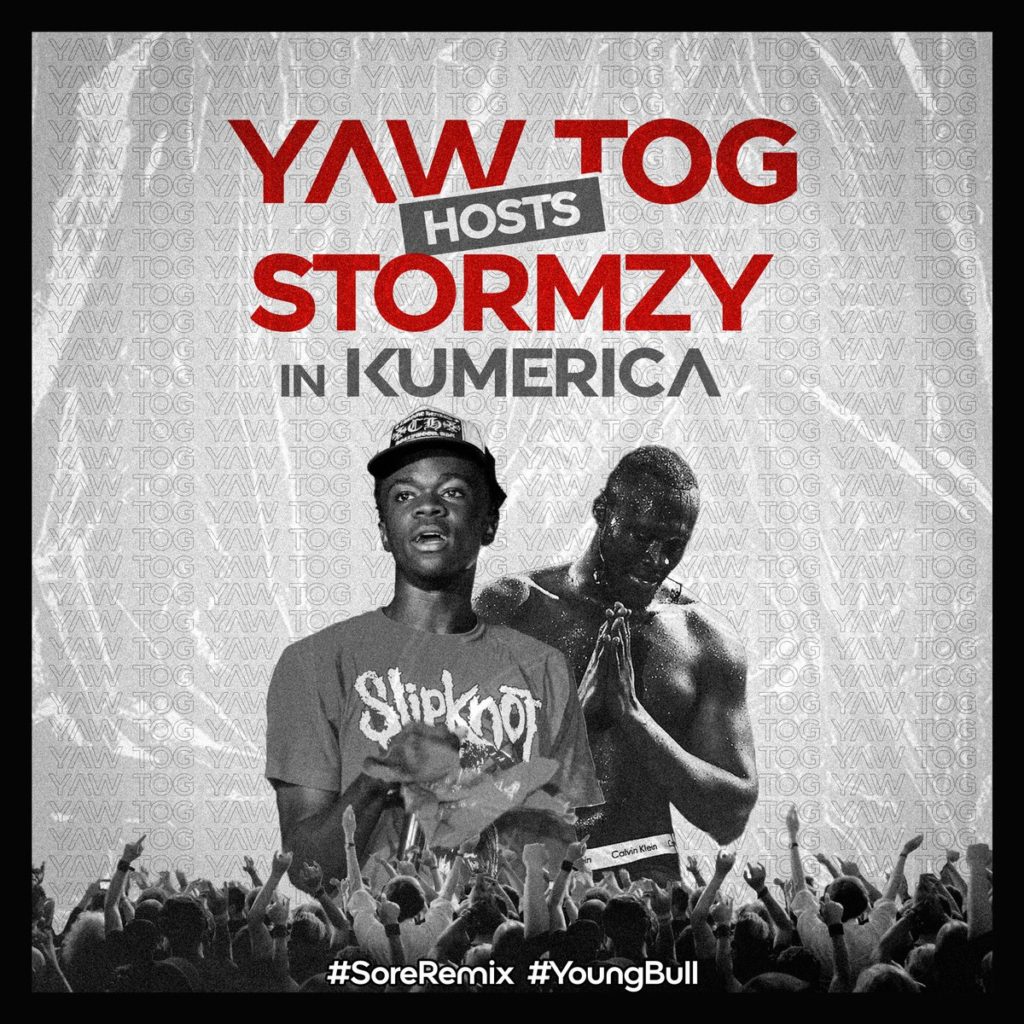 One such event was #UPPFEST, which was recently held in Kumasi, where Yaw Tog and Stormzy performed the remix of Yaw Tog's hit song, 'Sore' which is yet to be released. Kwesi Arthur, whom Yaw Tog revealed he has looked up to for a very long time, is also featured on the remixed Grime song.
Several artists including Manifest, Kwesi Arthur, and King Promise also showed up at the event to associate with Stormzy, and a lot of fans are speculating collaborations between Stormzy and some of these artists since the aforementioned artists are not far from the Grime music as its likened to hip hop, which they are already successful in.
With Stormzy having a huge following worldwide, this is ultimately going to put Ghana on the map as the collaboration with the international act is going to bring attention from his wide fan base to Ghana. Aside from this, it is likely going to generate revenue for the tourism sector in Ghana as in the long run this international recognition will troupe in more tourists into the country. As for Yaw Tog and the other emerging Grime artists, who knows? This might be the breakthrough for them to earn an international award.
Read also: HIGHLIFE MIGHT BECOME AN ALTERNATIVE MUSIC – TRIGMATIC