Prophet Nicholas Osei also known as Prophet Kumchacha has entreated leaders in the country especially pastors to teach the youth about contentment.
Speaking about the recent arrest of socialite Hajia4Reall in an interview, Prophet Kumchacha said that the youth must eschew greed lest they end up being imprisoned or dying.
He told in the interview:
"We must advise the youth first of all and teach them not to be greedy, they should be content with what they have. They should know that God's time is the best because life is not a competition. If you begin to see life as a competition, and because you think Kumchacha is wearing a red dress you have to wear one, you will either end up in prison or die early from disgrace".

Prphet Kumchacha
The US Department of Justice (DoJ) on Monday, May 15, 2023, announced the indictment of Ghanaian socialite Mona Faiz Montrage popularly known as Hajia4Reall on fraud-related charges by a Grand Jury.
According to the DoJ, Mona was arrested in the United Kingdom on November 20, 2022, in connection with a series of romance schemes and money laundering between 2013 and 2019.
She is said to have received payments amounting to over $2 million from her victims older and lonely Americans through the collaboration of a criminal enterprise operating in the West Africa area.
Meanwhile, media personality Cyril George Carstensen Lutterodt has called for prayers for the embattled Hajia4Reall.
But according to Prophet Kumchacha, Lutterodt should have been more concerned about advising Hajia4Reall against engaging in vices instead of waiting for trouble to befall her and calling for prayers.
You will end up marrying 'Mami Wata' herself if you're not prayerful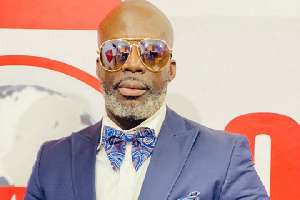 Founder and leader of Heaven's Gate Ministries International, Prophet Kumchacha entreated pastors to be more prayerful when it comes to the choice of a spouse.
According to Prophet Kumchacha, the devil in some instances uses the spouses of pastors as a conduit for their destruction hence the need for pastors to pray about who they end up marrying.
He stated during an interview:
"The downfall of most pastors came from their spouses. The devil is called the clever deceiver, if he tempts you and doesn't succeed he will try through your wife. So if you don't take time and you are not prayerful you will end up in the devil's trap. You might end up with the kind of woman Sampson married. The devil will bring her into your life to disgrace you and destroy your vision.
"We have a lot of pastors whose downfall came from their wives. Men are taught to bottle up their pains so a lot of them are unable to voice out. If you are going to marry and you are not prayerful, you will end up marrying the devil proper, Mami Wata".

Prophet Kumchacha
His statement was in reaction to viral videos of a couple whose actions have attracted various comments on social media pages where they engage in acts such as smoking.
The couple in an interview revealed that they have converted their church building into a farm after realizing that owning a church was no longer useful and that it was restrictive to their lifestyle.
Some social media users have been expressing their concerns about the mental health of the viral couple.
READ ALSO: Actor Jeremy Renner Wants Tax Credits For Film Projects In Northern Nevada