Nigerian Afrobeats singer Davido has revealed that he operated his record label, Davido Music Worldwide (DMW), for four years without taking any earnings from his artists.
He emphasized that as Afrobeats gained global recognition, he recognized the importance of educating his artists about the business aspects of the music industry. This commitment to mentorship and fostering a deeper understanding of the music business highlights Davido's dedication to nurturing talent and helping his artists succeed in the industry.
"You know my label was really more like a family to me. I was young. I was just happy putting my boy on to me, that is what it was really all about for me," the "Unavailable" hitmaker said.
"I ran my label for four years, and I didn't take one dime from my artists and I was paying for videos, accommodation, and their welfare just because I was happy seeing that my success could rub up on this person, that was money for me.

"But obviously, Afrobeats has goten to a point now where it is global. So I now have to explain to the artists these days that this is music business. And you have to spend money to make money."

Davido
Davido's record label, DMW was established in 2016 following his exit from HKN Music with his music acts Mayorkun, and Dremo over an issue with his cousin B-Red, over the success of Mayorkun and has served as the home to sensational music talents such as Yonda, Deekay, Peruzzi, Dremo, and Mayorkun, among others.
Chioma Surprised With Bags Worth Over GH¢1,533,600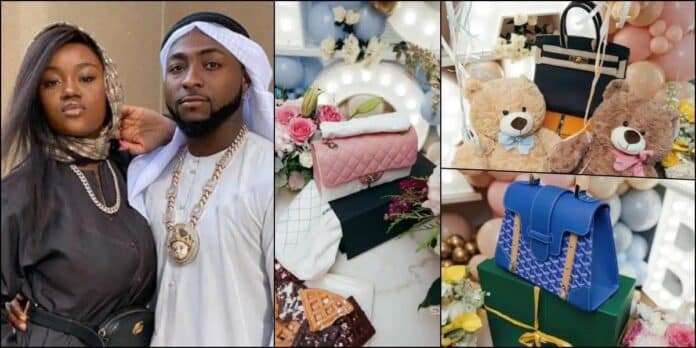 The latest father of twins, Davido Adeleke ushered his wife, Chioma, back into Nigeria with multiple designer bags worth over $100,000 after giving birth to their twins in the United States.
It was reported that the celebrity couple welcomed a set of twins in Atlanta United States in some days ago. This comes one year after they lost their son, Ifeanyi Adeleke in October 2022 in a very heartbreaking way.
News reports have revealed that the singer bought his wife several expensive designer bags which are worth over 100,000 dollars after buying her a property worth close to a million dollars.
Also, Davido revealed how he and his wife were taken aback by the news that they were expecting twins.
According to him, they found out Chioma was pregnant shortly after the death of their first child, Ifeanyi. The 'Feel' hitmaker stated that at the time he was at a point in his life where he had given up.
"I was at the point of giving up. A beautiful boy and girl came back in double. I kept the faith despite it being very hard. I thought I was never going to be able to sing ever again. I'm telling God, I'm doing this no more," Davido said.
However, in his lowest moments, Davido said that they did not only find out Chioma was pregnant but a year after the incident, he had one of the most successful years in his career.
"I have had my most successful year, I have had my biggest album. Three days ago, my wife delivered twins. A beautiful boy and girl came back in double. I kept the faith despite it being hard. When my wife and I found out, we were shaking, and it was in the same month my son passed. My son passed away last year in October, and my wife gave birth this year in October," he said.
In a new video shared online, Davido and Chioma were seen in front of a hospital celebrating their new status. Chioma sat in a wheelchair holding the two children, one in each hand while her husband stood beside her smiling.
READ ALSO: The Global Scene Emphasizes Collaboration Over Competition – Edem