Nsikayesizwe David Junior Ngcobo, known professionally as Nasty C, is a South African rapper, songwriter, and record producer who recently denied Ghanaian rap superstar Sarkodie a verse on two occasions.
He made a claim in a freestyle take which is making rounds on social media.
In an interview, the South African rapper appeared to read lyrics from his phone about the reason for saying no to Sarkodie.
"When I first met Sarkodie, he wouldn't shake my hands".

Nasty C
Nasty said with hurt inside of him that he hatched a plan to retaliate once he became notable.
"I held a grudge and told myself to wait till I'm the man, I'd never give that man a verse, and I stick to my plan.
"Two requests over the years, and I declined them both".

Nasty C
The songwriter continued and underlined on both occasions that he deliberately refrained from the speech of the two-time BET award-winner.
He then gave an excuse to him that he was in album mode and was too busy working on his album and could not be distracted but in all honesty, he quickly confessed, that he was in coward mode.
"I am not too proud to say I am still a fan of Sarkodie".

Nasty C
Looking back, he believed that the two songs Sarkodie asked assistance with are probably "out or old" to revisit.
Before moving on to a different subject, in resolution, he attempted to reconcile his cause of distress.
"You see, this is the best way I know how to get stuff out of my chest. I am just a disappointed kid. It's nothing more or less. But now I am over that, and he got all my respect".

Nasty C
He signaled that he is ready to work with Sarkodie now if he asks him to do a verse again, even though it will be his hardest one.
Nasty C on flying South Africa's flag at the MTV EMAs
 Nasty C, lit up the stage at the MTV Europe Music Awards (EMAs) this past weekend becoming the first South African hip-hop artist to perform at the music awards ceremony.
In an electrifying performance in Düsseldorf, Germany, the 25-year-old rapper spat a few bars while clad in a pink fur coat, baggy jeans, and braided hair. 
Although he didn't perform his hit Hell Naw, the rapper blew up the stage with Nigerian DJ Spinall and UK singer Äyanna, as they performed a remix song called Power (Remember Who You Are).
Nasty C ahead of his big performance spoke;
"I'm very excited. It's great news, obviously, and it's gonna be exciting".

Nasty C
Although he's the first South African hip-hop artist to fly the country's flag on the EMAs stage, he dismissed any possibility of nerves, saying all he wanted to do was have a good time.
"It's my first time in Düsseldorf, hope I'm pronouncing that right. I'm kind of just going with the vibe, seeing what happens, and trying and have the most fun.
"I don't chase being the first to do anything from South Africa. I'm just enjoying my come-up. It means a lot for my career, just being on that global stage and getting that recognition. It's something that I am very appreciative of". 

Nasty C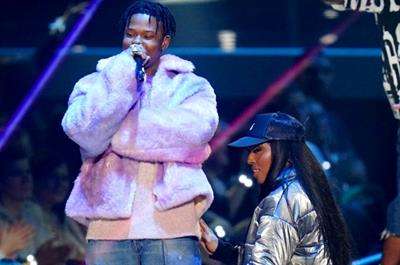 Nasty C shared the stage with Bebe Rexha, Million Dollar Baby, Stormzy, and David Guetta, who all performed at the event.
He continued to say that now that he's got global exposure, he plans to have concerts all around the world.  He only ever performed in the UK and Germany and both places were amazing to perform.
"I had the privilege of hosting my own, like, one-man show in both countries, and they both exceeded my expectations". 

Nasty C
READ ALSO: Good music Should Not Necessarily Be In English – Kwami Eugene