Ghanaian actress and socialite, Efia Odo, has disclosed the reason behind the end of her friendship with Dancehall artist Shatta Wale, stating disappointment as the primary factor.
Efia Odo chose not to delve into the specifics of her relationship with Shatta Wale, even though it was speculated that she was in a relationship with him [Shatta Wale], she expressed her regret for expecting more from the artist.
"He disappointed me, and I blame myself for expecting too much. I anticipated the same treatment I offered him, but unfortunately, the energy wasn't reciprocated. I had to step away from the toxicity," she explained.
While reports indicate that Shatta Wale has offered an apology to Efia Odo, she firmly stated that she would not accept it, humorously adding that she does not accept apologies but accepts cash.
Addressing rumors about her relationship with Kwesi Arthur, Efia Odo debunked claims of romantic involvement with the "Grind Day" hitmaker. She emphasized that Ghanaians often link her with every male she spends time with.
"We weren't dating. Just because I am a hardcore fan of his. People assume that every time they see me with a guy, something romantic is happening. I think I'm just sexy," she asserted.
It can be recalled that Efia Odo revealed that things have gone sour between the rapper and herself. "I was a fan but now I'm not a fan anymore. The problem is not his current music releases. His music is still good. Everything has its time. Nothing lasts forever except the Word of God," Efia Odo said.
Beyond her personal relationships, Efia Odo also voiced concerns about the challenging living conditions in Ghana.
Harsh Living Conditions Endured By Many Ghanaians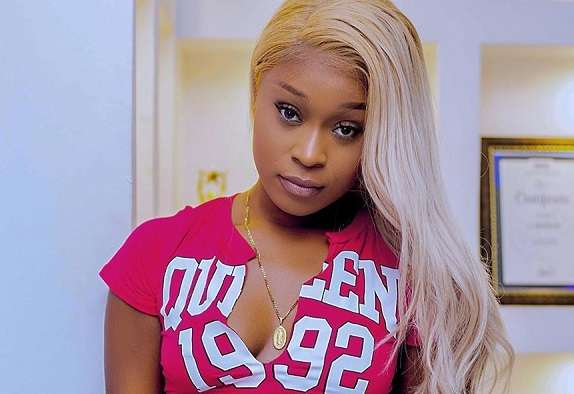 Efia Odo drew attention to the harsh living conditions endured by many Ghanaians, shedding light on the paycheck-to-paycheck existence of a substantial portion of the country's workforce.
The actress debunked the perception that Ghanaian youth are lazy, emphasizing that the challenges in saving for the future arise from the adverse economic realities prevailing in the country.
"We are not lazy; we work tirelessly just to earn a few coins. There's no prospect for the future. Here, we are merely working to afford a meal of waakye. The thought of buying a house or a car is a distant dream. It's always about what we'll eat today and tomorrow, and that's a significant issue," Efia Odo explained.
When probed about her contributions to improving Ghana's situation, she unveiled her plans to collaborate with others to offer support and empowerment to the country's youth.
"I don't like talking too much about what I am coming to do. I want to work with other people to bring about change for the youth," she stressed, underscoring her dedication to being part of a collective effort to address the challenges confronting the younger generation.
Efia Odo has recently garnered praise for her participation in efforts to advocate for better living conditions in Ghana. She stood alongside the organizers of the #OccupyJulorbi demonstration, a three-day protest against the hardships experienced in the country.
Efia Odo commented after an individual accused her of betraying the protesters following her departure to reside outside the country for some time after the demonstration.
"Don't worry I'm going to fight for Ghana, no matter what country I'm in," Efia Odo wrote on Twitter.
Her words bring attention to the real economic struggles faced by many Ghanaians, highlighting the urgency for collective action to address these challenges and create a more prosperous future for the country's youth.
READ ALSO: Shatta Wale's Grain Of Truth