Ghanaian dancehall artist Shatta Wale has disclosed his intentions to provide support for up-and-coming artists. 
He noted:
"My future plans involve identifying emerging talents and offering them guidance to comprehend the music business in Ghana. This initiative is designed to prevent them from repeating the same mistakes that some of us have experienced". 

Shatta Wale
He further added:
"I consistently leverage these opportunities to transform negativity into positivity for my personal gain". 

Shatta Wale
Responding to comments by some media people that he does not deserve to have a Diplomatic Passport (contrary to a suggestion by former French Ambassador Anne Sophie Ave), he said the media personalities should lend their support and advocate for the cause with politicians, rather than undermine specific artistes in their discussions. 
He said:
"Such negative attitudes might not be taken seriously by politicians, hampering our overall efforts".

Shatta Wale
On the other hand, the former French Ambassador, Anne Sophie Ave, clarified her position on the matter. She explained that while diplomatic passports aren't a game-changer, they could potentially ease the difficulties that artists often encounter when applying for visas, thus addressing their visa-related challenges.
She emphasized that possessing a diplomatic passport doesn't significantly alter one's daily life. For instance, at airports, there isn't a dedicated line for diplomatic passport holders. Instead, the "diplomatic passport" line is shared with various categories of travelers, such as business travelers, people with disabilities, families, and individuals in the general queue.
Ave outlined specific criteria that she believes should be met to qualify for a diplomatic passport. These criteria include positive visibility, a track record of international popularity, experience, and a commitment to promoting the country. 
She explained that she has never witnessed French musicians, photographers, or artists actively promoting France while abroad, which she considers a factor in granting diplomatic passports.
Shatta Wale is one of the artists in Ghana who has always waxed opinionated on issues bothering the arts and other national matters. 
While he has been hailed by a lot of his fans for his boldness in speaking his mind, others have also chastised him for the extremities. 
Shatta Wale says Sarkodie can never be bigger than him in his life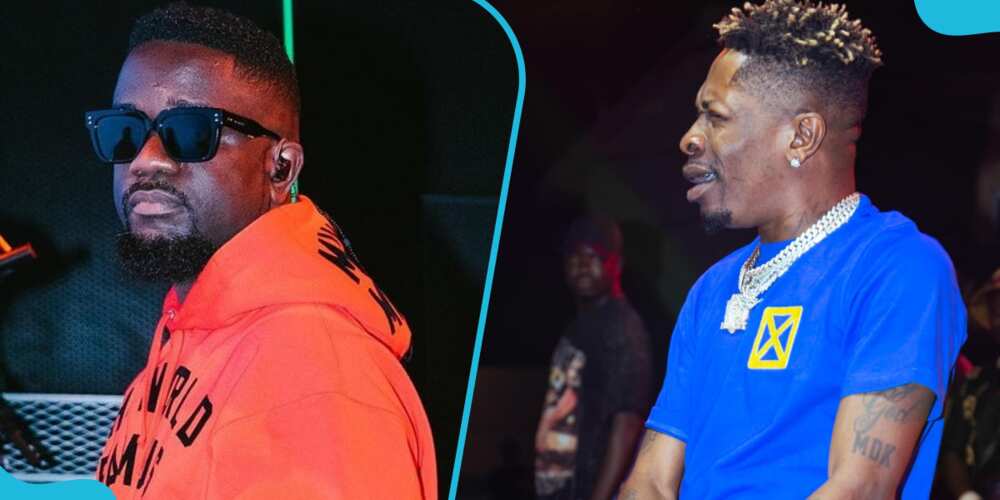 Award-winning Ghanaian Dancehall artiste, Shatta Wale says Sarkodie can never be bigger than him in any way so people should desist from comparing them.
According to him, he asked where Sarkodie was when he released 'Bandana from Ghana', explaining that he is more experienced in the business.
He said:
"So the moment you compare me to Sarkodie, you make Sarkodie feel too big and when I talk to Sarkodie, he feels like he is big.
"Sarkodie can never be bigger than Shatta Wale in his life. Even when you give birth, there is a firstborn and a secondborn, you can't give the first position to the secondborn. I'm not saying Sarkodie is not successful with what he is doing. He is playing his role as a musician but don't compare me to Sarkodie".

Shatta Wale
During a recent discussion following calls by the former French Ambassador for some Ghanaian artists to be given diplomatic passports, Neat FM presenter, Ola Michael insinuated that the likes of Shatta Wale will make such a call difficult to implement.
To Shatta Wale's state of displeasure, he released a diss song for Ola Michael which he says is to express his displeasure for always being negatively used as a study case.
He stated:
"Why didn't he use Samini? He could have used anybody so why should Shatta Wale be used as an example in a diplomatic passport? Let's think deeply, is it right?".

Shatta Wale
READ ALSO: Archipalago's Baby Mama Speaks Out