Super Mario Bros stars Chris Pratt and Charlie Day play mustachioed plumbers Mario and Luigi, who find themselves transported from Brooklyn into the Mushroom Kingdom where they must save Princess Peach and stop King Koopa from taking over the world.
The franchise has already seen numerous games, an animated TV series and animated Japanese film, a live-action US movie, and even a theme park – all cementing its place in popular culture.
Now, mustachioed plumbers Mario and Luigi are getting the Hollywood treatment in a feature-length animation voiced by Jurassic Park actor Chris Pratt and It's Always Sunny In Philadelphia star Charlie Day.
Both admit that now "screwing up" has been foremost on their mind.
Pratt tells:
"The pressure of these characters, you know, you feel it. There's a built-in expectation… all of this nostalgia, of loving the games as a kid, the score, the characters, little Easter eggs.
"Anyone who played Nintendo growing up or loved these characters, you're going to go to the movie. That same thing that has you thinking: 'Oh, please don't screw this up – it's such a big part of my childhood', is the same thing that will be so elated and joyful when you see the film because you didn't screw it up thankfully".

Chris Pratt
Day adds:
"Especially just how passionate everyone is, everyone grew up with the characters. They love them. Look, our job is just done the best acting we can do".

Charlie Day
However, some fans of the game have already been critical of Pratt's casting, highlighting his lack of Italian ancestry and pouring scorn on his Brooklyn accent.
Day is quick to defend his co-star:
"I have as much Italian descent as Robert De Niro, so yeah [I do have Italian heritage], but I'm going to vouch for my buddy Chris here and say, as having seen the movie, his performance is top-notch.
"I think everyone, just wait to see the movie and make the decision afterward because the guy does a fantastic job".

Charlie Day
Despite the backlash, Pratt says it was a part he jumped at. He says:
"For the most part, you don't know much about Mario and Luigi playing the video games or Princess Peach or Wario or Yoshi or any of these characters.
"[Mario's] essentially a blue-collar, American worker. And when Illumination [the animation company behind the film] called and thought I would be right for that role, I was just like: 'Of course, I'm going to do this'. I was thrilled".

Chris Pratt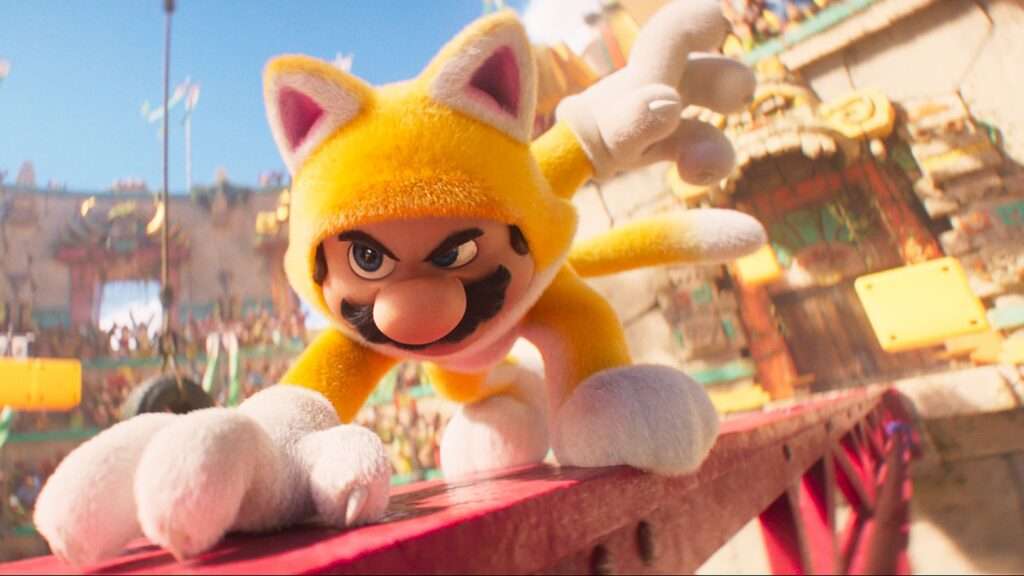 Mario first appeared as a character in Donkey Kong in 1981, getting his own arcade game in 1983, which was then turned into a platform game for the Nintendo Entertainment System (NES) in 1985.
Meanwhile, the Japanese company Nintendo was founded in 1889, originally producing handmade playing cards, before branching out into consoles in the late 1970s.
Now, directed by Aaron Horvath and Michael Jelenic, this is the second American feature-length adaptation of the game, following the largely maligned 1993 adaptation starring Bob Hoskins and John Leguizamo. Producers will be hoping this version is a bigger success.
A few years ago, video game adaptations for TV and film were synonymous with a flop.
But with adaptations of games like 'The Last Of Us', 'The Witcher', and 'Arcane' (the first video game adaptation to win a primetime Emmy) achieving both critical and commercial success – many see this as the time for gaming to truly step into the mainstream.
I will be some middle-aged man living in his basement
The video game industry is worth hundreds of billions of pounds globally and is one of the fastest-growing industries in the UK. With many turning to games during the lockdown, it's a hobby that has only increased in popularity over recent years.
Pratt and Day agree this is a boom time for video games.
Day says:
"We've gotten better at it, right? I think a few years ago, you're going way back, there's been a big sort of space between the video game movies.
"Right now, I think now they're making movies with as much attention as they're making any other story. I think before [it] was a little bit like: Well, it's just a one-off for kids".

Charlie Day
Meanwhile, Pratt, who is married to Arnold Schwarzenegger's daughter Katherine, has received positive feedback from his A-list in-laws.
He says:
"I took my brother-in-law, Christopher [Schwarzenegger, 25, Arnold's youngest son], who's a big gamer.
"[He] grew up playing all these games, and he said: 'I think that's the best video game movie I've ever seen'. Pretty high praise".

Chris Pratt
Fans of the franchise will be pleased to know there could be more to come.
Day says:
"Illumination [the US studio who teamed up with Nintendo to make the film], they really bring a lot of what is in the game, and not just the first game but many of the Mario games – and other Nintendo games too".

Charlie Day
Pratt adds:
"It kind of gets you excited about the possibility of like this Nintendo Cinematic Universe, which is pretty cool. Probably you're going to see more characters over the next 10 years, I hope".

Chris Pratt
With both stars having 11-year-old boys, will their reaction to the movie be the real litmus test for audience reception?
Pratt and Day think not. Day says:
"I think my toughest critic is probably going to be some middle-aged man living in his basement somewhere.
"But I think my boy is going to be fine with it".

Charlie Day
Pratt agrees – and with both boys "beyond excited" to see their dads take on one of the greatest video games of all time, only time will tell what the rest of the world thinks of the Super Mario Brothers' latest adventure.
The Super Mario Bros Movie is in UK cinemas now.
READ ALSO: Any man of God who says there is no heaven or hell is not of God – Kyiri Abosom told