Ghanaian renowned actor and politician, John Dumelo has lamented on the current situation of Ghana as he says the country needs to move forward.
The actor who has been very vocal on issues concerning politics took to social media to make it known that the same way he is chiding the Nana Addo-led government will be the same way he will chide his party, NDC when they come to power. According to him, the agenda is about putting Ghana first and ensuring progress in the country.
"The same way I am for #fixthecountry now is the same way I will be in 2024 when the NDC comes to power if things are not going on well as a country. This country needs to move forward! It's Ghana first!".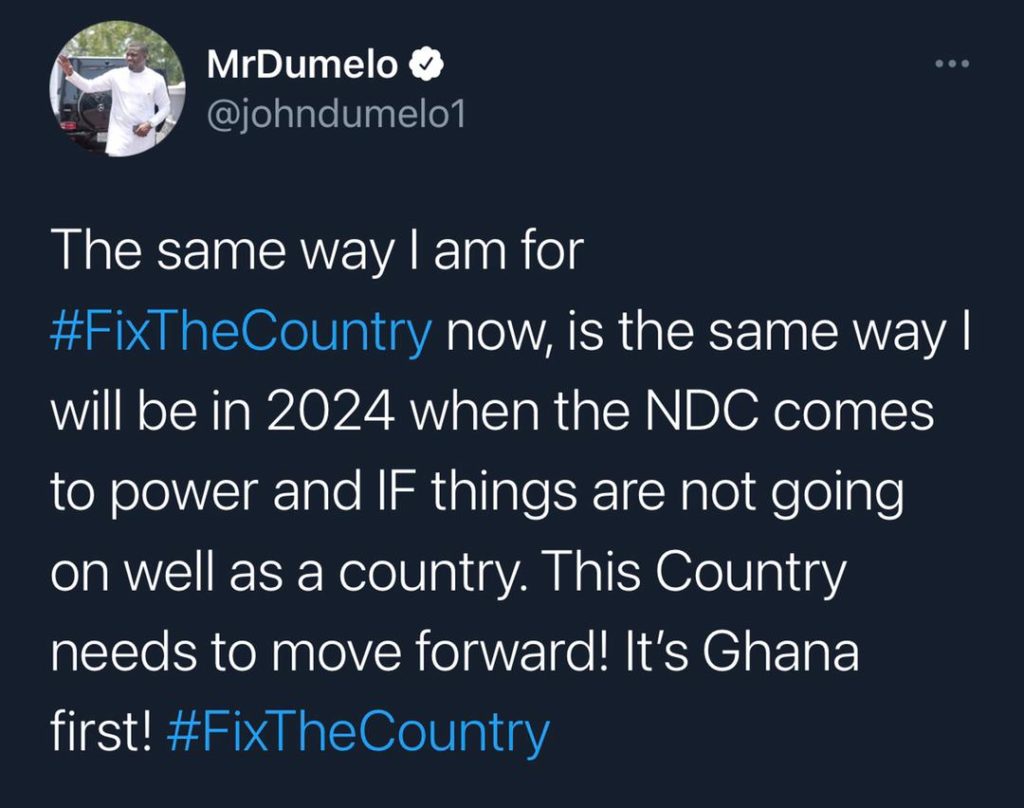 Reactions to John's post
Several tweeps who sighted his post have commented on it with mixed reactions. Some averred that they hope he will keep to his word and act right when it happens so. Others also lauded him for being upright and for being impartial to criticizing whoever is in power.
Meanwhile, some compared him to Nigerian actor turned politician, Desmond Eliot. They opined that John Dumelo wouldn't be like Desmond Elliot who when he got power forgot his promises to the youth.
That notwithstanding, some said that John Dumelo should rather be an independent candidate since they are at their wit's end with both NDC and NPP. According to them, they won't be voting for any of these parties since they are all the same.
Some also averred that neither NDC nor NPP will come to power since they have had enough of both parties. They mentioned that the focus now is to fix Ghana. However, in a quick response to this, a social media user under the name @brhymer explained that in Ghana there are only two parties that run the affairs of the nation and that since there is no third force, Ghanaians have to just filter between the two parties and choose which is better. Some reactions to John's post read: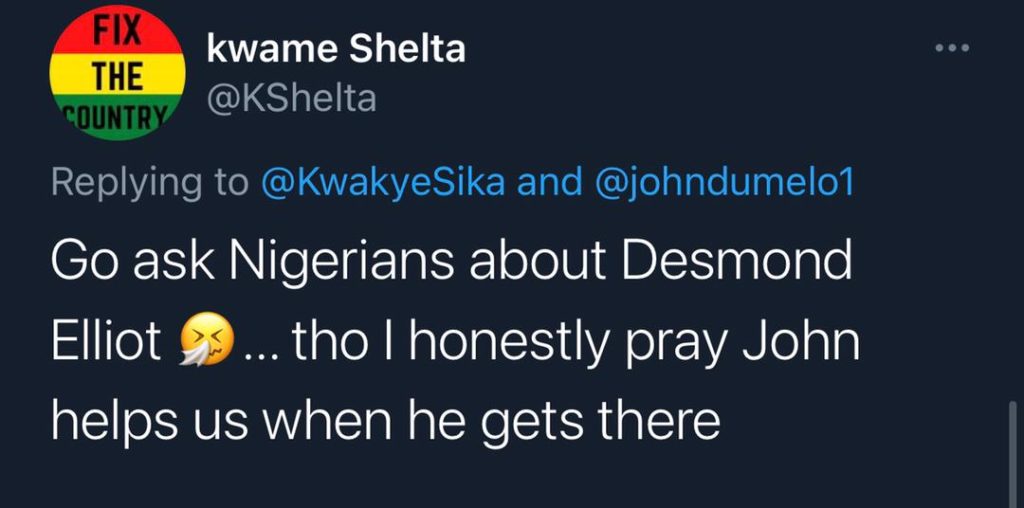 #Fixthecountry, a protest online
John Dumelo's post comes after most Ghanaians took to their various social media sites to start a hashtag #FixTheCountry as an online protest against the Nana Addo-led administration on the inability to fix the economy and the country as a whole.
It is worth noting that the hashtag is currently trending on Twitter and most Ghanaians are leveraging on it to share the plights they are facing in their community.
Meanwhile, some are of the view that this is going to be just a common hashtag to the leaders.
However Ghanaian actress and social commentator Lydia Forson disagreed with that position. According to her most of the well-known protests in the world like the #BlackLivesMatter protest started on social media. Therefore, a change could come out of this social media protest.
She also urged every Ghanaian to voice out their opinions and views on the happenings in the country in every way possible.
Read also: You promised exceptional, so what happened?- Lydia Forson questions government