Brazil football icon, Edson Arantes popularly known as Pele, passed away today, December 29, following a long battle with cancer.
The former striker, who is the only football player in history to win three World Cups, died at the Albert Einstein hospital in Sao Paulo, after several attempts to save him from cancer failed.
Pele became an icon of the football game after winning the World Cup in 1958 as a 17-year-old, netting two times in the final game to defeat host, Sweden.
The football legend had been receiving regular treatment from doctors ever since undergoing a surgery to have a tumour on his colon removed in September 2021, but was readmitted to hospital towards the end of 2022. His condition failed to improve, with Pele remaining in hospital in Sao Paulo throughout the 2022 World Cup and then for Christmas, as his family confirmed.
A message from Pele's official Twitter account Today read: "Inspiration and love marked the journey of King Pelé, who peacefully passed away today. Love, love and love, forever."
Pele joined the Santos Football Club in Brazil in 1956 at age 15 as an inside forward. The club won the São Paulo league championships and, in 1962 and 1963, both the Libertadores Cup and the Intercontinental Club Cup.
The football King, retired as Brazil's top scorer with 77 goals from his 92 caps. Pele reportedly scored over 1200 goals throughout his illustrious playing career, including friendlies and tours of the world, while inspiring the next generation of football with his undeniable talent and flair that was endlessly ahead of its time.
Edson Arantes used his platform after soccer to support charitable works and tried to improve the lives of Brazil's poor. He became a UNESCO global ambassador in 1994 and served as a minister for sport in Brazil. He also published several autobiographies that went on to become best-sellers and starred in documentary films about his life.
Tributes Pour In For The Legend
Meanwhile, tributes have begun to pour in from across the soccer world following the death of the Brazil legend.
Several legends of the football game – including Lineker, Michael Owen and Kylian Mbappe, Lionel Messi amongst others have offered their condolences to Pele's family since the sad news broke today.
England legend Lineker, described Pele as "synonymous with football". Lionel Messi, with a very simple message said "Rest in peace" while Cristiano Ronaldo has posted, "My deepest condolences to all of Brazil, and in particular to the family of Mr. Edson Arantes do Nascimento. A mere 'goodbye' to the eternal King Pelé will never be enough to express the pain that currently embraces the entire world of football. An inspiration for so many millions, a reference from yesterday, today, forever."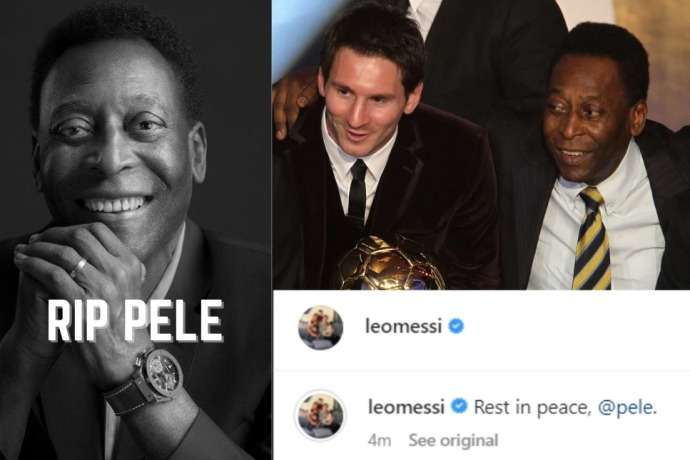 Ex-England striker Geoff Hurst also tweeted a tribute to Pele shortly after news of his death broke. Hurst wrote: "I have so many memories of Pele, without doubt the best footballer I ever played against (with Bobby Moore being the best footballer I ever played alongside); for me Pele remains the greatest of all time and I was proud to be on the the pitch with him. RIP Pele and thank you."
Former Real Madrid and Germany playmaker Mesut Ozil said: "Rest in peace to one of the greatest legends of the game. Your legacy will live forever. I'm sure 'Heaven FC' with Maradona and Pele together will be invincible forever."
READ ALSO:GH¢253m Allocated To Pwalugu Multi-Purpose Dam Is Insufficient – PFAG