Mr. Asare, 55 years old, is the leader of his family. He is the only signatory to the family account of GHS 20 million. His son, John, 29 years old, called that the deadline for his fees of GHS 4,000 was very near. Mr. Asare draws GHS 2 000 to top up his GHS 2 000 to pay off the fees after consulting his wife (a member of the family fund too). He returned the money to the family account when he received his salary. Was Mr. Asare corrupt?
Corruption is a complex matter of ethics. Its diverse manifestations leave many grey areas that open it up for debate on almost every instance of its occurrence. However, it is simple to identify it from its microcosmic instances to the instances that make the headlines.
According to the Ghana Integrity Initiative, Ghana loses about USD 3 billion every year. To put that into perspective, the same amount Ghana is begging for from the International Monetary Fund (IMF). In essence, Ghana would not need the IMF should it reduce corruption significantly. Even if the IMF is needed, it will be needed for more developmental impact.
Worse, a United Nations Development Programme (UNDP) revealed that Corruption is costing Ghana's economy GH¢13.5 billion annually.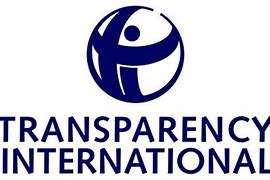 Transparency International, a global movement that focuses on the injustice of corruption, defines corruption as the abuse of entrusted power for private gain. By this definition, anytime a person of authority uses the power meant for the public good for personal gain, one could say the said authority has been corrupt.
To further analyze this profound understanding of corruption as given by Transparency International, one may have to understand the underlying principle of entrusted power. Why is power entrusted to some persons? Is that not the very panacea for corruption? Why not give power to as many people to avert the overarching power of the few entrusted with it? Thinking decentralization will be a good way to fight corruption already? Don't jump the gun, but note that "power corrupts, and absolute power corrupts absolutely".
Entrusted power is an offshoot of the social contract theory which suggests a hypothetical agreement between a society to grant some rights of decision-making to a few in return for protection, order, and basic freedoms of the public. Simply put, the person with entrusted power makes decisions on behalf of the broader society who cannot always be available, or for any other reason, to make those decisions.
However, since the power was given by the society, the use of such powers is required to be in that society's sole interest.
Whenever such entrusted powers are used for any purpose other than society's, one can confidently say the act of the entrusted person is corrupt. People may argue on the thin line between personal interest and public interest for disingenuous reasons. But such persons must note that at the end of the path, the decisions of an entrusted person on any entrusted resource must ensure it benefits the public. Simple! The onus lies on the authority, not anyone else.
Democratically speaking, given the underlying principles of entrusted power and social contract, corruption tends to weaken public trust in state institutions, reduce participation, and weaken democracies. Economically, its impact lags development worsens poverty and widens inequality gaps.
Corruption may happen anywhere; homes, businesses, the courts, churches, schools, media, and civil society, amongst others. It is done by "big" and "small" people; lawyers, cleaners, government officials, religious leaders, teachers, bankers, and what have you. Companies have become active members of this order as they prey on opaque business practices such as money laundering and Ponzi schemes to amass wealth.
It is therefore easy to find oneself participating in the menace one passionately bemoans. It is common to have the same person fighting corruption on one platform, and championing it on the other.
Corruption has been normalized in many places through a culture of silence, victimization, apathy, and impunity. Today, in broad daylight, corruption happens unhampered. It has become a part and parcel of life for many citizens. From homes to public transport to the police who stops the car always, to workplaces and religious centers.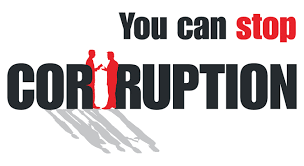 Apathy is when there is a general public layback on matters of public interest. People refuse to participate in discussions, protests, etc. having accepted that nothing will change no matter how much they participate. This situation arises from zeroing in on trust in government officers and institutions.
The precipitant of apathy is impunity. Consequent to apathy, corrupt public officers display utter impunity. Impunity is the exemption from the punishment of a crime. While trust shrinks in the public officer, the public officer's confidence grows in the knowing that no one will hold him or her accountable for his corrupt practices.
The interplay of apathy and impunity makes a lucrative corrupt world.
Meanwhile, one other great contributor to corruption is weak institutions. Institutions are the rules that engineer a society against the inherent greed of humanity. From the instance in the opening paragraph, you will quickly note that while Mr. Asare may have been corrupt in his unilateral decision, it is notable that the institutional engineering of the family was poor; to have one signatory to a family account. This engineering derelicts consultation and participation.
You set off early for work. You find it hard to get a 'trotro' because of the shortage of buses that morning. As you run late, you are offered the driver's mate's seat by a 'kind' conductor. Will you get on board?
Whatever your answer, it is evident that social and bureaucratic constraints may be justifiable grounds for being corrupt. But if one makes the excuse, all may always be corrupt. What a world will it be?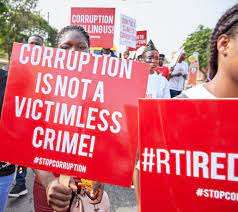 Other manifestations of corruption include when someone in a position of power uses their authority to influence decisions or conducts any other dishonest or fraudulent behavior like giving or accepting bribes or inappropriate gifts, double-dealing, under-the-table transactions, manipulating elections, diverting funds, misrepresenting facts and data, and defrauding investors, evading taxes, amongst others.
 Well, many individuals may be quick to point fingers at public officers, individuals have a role to first play in using their microcosmic entrusted powers to promote law and order.
Notwithstanding, the overwhelming influence of public officers requires that they live above reproach.
READ ALSO: "Star Boy Corruption" Features All Coups And Campaigns In Ghana