The Ukraine President of the National Union of Ghanaian Students(NUGS), Philip Bobbie-Ansah, has averred that the Foreign Affairs Ministry's efforts to help evacuate the stranded students and citizens in Ukraine is a relief.
According to him, there had been initial efforts in trying to reach the Ministry on what to do but the Ministry's response to ensure they get to safety wasn't forthcoming.
Touching on the upcoming meeting by the Foreign Affairs Ministry with parents of students, he urged the guardians and parents of these students to feel a bit relaxed as steps were being taken to ensure the safety of their wards.
"Although I am not in Ukraine presently, efforts are on the ground since the invasion started. So, we are doing our maximum best. That I can assure them."

Philip Bobbie-Ansah
Narrating the movement from Ukraine, he indicated that it was a difficult one with an experience not quite pleasant.
"I describe it as one of the worse couple of days I have had in my entire life. It was quite difficult and hectic."

Philip Bobbie-Ansah
Also contributing to the discussion, Lord Kordie McMensah, President of the Global Union of Ghanaian Students, speaking on the evacuation process so far, intimated that he wasn't sure they have achieved total evacuation of the citizens yet.
"We still have some of our members who are stranded and very scared and still in Ukraine. Their town or cities have curfew impounded so they cannot move out."

Lord Kordie McMensah
Mr. McMensah expressed worry indicating that some of the students are as young as 18 years studying who cannot move all by themselves stating that it's a worrying situation.
"But at least, we are happy that majority are crossing the borders and hopefully, we will have solutions for those who are still stranded."

Lord Kordie McMensah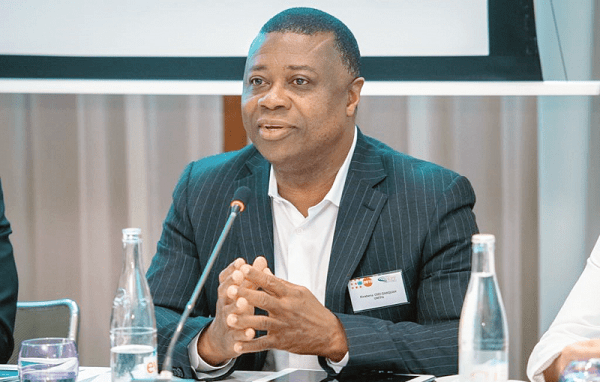 UN's credibility to be damaged
Adding his voice to the discussion, Ambassador Kwabena Osei Danquah, Special Advisor to the Minister for Foreign Affairs and Integration, stated that the danger of the current situation between Ukraine and Russia is that, if the world is not able to reverse what Russia has done, it will damage the ability and the credibility of the United Nations to represent the principles and the values that it stands for.
According to him, even more critically, it would mean that other states that have the intention of forcefully acquiring territories in other countries and regions may do so.
Ambassador Osei Danquah averred that Russia has breached international laws. According to him, with the implications felt on the Ghanaian economy within this short span of the tension, Ghanaians also have the right to say what Russia is doing is not good.
The Special Advisor posited that Ghana is a global citizen in terms of its membership in the United Nations and takes very serious the principles and objectives of the United Nations.
"A number of those principles speak to the issue of the equality of states, the non-intervention in the domestic affairs of member states, peaceful settlement of dispute among states. We all have an obligation to ensure that the obligations that we took on in the charter are respected because those obligations ensure that we the members in the United Nations enjoy our rights and enjoy the benefits of membership."

Kwabena Osei Danquah
Read Also: Full Text: Foreign Minister's Briefing On Security And Safety Of Ghanaians In Ukraine