Social media has been met with mixed reactions as netizens have expressed outrage after photos of an underage "married couple" were shared online.
The boy named Julius allegedly got married to a girl named Anthonia on Thursday, Dec. 9, 2021. According to some claims, the boy is eleven years, which implies that the girl might be the same age or even younger.
A Facebook user who lives in Kaduna claimed the wedding was held in one of the states in Nigeria, Jaba, Kaduna State. Per the photos that were shared online, it suggested that the wedding was held in grand style as there were even photos of some souvenirs that were distributed to guests during the ceremony. netizens netizens
However, some netizens who sighted the photos are not pleased about the situation and as such called for the arrest of the parents of the couple.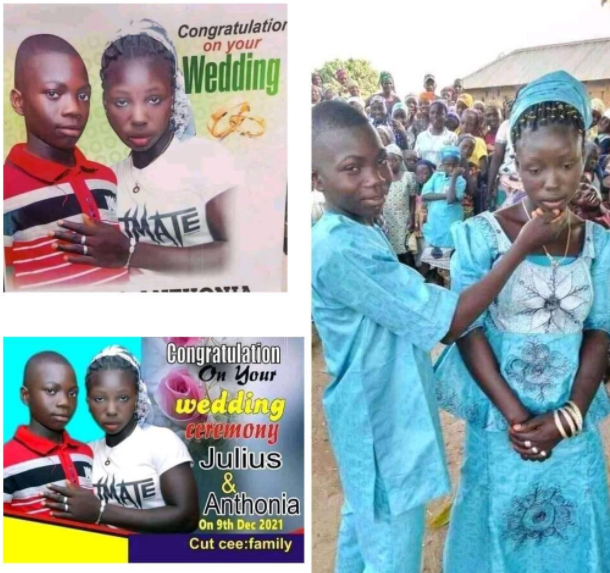 @Hafsa_: "Are the parents of these children serious? How can you allow such a thing? This is absolutely disgusting".

@Son_ of_ Cadmus: "The parents of these children need to be arrested. Come on, this right here is criminal and the police have to investigate into this".

@_Efe: "This is very funny and sad at the same time I don't even know why. But the parents need to be jailed".

@Amos: "At least these ones won't be accused of not marrying as virgins. Very good development

@Jerome: "Northern people are not supposed to be from Nigeria because they reason backward. At least they are both young. Unlike 80 years grandpa marrying 9 years old girl like their so-called prophet".

@P-man: "Must be a local drama".

@Beauty Osas: "This world is gradually coming to an end".

@Akuoma akuego: "The boy's father or uncle will impregnate the girl on behalf of him. Barbarians".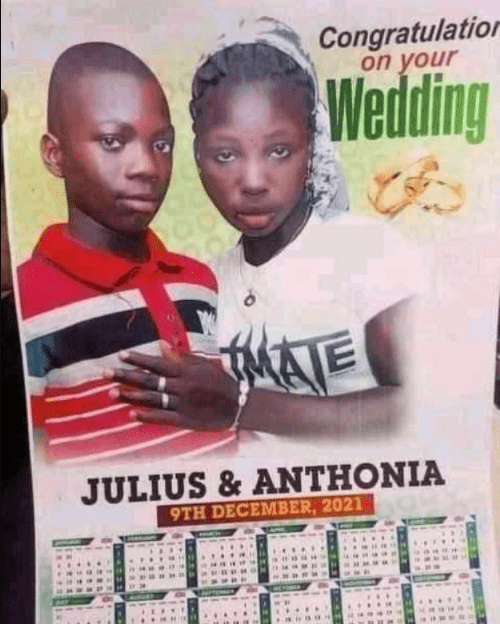 Meanwhile, one netizen who is in support of the marriage said:  "Arrest them for what? They are both of the same age!! We Africans used to be betrothed/marry really early until westernization came in! Good it's in the North because such is still a common belief so no arrests whatsoever! They got each other young and with the guidance of both families, they'll do better than most of you so-called adults!! Single and bitter idiots clamoring for arrest because they want them to be miserable like them! No manual to anything – just a white man's world with shitty hypocritic rules!"
Child Marriage in Nigeria
Child marriage is a complex and controversial issue in Nigeria and may be viewed differently depending on the context.
In other countries, the answer to 'what age can one marry?' can be given to you in one word. For instance, as a general rule, the marriageable age for females in Kenya is 16; Liberia it is 18; Japan is 20; North Korea; 17, Germany; 18; and the UK, 18. Unlike in other countries, where this question is easily answered, the Nigerian is left with no choice but to say, "It depends".
According to research conducted, there are wide disparaging views on the subject, as it can be based on four legalities including "cultural differences, religious beliefs, social values and conflict of laws".
Per the Child Rights Act which was passed in 2003, the age set for marriage is 18 years. However, only 23 of Nigeria's 36 states have adopted this Act. According to child rights activist organization, 'Girls Not Brides', as a result, in some areas of the country the minimum age of marriage can be as low as 12 years old.
Read also: Ghana Unlikely To Meet ECOWAS Convergence Criteria In 2021