Supporters of the Zimbabwean President, Emerson Mnangagwa, have advocated for a constitutional amendment that would permit the President to run for a third term in office.
The Zimbabwean leader stands in a pole position to win the upcoming elections, as he contests for his second term in office.
The constitutional amendment campaign for third term rule, has been championed by the youth and women's wing of the ZANU-PF party. This, according to opposition parties and other relevant stakeholders, is an attempt to extend the mandate of the 80-year leader.
According to the constitution of the republic of Zimbabwe, the most a President could run for an office, is two terms.
Rumors surrounding the supporters' campaign suggest that, the President is quiet interested in the move his followers have been putting across.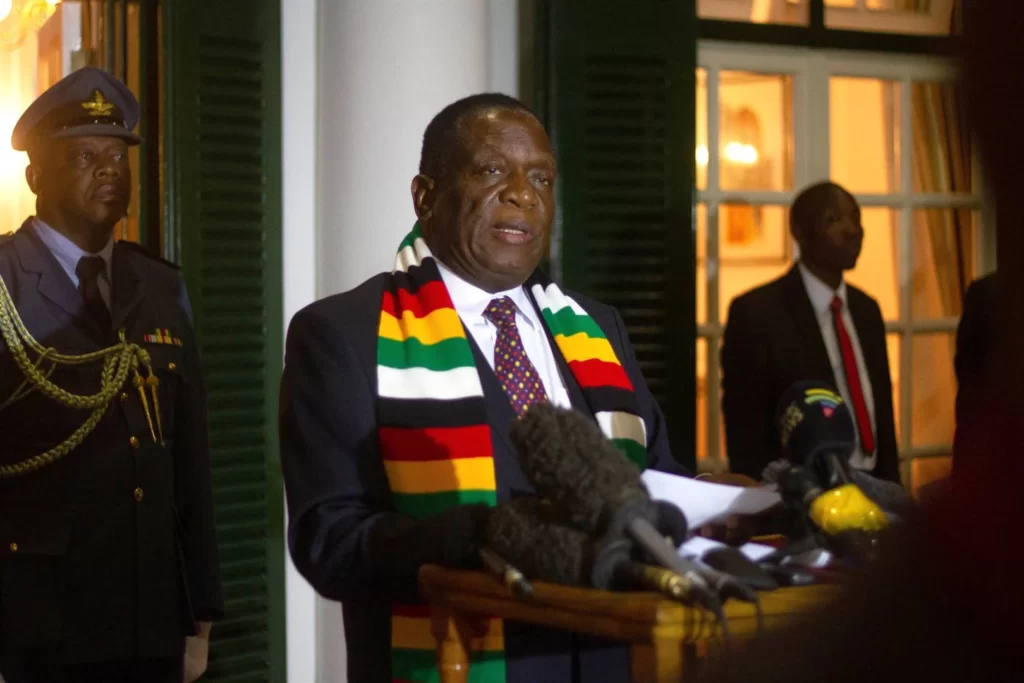 Other reports suggest that, the idea of a third term rule formed part of Emerson Mnangagwa's promise of change, when he succeeded the longtime leader Robert Mugabe, six years ago.
In his run-up to his presidential reign, Emerson Mnangagwa was considered as the successor to President Mugabe, but Mugabe, on the contrary projected his wife Grace Mugabe to succeed him.
Following the overthrow of President Mugabe by the country's military hierarchy, Mnangagwa contested for the elections, which brought him into power.
According to human right analysts, the President's promises of viable economic, and the existence of opposition parties, have pushed him to go for the old power-holding tactics used by his predecessor.
According to political researcher Alexander Rusero, the ZANU-PF ruling elite regard Zimbabwe as their property and would resort to violence if threatened. Rusero maintained Mnangagwa Presidential reign is just a continuation of Mugabe's rule.
"The hardliner stance that existed during Mugabe is still there because it is a system. It is not vested more in personalities but is a culture. It is only unfortunate that Mugabe was there for 37 years but because it is a system it is still living more perfected to this day even in the absence of Mugabe. So if Mnagangwa is out of power today and ZANU-PF remains, that kind of system is likely going to remain."

Alexander Rusero, Political Researcher.
Political experts, on the other hand, have drawn similarities between Mnangagwa and his predecessor. They claimed that, Zimbabwe would likely return to Authoritarian rule, if such a move is accomplish.
"You have someone who has been a political understudy of Robert Mugabe so all the negative things you can talk about Zimbabwean politics, Mnagangwa has grown up with that system and so now that he is in power and he has the military behind him, he is going to use those bad, same tactics to hold onto and remain in power. He will weaponized anything to remain in power."

Edgar Githua, an International Relations Expert.
Mugabe's Policy Enforcer
Emerson Mnangagwa rose to fame, as he was known as the chief enforcer of President Mugabe's strict policies. During his reign as the Security Minister in the 1980s, a military battalion annihilated over 20,000 member of the Ndebele ethnic group.
In an effort to maintain Mugabe in power, despite his defeat to Moragn Tsvangirai, Mnangagwa led a brutal repression on the opposition leader and his supporters in 2008.
Though, there have been several skeptics on whether he would end up like Robert Mugabe, Mnangagwa has managed to win over investors and western nations.
Mnangagwa manage to repair his tainted image and present himself on the international stage, by campaigning for Zimbabwe's re-admission into the Commonwealth of Nations, and also attending economic forums.
READ ALSO: Beijing-Mediated Saudi-Iran Deal, A Paradigm Shift In The Middle East, Chinese Top Diplomat Claims