At a time of heightened uncertainties for the global economy, India's strong performance remains a bright spot. It is against this background that a group of twenty finance ministers and central bank governors are expected to gather in Bengaluru this week.
In a world facing multiple challenges and rising geopolitical tensions, this leadership is critical and beautifully captured in the theme of India's G20 presidency: 'One Earth, One Family, One Future'. Kristalina Georgieva, the Managing Director of the International Monetary Fund, iterated that this will be another challenging year. But it could represent a turning point, with inflation declining and growth bottoming out. "Indeed, while our latest projections show global growth slowing to 2.9 percent this year, we anticipate a modest rebound to 3.1 percent in 2024".
"Look behind the headline numbers, and we see emerging market and developing economies providing much of the momentum. We expect them to account for about four-fifths of global growth this year, with India alone expected to contribute more than 15 percent. But beyond its role as a global growth engine, India is uniquely positioned to bring countries together."

Kristalina Georgieva
Sharing her views of what the spirit of "one" represents for policymakers and for all the global community, the IMF Boss said the reality is that, growth is still subpar and price pressures are still too high. She noted that after three years of shocks, too many economies and people are still hurting badly.
Meanwhile, bringing inflation back to target remains imperative. To get there, Kristalina Georgieva suggested that policymakers need to stay the course on monetary tightening, saying aligning fiscal and monetary policies will help. "Clear communication of these policy goals are vital to avoid a sudden repricing in financial markets".
Global Tightening And Price Stability
Kristalina Georgieva explained that while a global tightening cycle is necessary to ensure price stability, policymakers must be mindful of adverse spillovers to emerging and developing economies, including through a stronger US dollar and capital outflows. "While financial conditions have improved since the G20 last met, providing some modest relief, we have seen how higher borrowing costs exacerbate the vulnerability of economies with heavy external debt burdens".
About 15 percent of low-income countries are in debt distress, and an additional 45 percent are at high risk of debt distress. And among emerging economies, about 25 percent are at high risk and facing "default-like" borrowing spreads.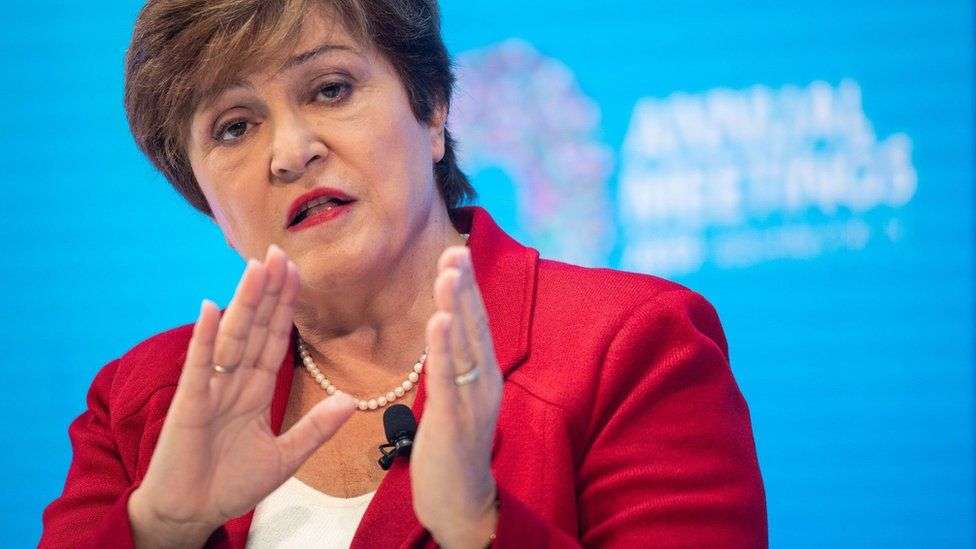 Here, she said solidarity means better mechanisms to restructure debt. Under the G20's Common Framework, Chad reached an agreement with its creditors at the end of last year, and Zambia and Ghana are progressing toward debt resolution. "But the ground rules need to be clarified, and the processes made more efficient and effective."
To accelerate debt restructuring efforts, the IMF, World Bank, and India's G20 presidency are convening a new Global Sovereign Debt Roundtable. This week in Bengaluru, they will meet in‑person for the first time and pave the way for creditors, both public and private, and debtor countries to work together, and assess the existing shortcomings and best ways to tackle them.
In this more shock-prone world, some emerging and developing economies will also require additional financial support. So, a well-resourced global financial safety net, with the IMF at its center, is more important than ever.
Highlighting how the Fund has stepped up to support its family of nations since the start of the pandemic. The IMF Director stated that the Fund disbursed over $272 billion for 94 countries of which about $34 billion was fast-disbursing emergency financing. "The historic SDR allocation of $650 billion to boost its members' reserves, and a new Food Shock Window provides fast access to resources for countries hit the hardest by the food security crisis".
Now, Georgieva noted that further solidarity is needed to stand as one with the low-income and vulnerable members of the Fund to ensure they can still access concessional IMF financing in times of distress and to guard against future crises.
Others with the strength and capacity to do so need to stand up and help address fundraising shortfalls, especially on subsidy resources in the Poverty Reduction and Growth Trust and deliver additional contributions to the new Resilience and Sustainability Trust. This also means the determination to advance the 16th General Review of Quotas can be completed by the end of the year.

Kristalina Georgieva
READ ALSO: Ghana Needs A Constitution That Caps Number Of Ministers– Kyei-Mensah-Bonsu