Chinese Premier Li Qiang has pledged $21.7 billion in new Chinese investment in Indonesia.
This is aimed at reinforcing the two countries' economic and political ties.
Li has been in Jakarta since Tuesday attending the three-day Association of Southeast Asian Nations (ASEAN) summit.
President Joko Widodo hosted Li at the colonial-style Merdeka palace in Jakarta on Friday
The Indonesian President, along with several ministers, welcomed Li in the courtyard of the palace.
Both leaders joined a state ceremony and listened to the national anthems of their countries before heading to the Oval Room of the palace, where Li signed the guest book.
Widodo had a discussion on ways to expand trade and investment.
Widodo sought China's help in plans to move Indonesia's capital from congested and polluted Jakarta on the main island of Java to Nusantara on Borneo island.
"This meeting is a manifestation of our strong commitment to our comprehensive and strategic partnership," Widodo told Li.
"I would also like to extend my gratitude to Your Excellency for your support for the chairmanship of Indonesia in ASEAN and the bloc's centrality in protecting the Indo-Pacific."

Joko Widodo
On his part, Li Qiang extended greetings from Chinese President, Xi Jinping to Widodo.
According to Chinese news agency, Li said that Beijing would deepen practical cooperation and strategic mutual trust with Jakarta including expanding imports of bulk commodities, and agricultural and fishery products.
Li also expressed China's readiness to collaborate with Indonesia in preparing for the official operation of the Jakarta-Bandung High-Speed Railway, the news report added.
He emphasized China's dedication to making the Regional Comprehensive Economic Corridor and "Two Countries, Twin Parks" key projects within the Belt and Road Initiative cooperation with Indonesia.
Regional Comprehensive Economic Corridor is a free trade agreement among the Asia-Pacific nations, while "Two Countries, Twin Parks" is a bilateral trade arrangement between China and Indonesia.
After the meeting, Foreign Minister of Indonesia, Retno Marsudi, announced the new Chinese investment pledge, which follows a previous $44.89 billion investment commitment made when Widodo met Chinese President Xi Jinping in July.
Details of the new investment were not announced.
Marsudi disclosed that Widodo asked China to "realize these commitments immediately" and urged it to explore investment in other sectors, such as maritime and fisheries.
The two leaders also oversaw the signing of six agreements on e-commerce, support for enterprises, industrial cooperation, agriculture, fisheries and science and technology, Marsudi divulged.
China is Indonesia's largest trade and investment partner.
Widodo Meets South Korean President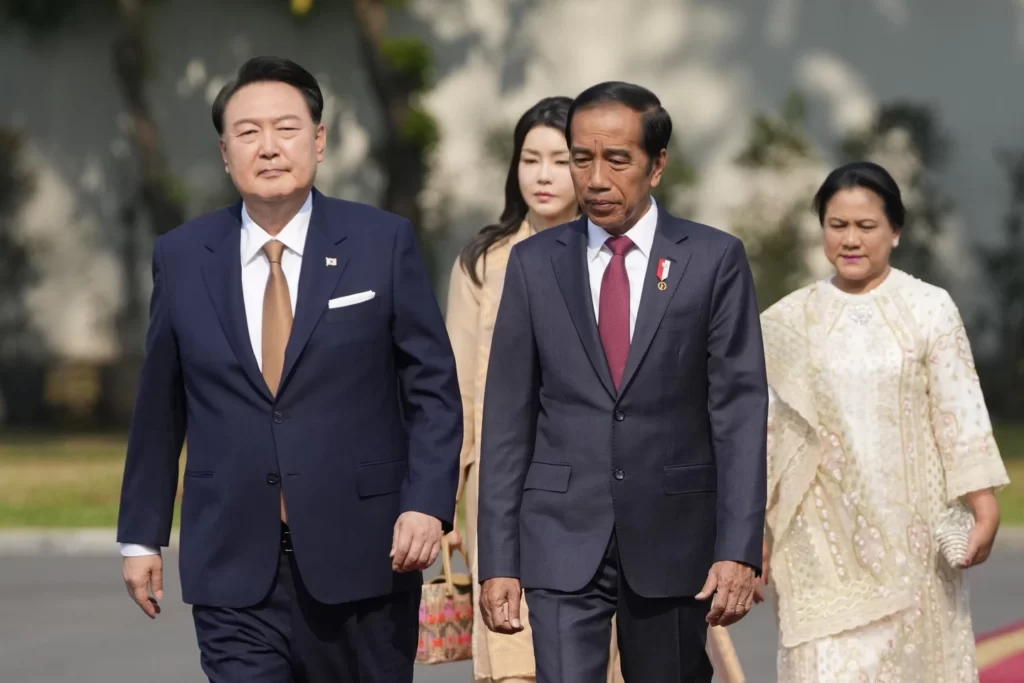 Earlier on Friday, President Joko Widodo and his wife received South Korean President, Yoon Suk Yeol and South Korean first lady, Kim Keon Hee at the Merdeka palace.
Yoon met with Widodo, seeking to deepen economic ties and defense cooperation at a time of heightened global geopolitical tensions.
During their meeting, the two leaders agreed to deepen their strategic partnership in the security and defense industries and to expand cooperation in future-looking industries such as electric vehicles, batteries and smart cities.
Marsudi told reporters after the meeting that Widodo welcomed commitments made by South Korean company, LG and its partners in Indonesia to "accelerate the realization of a grand investment package worth $9.8 billion for the construction of a cathode factory" on Indonesia's Batam island.
Cathodes are key components in global battery production for electric vehicles.
She added that factory construction is expected to start this year, involving Indonesia's state-owned companies and regional businesses.
READ ALSO: Care Ghana Calls For Inclusiveness In Upcoming Voter Registration Exercise