According to the interior ministry in the Gaza Strip, Israeli warplanes have hit another mosque in the enclave, bringing the total number of destroyed mosques in the territory to 32.
The air raid targeted Al-Noor Al-Mohammedi Mosque in Sheikh Radwan neighborhood in Gaza.
This came amid intensified Israeli air attacks on Gaza. At least 436 Palestinians have been killed in Israeli strikes in the past 24 hours, including 182 children.
Both Israel and Hamas reported overnight fighting inside Gaza on Monday, October 23, 2023.
Israel bombarded residential areas in Gaza including the densely populated Jabalia refugee camp.
The Israeli military said early on Monday that it had hit "over 320 military targets in the Gaza Strip" over the past 24 hours.
"The terror targets struck included tunnels containing Hamas terrorists, dozens of operational command centres … and Islamic Jihad terrorists, military compounds, and observation posts," it said in a statement.
Israeli missiles also struck the vicinity of two major hospitals – al-Shifa and al-Quds.
The total toll of Palestinians killed in Israeli strikes since October 7 is at least 5,087 including 2,055 children and 1,119 women.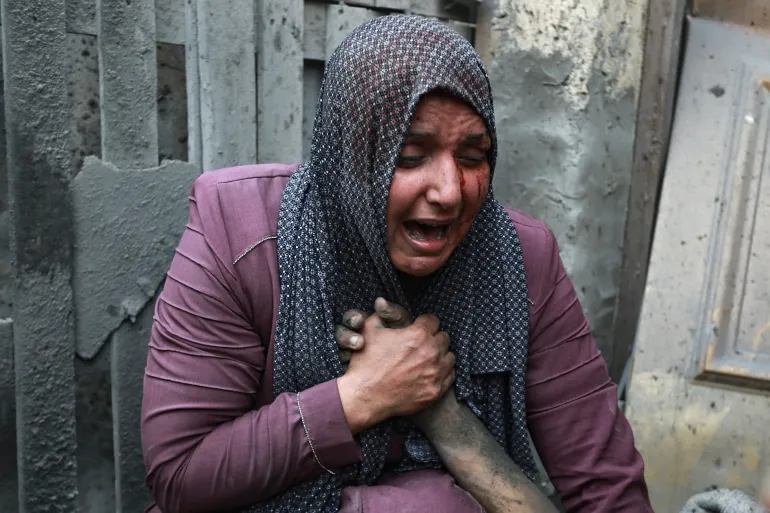 Another 15,273 injured in the attacks. About 1,500 people, including 830 children, are still under the rubble of demolished buildings.
Twelve hospitals and 32 health centres are out of service due to Israeli attacks and fuel shortages.
Meanwhile, the Palestinian health ministry in Gaza appealed for blood donations for hospitals that are suffering from a dire shortage.
The ministry urged residents to rush to hospitals and blood banks across Gaza and called on the International Committee of the Red Cross to bring blood to the territory.
In a positive development, Egypt's Red Crescent disclosed that it has delivered the third batch of humanitarian aid through the Rafah border crossing into the besieged enclave.
"The Egyptian Red Crescent has delivered relief aid to the Gaza Strip to be delivered to the Palestinian Red Crescent Society as a third phase," it posted on Instagram, adding, "The aid was prepared with basic medical and relief needs."
The number of trucks delivering the aid was not specified in the statement.
Greek Prime Minister Meets Israeli Prime Minister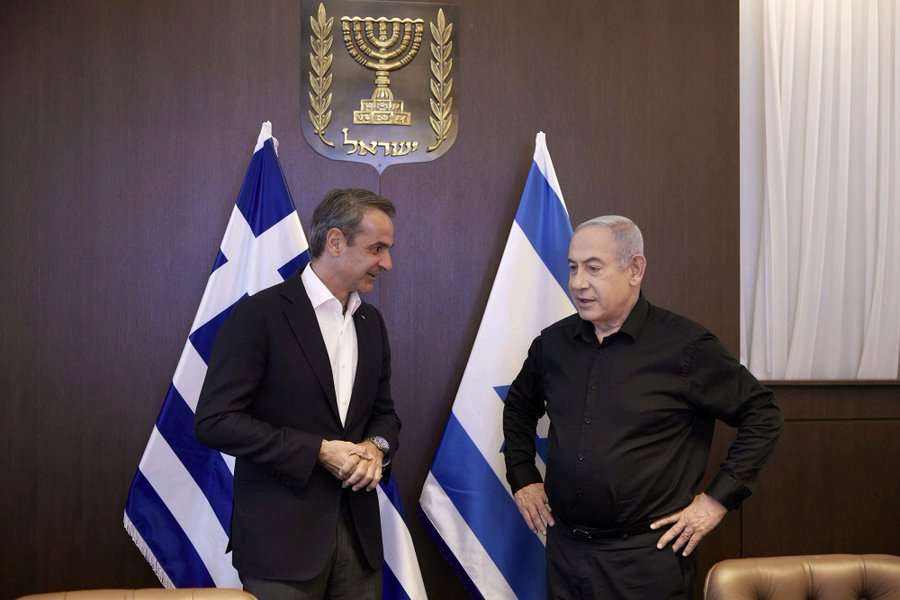 Greek Prime Minister, Kyriakos Mitsotakis arrived in Israel and met with Israeli Prime Minister, Benjamin Netanyahu.
His visit follows after visits to Israel by leaders such as Italian Prime Minister, Giorgia Meloni, British Prime Minister, Rishi Sunak and U.S President Joe Biden.
Mitsotakis said, "I come here not just as an ally but as a true friend."
"What happened was truly horrible and we from the very first moment defended and supported the right of Israel to defend itself in line with international law. And we drew a very clear distinction between Hamas and the Palestinian people."

Kyriakos Mitsotakis
Mitsotakis voiced Greece's backing of Israel, saying, "We will continue to be able to support you and to hope that whatever happens, happens without too much of a humanitarian cost.
"But you can count on our support and our help," he added.
Netanyahu said, "I always say that the best thing about standing with Israel is standing with Israel in Israel. And you're doing that."
"I appreciate the solidarity of you, your government, the people of Greece, at this darkest hour.
"It's a battle against civilization. It's civilization against barbarism. We're on the side of civilization. We have to unite, all together, against Hamas, which is ISIS."

Benjamin Netanyahu
READ ALSO: The Most Heinous Evil The World Has Seen Since WWII