According to a report by North Korean state news media, Kim Jong Un, the country's leader has overseen a strategic cruise missile test.
The state media report came hours before South Korea and the United States began the Ulchi Freedom Shield military exercises, a computer-simulated command post exercise which Pyongyang has condemned.
The drills involve tens of thousands of troops from the two countries and are designed to enhance their joint responses to North Korea's evolving nuclear and missile threats. They are scheduled to continue until August 31, 2023.
The U.S. and South Korean militaries said they also plan to conduct large-scale field exercises as well.
The cruise missile test took place as Kim visited a naval unit on the east coast, state-run news agency disclosed.
Pictures released by the news agency showed Kim standing on the deck of a vessel surrounded by officers. Another photo showed Kim on the quay watching a missile being fired.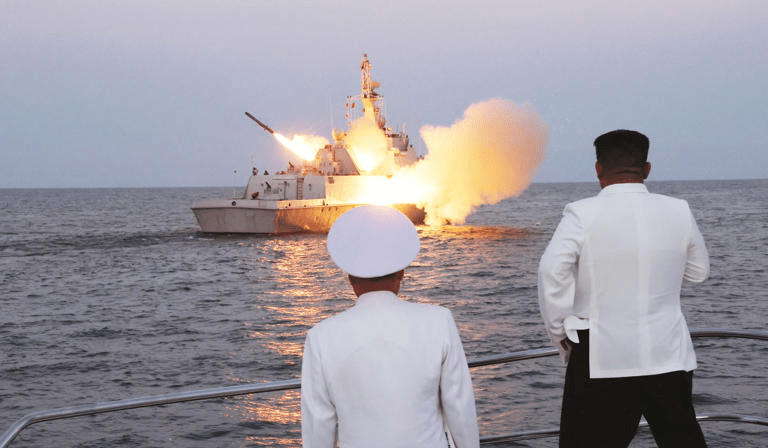 The launch was aimed at verifying the "combat function of the ship and the feature of its missile system," while improving the sailors' capability to carry out an "attack mission in actual war," the news report said.
Kim hailed the ship for maintaining "high mobility and mighty striking power and constant preparedness for combat to cope with sudden situations."
Also, Kim pledged to reinforce the navy with "improved combat efficiency and full modern means of surface and underwater offensive and defensive" capabilities.
He called for the country's sailors to build "overwhelming ideological and spiritual strength," saying that is more important than numerical or technical superiority of weapons.
"We would put spurs to the modernisation of naval weapons and equipment including the building of powerful warships and the development of shipboard and underwater weapon systems."
"The Navy should thoroughly keep constant mobility and steadily increase the capability for actual war so that they can actively carry out their combat missions in the unfavourable circumstances."

Kim Jong Un
"An Exaggeration"
In a statement, South Korea's Joint Chiefs of Staff noted that North Korea's report on its cruise missile tests contained "an exaggeration" and was "not consistent with the facts."
It added that South Korea's military will maintain firm readiness based on its capacity to overwhelmingly defeat potential North Korean provocations.
Leif-Eric Easley, a Professor at Ewha University in Seoul, opined, "North Korea's naval cruise missile may appear technologically behind but is still a real threat."
"The latest test shows Pyongyang's intention of attacking South Korea from many angles if it believes the Kim regime is at risk," he added.
The U.S and South Korea have increased military and economic cooperation in recent years, drawing closer together in the face of growing threats in the Indo-Pacific as North Korea has rapidly ramped up its own weapons testing program.
North Korea has been constantly testing what it calls "strategic cruise missiles" since late 2021 and some analysts have said the missiles could be tipped with nuclear bombs.
Launches from North Korea's huge stockpile of ballistic missiles are prohibited by U.N.Security Council resolutions. Its cruise missile tests are not banned, but they still pose a threat because they fly at a lower altitude to avoid radar detection.
Analysts claim that North Korea aims to use cruise missiles to strike incoming US warships and aircraft carriers in the event of a conflict.
READ ALSO: ECOWAS Leaders Must Stop Warmongering And Give Diplomacy A Chance- Ablakwa