Several Palestinian human rights organisations have called for Israeli attacks on Gaza to stop as they held a press conference at Ramallah, in the occupied West Bank.
Ammar Dwaik, Director General of the PA-mandated Independent Commission for Human Rights, said, "If the assault on Gaza does not stop, and if humanitarian aid is not allowed in the next few hours, we will witness an unprecedented humanitarian catastrophe whose features have started to appear."
"Diseases have started to spread and dehydration has started to spread among children. We may see people killed that the conscience of the international, Arab and Islamic world cannot handle."

Ammar Dwaik
This follows after residents in Gaza endured yet another night of Israeli air raids, including in southern areas of Khan Younis and Rafah where Israel told Palestinians in northern Gaza to go to for their safety.
The Ministry of Health officials stated that at least 71 people have been killed in an overnight bombardment.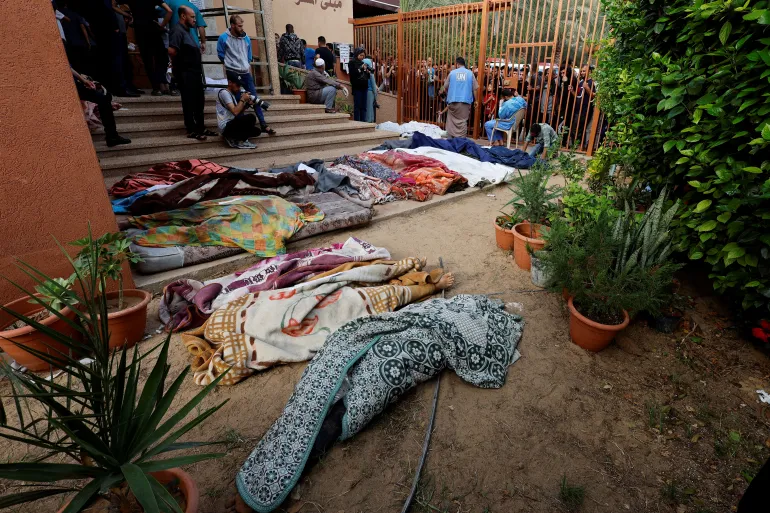 Also, Shawan Jabarin, Head of the al-Haq rights group, said the situation in Gaza has reached the "level of genocide."
"There are war crimes and crimes against humanity happening, and there is an official [Israeli] decision to kill civilians," he added.
Ahmad Shaheen, a Doctor in Gaza, described the desperate conditions in Gaza amid Israel's relentless bombardment.
"The situation is getting worse and worse. The bombing still goes on, it does not stop. They are bombing from all sides – from aircraft, the sea, the ground," Shaheen told a news media.
"The people [trapped] under collapsed buildings cannot be saved. We hear them shout, but we can't do anything. Hospitals are full of the injured, the dead. There is no space in refrigerators to put the corpses. The fear can't be described.
"There is no water, no electricity. The worst thing is that there's no water, neither to drink nor to wash."

Ahmad Shaheen
Even before the war, Gaza had always suffered from a lack of resources and capabilities across all sectors and currently there is not enough machinery to remove the rubble, clear it and bring out the people.
In recent days, the civil defence teams issued urgent pleas for machinery to be let in to help them in their efforts to save civilians trapped under the rubble.
They also say that about 1,000 corpses are under the ruins and they cannot extract them. They do not have the resources but they also do not have the numbers for such an operation.
The people who are seen removing bodies or trying to save others under the rubble are usually civilians who risk their own lives and use their bare hands to save those who had their houses bombarded.
UNRWA Voices Concern About Waterborne Diseases Outbreak
The United Nations Agency for Palestinian Refugees (UNRWA) stated that it is concerned by the risk of an outbreak of waterborne diseases in Gaza.
"Concerns over dehydration and waterborne diseases are high given the collapse of water and sanitation services, including today's shutdown of Gaza's last functioning seawater desalination plant," the UNRWA said in a statement.
It disclosed that parts of southern Gaza received water for three hours on Tuesday, October 17, 2023, adding that only 14 percent of the population in the Strip benefitted from it.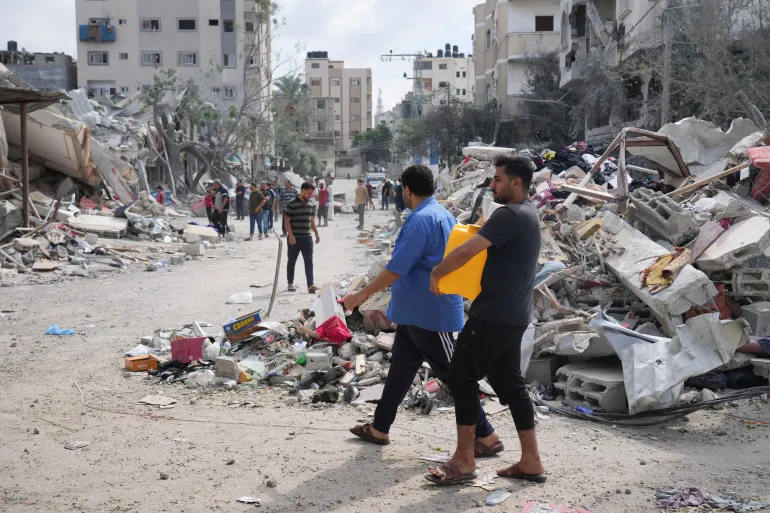 Meanwhile, Iran's Supreme Leader, Ali Hosseini Khamenei called for Israeli officials to be held accountable for their actions against Palestinians, while calling for the Israeli bombing of Gaza to cease.
"The Zionist regime's officials should be tried for their crimes against Palestinians in Gaza," he said.
"No one can confront Muslims and the resistance forces if the Zionist regime's crimes against Palestinians continue," he noted.
"… the bombardment of Gaza must stop immediately," Khamenei added.
READ ALSO: EDUPA Requests Inclusion Of Education Minister On Inter-ministerial Committee