Pope Francis landed in Mongolia on Friday, September 1, 2023, morning for a four-day visit aimed at encouraging the country's Catholic community.
With his visit, Francis becomes the first Pontiff to set foot in Mongolia, a country with one of the world's smallest Catholic populations.
The Papal visit, which lasts till September 4, 2023 has been described as "the event of the century" for the Catholic community in the landlocked Asian country.
China, which shares a nearly 3,000 mile long border with Mongolia, granted the Pope's plane permission to travel over its airspace and Pope Francis sent a customary in-flight telegram to Chinese President, Xi Jinping offering his prayers.
Francis said, "Greetings of good wishes to your excellency and the people of China."
"Assuring you of my prayers for the wellbeing of the nation, I invoke upon all of you the divine blessings of unity and peace," He added.
Vatican protocol calls for the Pontiff to send such greetings whenever he flies over a foreign country.
Upon arrival, Pope Francis, was met on the tarmac by honor guards along with Mongolia's Foreign Minister, Battsetseg Batmunkh. In a sign of welcome, He was offered a taste of Mongolian curd cheese from a woman in traditional dress. He made no public comments.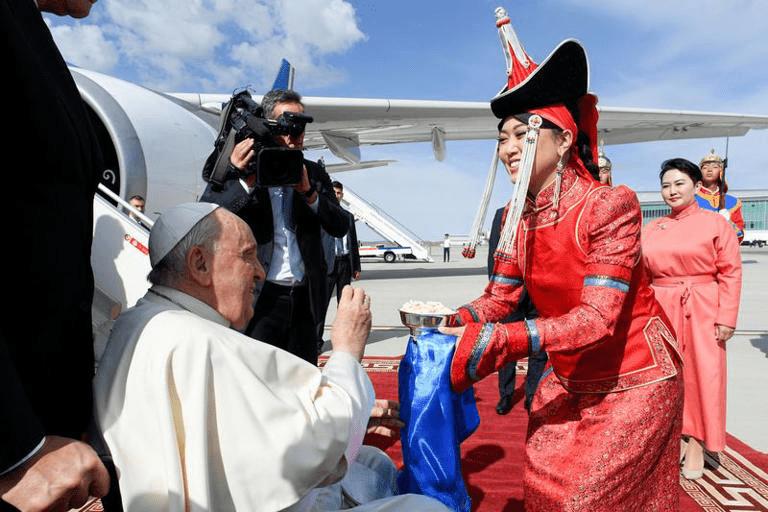 Following the nine-and-a-half hour flight from Rome, the 86-year-old Pope will spend the remainder of his first day in the country resting, ahead of a full day of meetings on Saturday, September 2, 2023. 
Pope Francis is scheduled to have official meetings with the Mongolian President and Prime minister and a speech before Mongolian government, cultural and business leaders, followed by Francis' first encounter with the bishops, priests and nuns; missionaries who form the backbone of a tiny Catholic community of 1,450 that has only been in existence for a generation.
This encounter with missionaries will take place on Saturday afternoon at St. Peter and Paul cathedral at the Mongolian capital, Ulaanbaatar.
"A Culture That You Need Your Senses To Understand"
Speaking to reporters en route to Mongolia late Thursday, August 31, 2023, Pope Francis said that he was looking forward to visiting a country that has just a few people, but with a culture that you need your senses to understand.
Aboard the ITA charter plane, the Pontiff said, "There are only a few inhabitants; a small people, but a big culture."
"I think it will do us good to try to understand this long, big silence, understand what it means but not intellectually, but with senses.
"Mongolia, you understand with your senses."

Pope Francis
While Christianity has been present in the region for hundreds of years, the Catholic Church has only had a sanctioned presence in Mongolia since 1992, after the country removed its Soviet-allied communist government and enshrined religious freedom in its constitution.
The Holy See and Mongolia have had diplomatic relations ever since, and a handful of missionary religious orders including Mother Teresa's Missionaries of Charity have nurtured the tiny community through its first three decades of life.
The other main focus of Francis' four-day visit is to highlight Mongolia's long tradition of interfaith coexistence. The Mongol Empire under its famed founder, Genghis Khan was known for tolerating people of different faiths among those it conquered, and Francis will likely emphasize that tradition when he presides over an interfaith meeting on Sunday, September 3, 2023.
Invited are Mongolian Buddhists, who are the majority in the nation of 3.3 million, as well as Jewish, Muslim and Shinto representatives and members of Christian churches that have established a presence in Mongolia in the last 30 years, including the Russian Orthodox Church.
Pope Francis will end his visit by inaugurating a new church-run charity house to tend to Mongolia's poor.
READ ALSO: NPP Super Delegates Conference: NPP To Hold Run-Off